I usually get books for Christmas, so I thought I'd share which ones I got this year. My parents and grandparents know that I love books but don't know which ones I have, don't have, or want. Which means that I end up picking out books throughout the year for them to give me. (And I love hunting for cheap books, so most of these came from Book Outlet.)
Sense and Sensibility.
This is a beautiful little 1940s British edition that my boyfriend gave me! Kenny is really good at picking out gifts, and I'm a little jealous of that skill. (Some other things he gave me: a TARDIS umbrella, a Sherlock pillow, the Jane Austen action figure...
see what I mean
?)
The Tenant of Wildfell Hall.
I love Jane Eyre and hate Wuthering Heights, so I'm curious to see what I think of Anne Bronte's writing. I picked out this Vintage Classics edition from Book Depository because it's really pretty.
Salt to the Sea.
I've enjoyed Ruta Sepetys' other novels, and I'm hoping to enjoy this one too!
Raising Demons.
I can't wait to read more Shirley Jackson this year, even though this memoir about her life as a mother and housewife will be different from her usual work.
My Life in Middlemarch.
A bookish memoir, but I have to actually read Middlemarch first. :)
The Unmapped Sea.
The newest book in the Incorrigible Children of Ashton Place series, which I've really enjoyed but I'm sort of ready to be over. (How much longer must the mystery drag on?)
Stars Above.
Short stories from one of my favorite YA series: the Lunar Chronicles. I've already read some of these, I think.
The Rabbit Back Literature Society.
A random Finnish book that I was drawn to because of the cover. :)
The Cuckoo's Calling.
Even though I hated The Casual Vacancy, I love mysteries so I'm interested to see how J.K. Rowling writes them.
The Red and the Black.
Another gift from Kenny. It's a nice 1940s copy of a book that he enjoyed and thinks I will like too.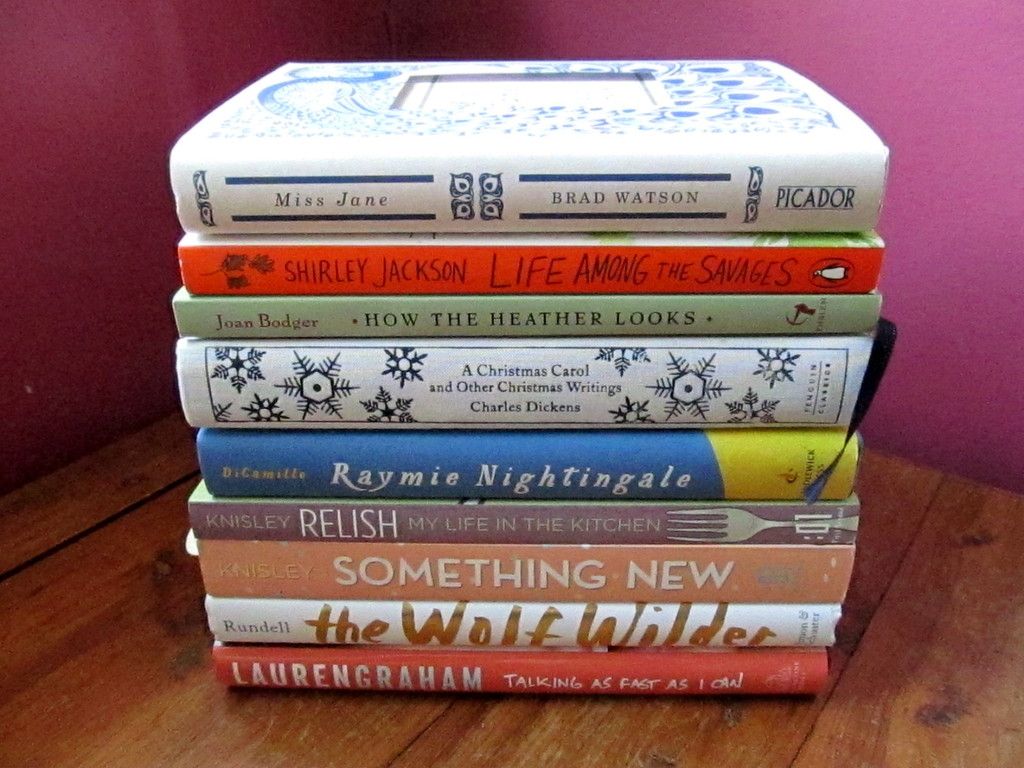 Before Christmas, I stumbled across some good deals (the Book Outlet Black Friday sale always gets me). Here are the books I purchased recently:
Miss Jane. I don't often buy random books, but this one was definitely an impulse buy. I saw it somewhere online, with its gorgeous cover, and it had good reviews. When I saw that Book Depository had it for about $6 cheaper than Amazon, I ordered it.
Life Among the Savages. The first of Shirley Jackson's memoirs, which I had to get and read before Raising Demons. Obviously. :)
How the Heather Looks. I've been wanting to read this book for the longest time! It's about a family that traveled around England (in the 50s, I think, maybe the 60s?) to visit locations from classic English children's stories. That sounds right up my alley.
A Christmas Carol and Other Christmas Writings. I was so surprised that Kenny found this Penguin clothbound edition while we were looking around in our local Goodwill! I love these editions but I've never actually seem them in a store, I've always had to order them. And it only cost $1.
Raymie Nightingale. Kate DiCamillo's newest book, which I've been wanting to read since it was released. Target had it on sale after Thanksgiving.
Relish: My Life in the Kitchen. I've enjoyed two others of Lucy Knisley's graphic novel memoirs lately, and I thought this one might inspire me to learn how to cook. :)
Something New. One of the previously mentioned graphic novel memoirs that I really enjoyed. These are kind of expensive, so I was glad to find them on Book Outlet for a few dollars.
The Wolf Wilder. Another mostly-for-the-cover buy, but it sounds interesting. I think it's middle grade, too.
Talking as Fast as I Can. I'm a big Gilmore Girls fan, so I'm excited to read this memoir! I'm waiting until after I watch the Netflix revival series, though, in case of spoilers.
(And this, you guys, explains why I'm mysteriously never able to make a dent in my list of own-but-unread books! I've put myself on a book buying ban for the foreseeable future. Because, you know, that's worked out so well before.)