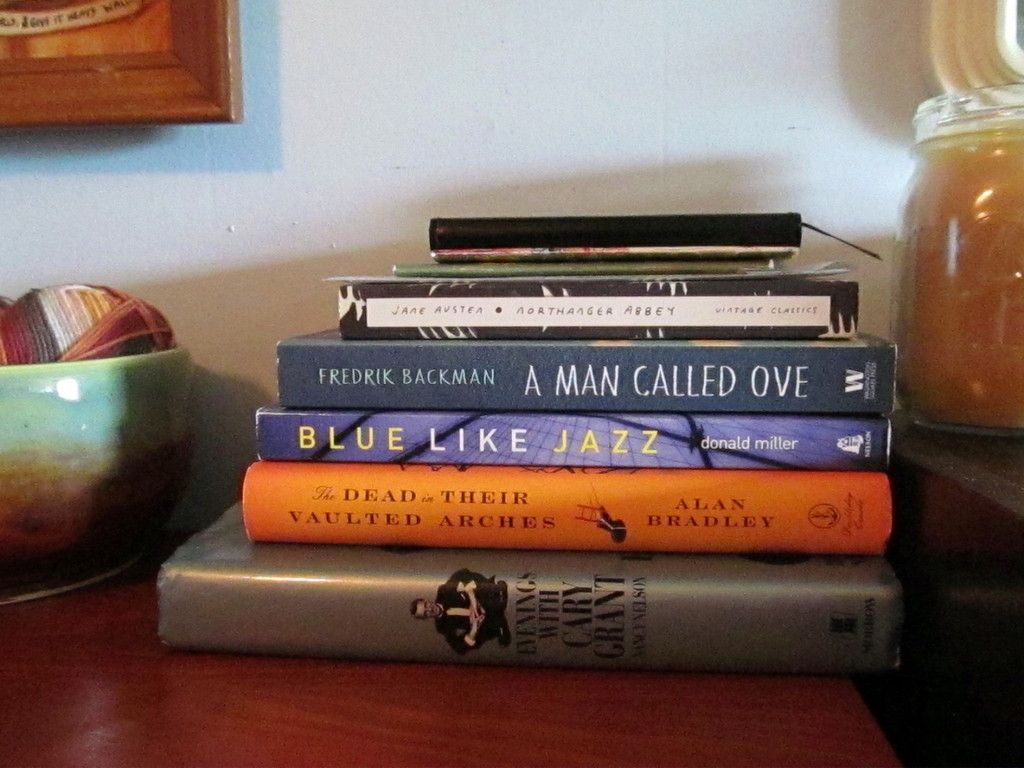 I saw this tag online recently and liked the questions, so I decided to answer them here. I would love to hear your answers in the comments!
1. What book is currently on your nightstand?
My desk is next to my bed, and I keep a stack of books there that I'm planning on reading soon(ish). As you can see from the photo, it's currently Northanger Abbey, A Man Called Ove, Blue Like Jazz, The Dead in Their Vaulted Arches, and Evenings with Cary Grant.
2. What was the last truly great book that you read?
Nooks & Crannies by Jessica Lawson, though not perfect, was pretty great for what it was: a fun British-inspired middle grade mystery. In terms of pure enjoyment, I loved A Fine Romance: Falling in Love With the English Countryside.
3. If you could meet any writer, dead or alive, who would it be? And what would you want to know?
Jane Austen, of course. She's such a beloved author, but so little is known about her. I'd want to see what her personality was like and find out about her love life (was the film Becoming Jane accurate in any way, or was it all speculation?). And I want to know what was in those letters that her sister Cassandra burned after her death. So basically, I'd be nosy.
4. What books might someone be surprised to find on your shelves?
I'm really not sure. I feel like my shelves, random as they are, are a good representation of who I am and what I like to read. :) Maybe the amount of children's books would be surprising? I do love children's literature.
5. How do you organize your personal library?
All of my fiction is together, organized alphabetically by the author's last name. If I have more than one book by an author, I usually have them in the order that they were published (series, obviously, but also stand alones). I'm a little less obsessive about my nonfiction. It's roughly grouped by topic: all of the classic film star biographies/memoirs are together, the travel books are together, the books about authors, etc.
6. What book have you always meant to read and haven't gotten around to yet? Anything you feel embarrassed never to have read?
There are lots of classics that I mean to read but haven't gotten to yet. I also want to read the Percy Jackson series. There's nothing that I feel embarrassed never to have read. Either I want to read it and plan on getting to it eventually, or I have no interest in it, and I don't feel embarrassed about that, ha.
7. Disappointing, overrated, just not good: what book did you feel you were supposed to like but didn't? Do you remember the last book you put down without finishing?
I hated Wuthering Heights
, even though it's supposed to be a wonderful classic. I expected to at least like it, because Jane Eyre is one of my favorite books ever. (And because of Wuthering Heights, I'm now a little nervous about reading The Tenant of Wildfell Hall.) Much more recently, I was sort of disappointed with
Harry Potter and the Cursed Child
. I rarely put down books without finishing, so I'm not sure about that one.
8. What kinds of stories are you drawn to? Any you stay clear of?
I'm drawn to British books. :) Anything cozy or interesting set in the English countryside. I don't need a ton of action and excitement in a book...my favorites seem to be slightly quirky stories about people's everyday lives. I don't usually read much sci-fi or fantasy where there are too many details to keep straight.
9. If you could require the president to read one book, what would it be?
Either Mere Christianity or the Chronicles of Narnia series, both by C.S. Lewis. Just because I think that everyone should read those books.
10. What do you plan to read next?
Probably A Man Called Ove. That was a spontaneous purchase, and I'm really excited about reading it. :)