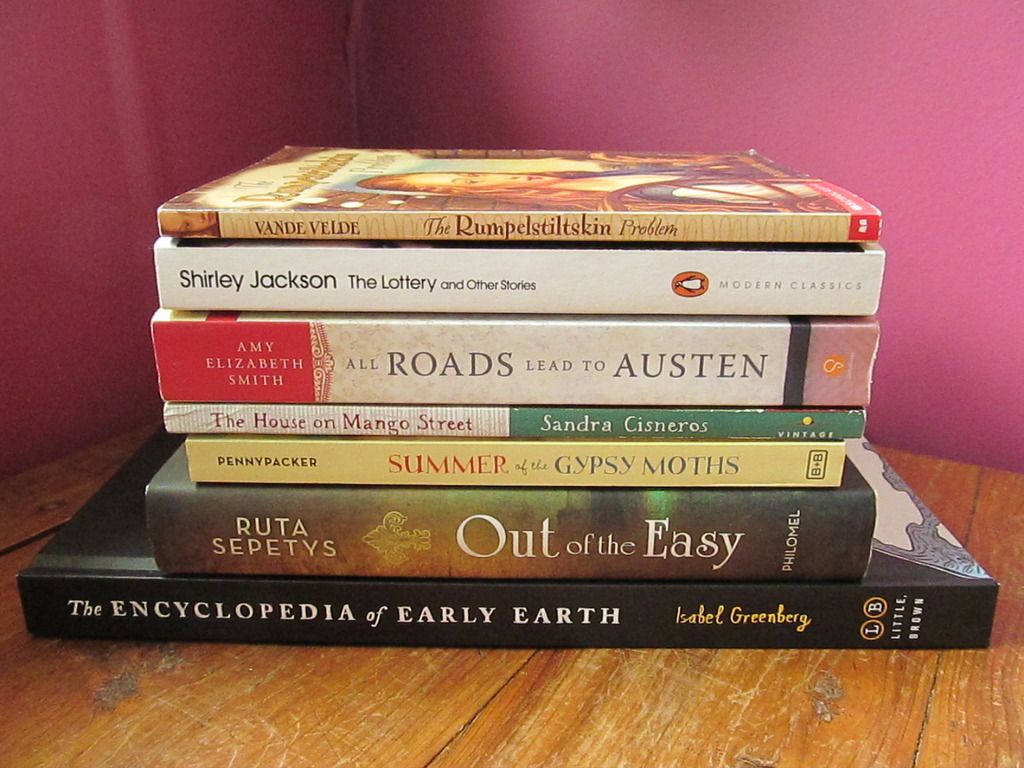 June was a good reading month! I really liked most of what I read, and I finally got around to a few books that have been sitting unread on my shelves for years, so that's good. :) As always, click on the title to read my Goodreads review.
The Rumpelstiltskin Problem
, by Vivian Vande Velde.
I've had this little book probably since elementary school, and I'd read part of it but never finished. The concept was intriguing: six short stories that answer questions about some of the weird aspects of the story of Rumpelstiltskin. Unfortunately, it wasn't that great. I liked a couple of the stories, but they weren't very different or memorable.
The Lottery and Other Stories
, by Shirley Jackson.
I had previously read We Have Always Lived in the Castle and The Lottery by this author, and I thought all of the stories in this collection would have a similarly creepy feel. But they weren't really what I expected! They're mostly about everyday events, but there's this subtle, unsettling undertone. It's hard to explain. I did enjoy it a lot, though it was a very unusual read. I love Shirley Jackson's writing style!
The Encyclopedia of Early Earth
, by Isabel Greenberg.
This was a very unique graphic novel. I'd heard good things about it, but just flipping through, it didn't appeal to me much (the art or the story). When I started reading it, though, I ended up really liking it. It's a strange combination of creation stories, Bible stories, and myths, mixed with some original stuff. At times it was surprisingly funny and beautiful.
All Roads Lead to Austen
, by Amy Elizabeth Smith.
I really liked this book: a combination of Jane Austen and travel memoir (two of my favorite things). Honestly, I've never had much interest in traveling to the countries that she visited, but it was very interesting and readable. My only complaint is that the discussions in the different reading groups felt a bit repetitive sometimes.
The House on Mango Street
, by Sandra Cisneros.
I'm not sure what to think about this one. I can see what the author was trying to do, but I'm not sure that it clicked with me. The writing style was very unusual (the author is a poet), and while pretty at times, it was too much at other times. The chapters, and the whole book, were very short and seemed to be lacking something.
Summer of the Gypsy Moths
, by Sara Pennypacker.
This book surprised me in a good way! I'd picked it up a couple of summers ago, read a few pages, and then put it aside because I wasn't in the mood for it. Because of that, I was reluctant to try it again. But it was so good. I loved the writing, the story was interesting (if a little unbelievable), the characters were great and very endearing. I've read a lot of mediocre and forgettable middle grade in the past year or two, so it was nice to read one that was so satisfying.
Out of the Easy
, by Ruta Sepetys.
A lot of people seem to be familiar with this author's first book, Between Shades of Gray, and her newest book, Salt to the Sea. But I don't hear much about this one, her second book. I ended up really enjoying it! It's a lot lighter than her first book, though still dealing with some more serious issues. (It's set in New Orleans in 1950, and the main character is the daughter of a prostitute.) It was a very addicting read.