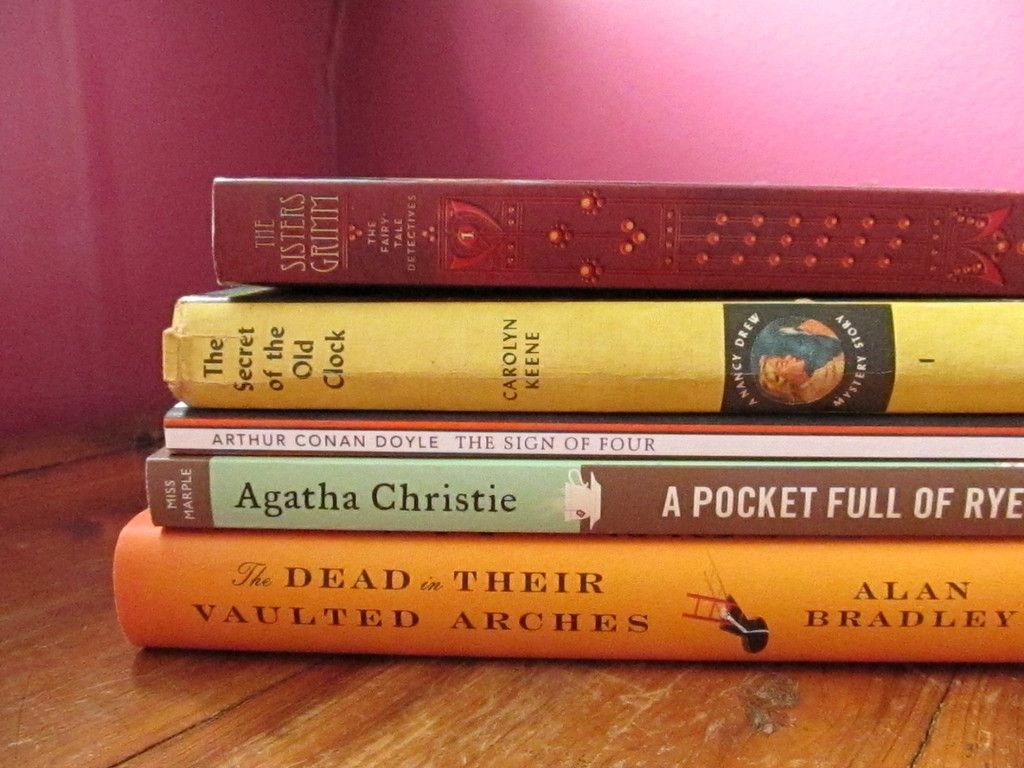 I like watching bookish videos on YouTube, and one of my favorite channels is
Words of a Reader
. We seem to like the same sorts of books, and some of my new favorite books were recommendations from her videos. During the last week of March, from the 24th to the 31st, she is hosting a reading challenge called Mysteries in March. (You can find out more in
this video
or
this blog post
.) There aren't any real rules...the goal is just to read as many mysteries as you want to during that week.
I was thinking about trying to read one mystery that week. But looking through my books, I own quite a few mysteries that I haven't read yet. And it turns out that I'm going to be off most of that week, so maybe I'll have a little extra reading time. There's no way that I'll be able to read all of these in one week, but I went ahead and picked out five mysteries from my shelves. They're all pretty short books, so it's possible I could read two or three of them that week.
The Fairy-Tale Detectives, by Michael Buckley.
I've been curious about this children's series for a while. The reviews for this book seem mixed, so I'd like to give it a try to see if it's worth investing time in the entire series or not!
The Secret of the Old Clock, by Carolyn Keene.
Somehow I made it through childhood without having ever read a Nancy Drew book! I picked up the first two books at Goodwill years ago, and while I don't anticipate them becoming new favorites, I do want to see what they're like.
The Sign of Four, by Arthur Conan Doyle.
Last year, I read A Study in Scarlet and loved it. I'm trying to read the Sherlock Holmes books and stories in order, so this one's next!
A Pocket Full of Rye, by Agatha Christie.
Just a random unread Agatha Christie novel from my shelves...I have several of those. :) I especially love Miss Marple mysteries, and this is one that I haven't yet seen an adaptation of, so the story will be a surprise.
The Dead in Their Vaulted Arches, by Alan Bradley.
The next in one of my favorite series, the Flavia de Luce books. After this one, only one more book and I'll be caught up until the next one releases later this year (or next year?).