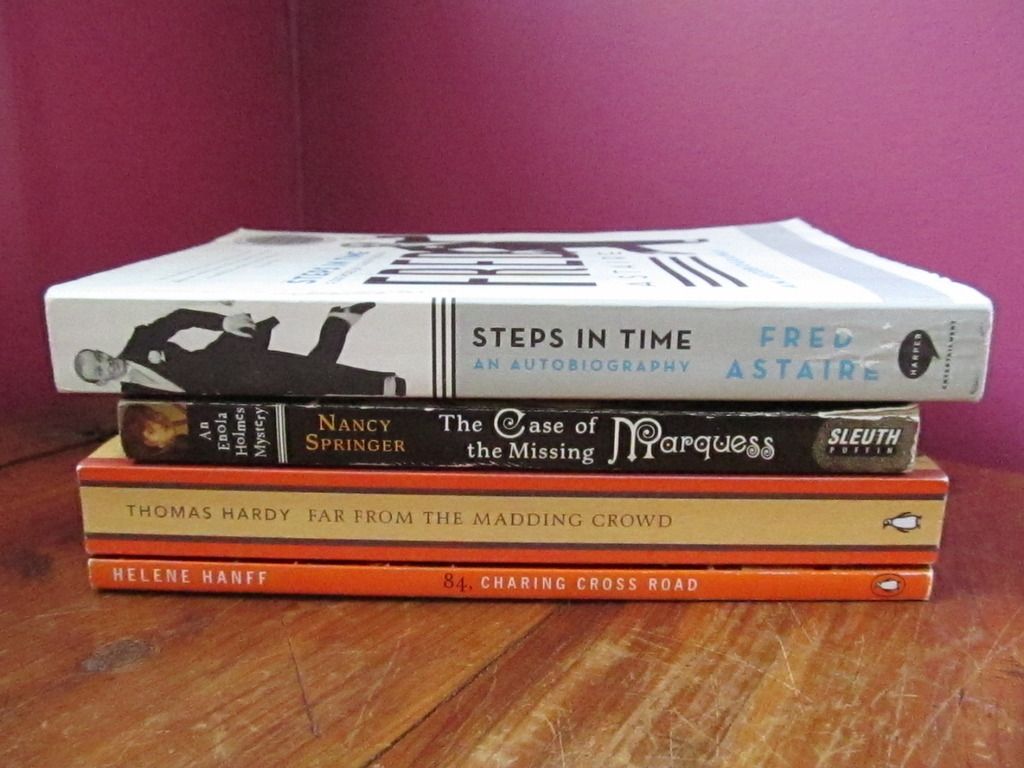 January was a pretty good reading month, though I only read four books: two extremely quick reads and two that took me a while to finish. :) As always, click on the title to read my Goodreads review.
Steps in Time
, by Fred Astaire.
Honestly, this book was a little disappointing. I don't particularly want one of those tell-all memoirs, but when I'm reading an autobiography, I like to feel that I know the person a little better after finishing the book. Not so with this one. The writing didn't feel very emotional or personal...it seemed like he glazed over a lot. And most of the book was about his time in vaudeville and the theater, not his time making classic movies. It was kind of boring! It did make me want to rewatch a lot of his musicals with Ginger Rogers, though.
The Case of the Missing Marquess
, by Nancy Springer.
This is the first in a series about Enola Holmes, the younger sister of Sherlock (and Mycroft). Enola is a great character...she reminds me a bit of an older, less eccentric version of Flavia de Luce. I loved the portrayals of her older brothers in this book and the family dynamics. I thought it was a middle grade novel, but really it's somewhere between that and YA. I enjoyed it more than I expected to, and hopefully I can read more of the series this year.
Far From the Madding Crowd
, by Thomas Hardy.
Definitely a new favorite. I loved this book! I don't know why I was so scared of reading it before...it takes a while to get used to Thomas Hardy's wordy writing style, but for a classic, it was a lot easier to read than I expected. The story and characters sucked me in right from the beginning, and even though it took me almost two weeks to read, I didn't want to put it down. The book started off rather sweet, but it took some unexpectedly dramatic turns, and I've never read anything like it. I'm going to see the new film adaptation soon, and I might do a whole post about the book and film then, so I won't say any more now.
84, Charing Cross Road
, by Helene Hanff.
This tiny little book was a pleasant surprise. It features the correspondence between Helene, a writer living in New York, and a man working in a bookshop in London that she orders books from. It sounds odd and dull, but it was so good. Their letters are so lovely that it almost seems impossible that they're real...it was interesting to see two such different people strike up a friendship.