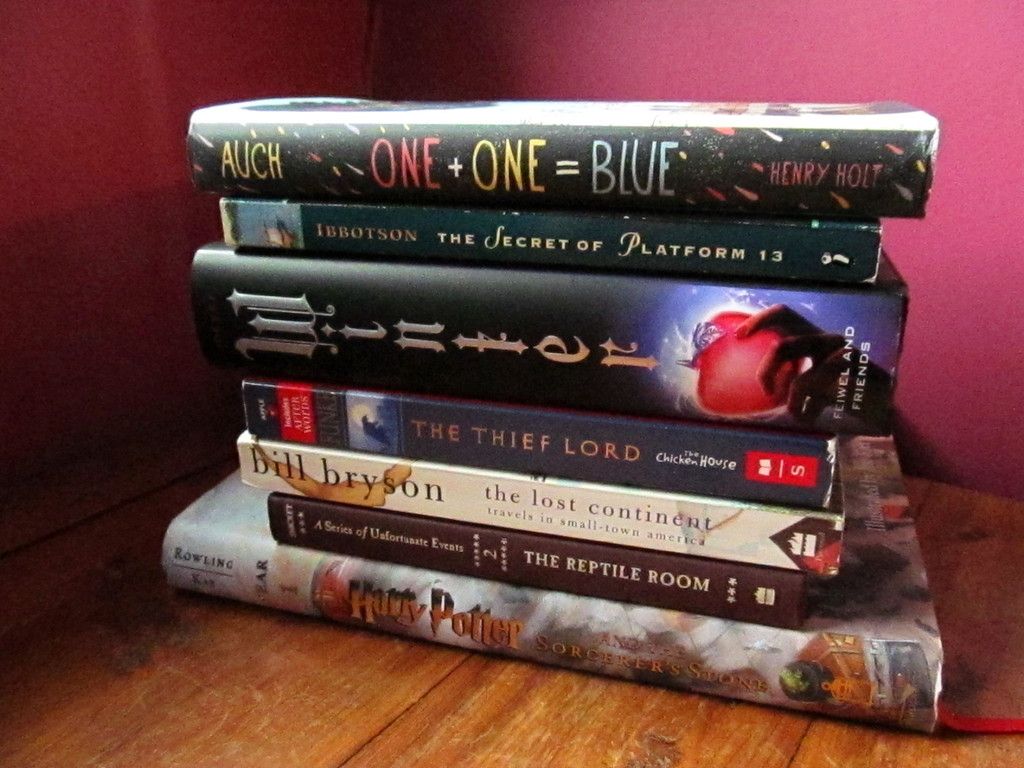 In November, I read mostly children's books. I didn't plan it that way, but it might have something to do with
this bookish YouTube channel
that I enjoy watching. She was doing a children's literature month in November, so that might have accidentally influenced me. :) As always, click on the title to read my full review.
One + One = Blue, by M.J. Auch.
This one wasn't what I was expecting. I picked it up because the main characters have synesthesia, a condition that I'm really interested in. But the synesthesia aspect wasn't a very big part of the book. Things got a little crazy near the end and went in a direction I didn't expect, and overall I was just disappointed.
Harry Potter and the Sorcerer's Stone
, by J.K. Rowling.
Obviously this was a reread, but the new illustrated edition totally warrants a reread. This book is so, so gorgeous. The illustrations are perfect and my only complaint is that there aren't quite enough of them! :)
The Secret of Platform 13
, by Eva Ibbotson.
Why is this book not a famous classic that every kid reads? I want every children's book to be like this one: charming and funny and addicting. (And British. What is it with the British and their weird ability to write children's books better than everyone else?) I couldn't believe that this book was just published in the 90s...it has such a classic, timeless feel. It reminded me of Roald Dahl with a bit of Narnia and Harry Potter thrown in. So yes, this is a new favorite.
Winter
, by Marissa Meyer.
The conclusion of the Lunar Chronicles! It didn't blow me away, but it was everything I could have wanted in the last book. Winter was a great character (slightly unhinged, but still endearing), and I feel like the fairy tale parallels were especially strong with her story.
The Thief Lord, by Cornelia Funke.
I've had a copy of this book for a long time. It was completely different from what I was expecting, but in a good way. Victor was my favorite character, by far. :) The bit of magic at the end threw me off, but it didn't take away from the story. (I watched the film after finishing the book and didn't like it very much. But Mr. Carson was great as Victor, ha!)
The Lost Continent,
by Bill Bryson.
I always have mixed feelings about Bill Bryson's books. I love reading travel memoirs and he can be so funny, but goodness, he can be such a sarcastic jerk. I start off enjoying his books (this one made me laugh a lot near the beginning), but by the end, I'm sick of his negativity and crudeness. Of the four of his books that I've read so far, this isn't one of my favorites.
The Reptile Room, by Lemony Snicket.
Another reread....sometimes it's nice to pick up something that you can read in a couple of hours, and I needed something fun after The Lost Continent! :) I always liked this book because Uncle Monty is a great character (I love the film portrayal of him, too).