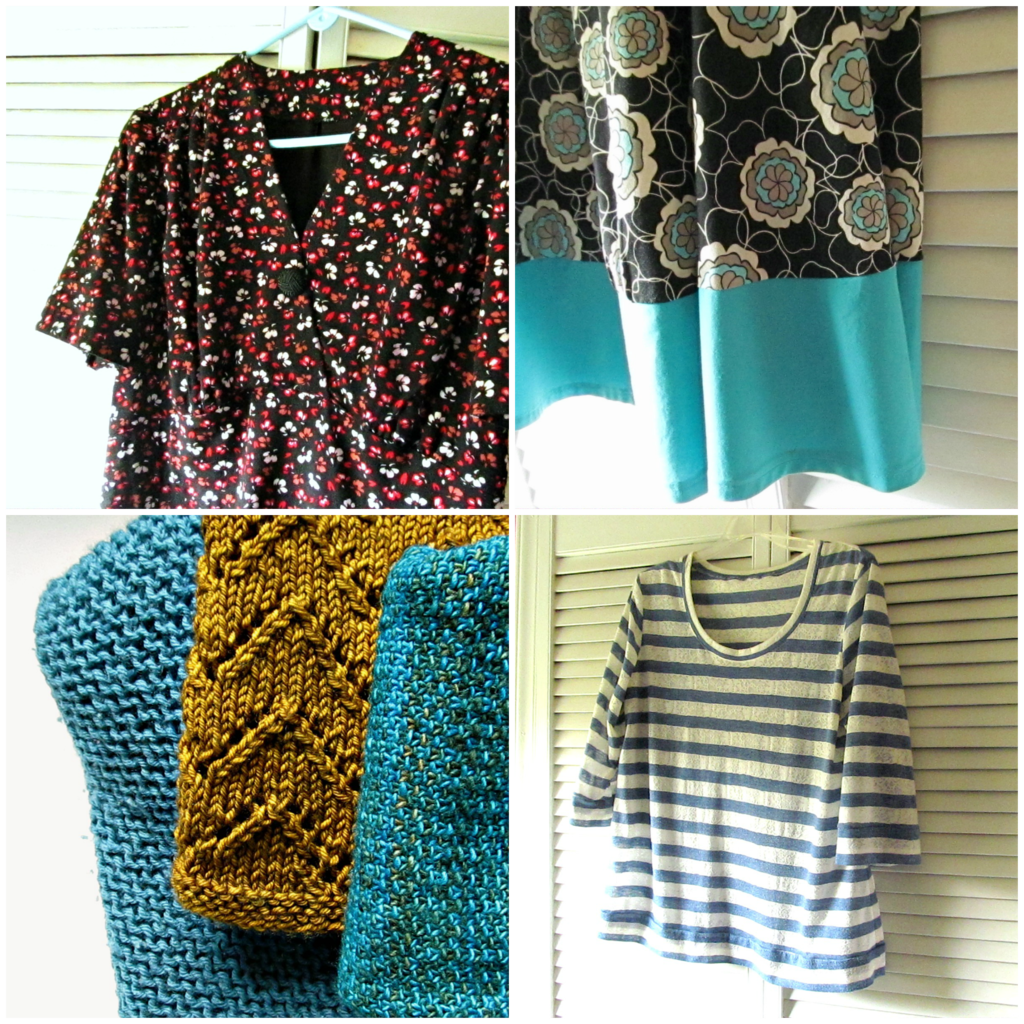 Week 3, October 12-18: LOVED
proudest accomplishment / most loved item / most frequently worn item / thing you saved up for / investment pieces / thing you worked a long time on / oldest thing that's still in rotation
I'm so excited for this week's theme! I've really been enjoying Slow Fashion October. It has been inspiring and motivating, but at the same time this whole topic can be overwhelming and frustrating. (
Why
is it so hard to find out where fabric is made and under what conditions??) This week, though...I think this is going to be a really positive week, with everyone discussing their favorite things. :)
Pictured above are some of my favorites. In the top left corner is my
first swing dress
. I made it in 2011, and it's definitely one of my favorite and most worn dresses. At the time, it was also my proudest accomplishment...the first time I made a muslin and made an effort to get the perfect fit, and my first time altering a pattern. In the upper right corner is the second skirt I ever made, so it's at least six years old...maybe seven? I love this skirt and still wear it to church at least once a month. :) The hem is coming loose in spots, I didn't finish the seams (I didn't really know what I was doing) and there's a small stain on the teal band, but I love wearing this skirt with black tights and a black sweater. Below it is one of my first few
Renfrew t-shirts
, and my first experience with matching stripes. I wore that one so often that I bought more of the fabric and made a short-sleeved version, too.
In the bottom left corner are some of my favorite knits. The handknit that I wear the most often is definitely
my first shawl
, which I was inspired to make because of my love for the BBC series Lark Rise to Candleford. Honestly, that shawl gets worn around the house almost every day during the fall and winter. (I'm wearing it now as I'm typing this post!) I wrap it around me like a blanket if I'm cold or I wear it around my shoulders when my long hair is air drying (and the wool conveniently absorbs the drips, keeping my shirt from getting soaking wet and cold). The poor thing is getting pretty pilled and ragged looking, but it's still as warm and useful as ever. :)
There's also my
Downton Cowl
, made from tosh DK in the oak colorway. I bought that yarn because I thought that it was a pretty color, but after finishing the cowl, I remember thinking,
what am I going to wear with this?
Thankfully, for such an unusual shade of yellowish-greenish-brown, it matches with everything. Black, brown, purple, gray, blue...I wore it twice
last week
. Another favorite knit is
this turquoise one
. I love that color and the fact that the linen stitch looks different from all of my other knitted items. (It's been too warm to wear it yet, but I think my
Antler Cardigan
will be a new favorite, too. It's the best fitting sweater I've knitted so far.)
(Technically, if I'm talking about my oldest clothes still in rotation, I'd have to mention two items that I still wear at home, but not in public...they're both from middle school! Which was about twelve years ago. One is a t-shirt from the Hard Rock Café in Memphis, a souvenir from when my parents took Elvis-obsessed-preteen-Kristin there on vacation. We toured Graceland and did all of the tacky tourist stuff and it was glorious. My shirt is falling apart but still wearable. Also, most embarrassing of all, is a bright red sweatshirt with "Brosville Middle School Band" embroidered on it, courtesy of my one year of playing the flute in band. I wear it a lot during the winter, and I should just sew a little patch or something over the embroidery because other than that, it's not
too
bad. And it's held up incredibly well...only in the past year or so did a tiny hole develop at the cuff.)
On sewing blogs, you hear a lot of talk about "TNT patterns," or tried and true patterns. I'd like to have a handful of those, but so far I only have two patterns that I've made multiple times and really love. The first is the
Renfrew t-shirt
from Sewaholic Patterns. Since my first Renfrew almost three years ago, I've made 15 of them in total...short sleeved, long sleeved, mid-length sleeved, pajama shirts, etc. I wear a lot of t-shirts, and it's been great to be able to sew my own as they need replacing rather than buying them! And as someone who hates transferring a lot of markings to fabric while sewing, the Renfrew pattern has spoiled me to an easy and quick (no markings!) sewing experience. It's the only thing I can sew in just several hours. My other favorite pattern is
McCall's M5431
. It's exactly what I want in a skirt: knee length and really full without having pleats or gathers. I've made 4 or 5 of them, including the black and teal skirt shown above.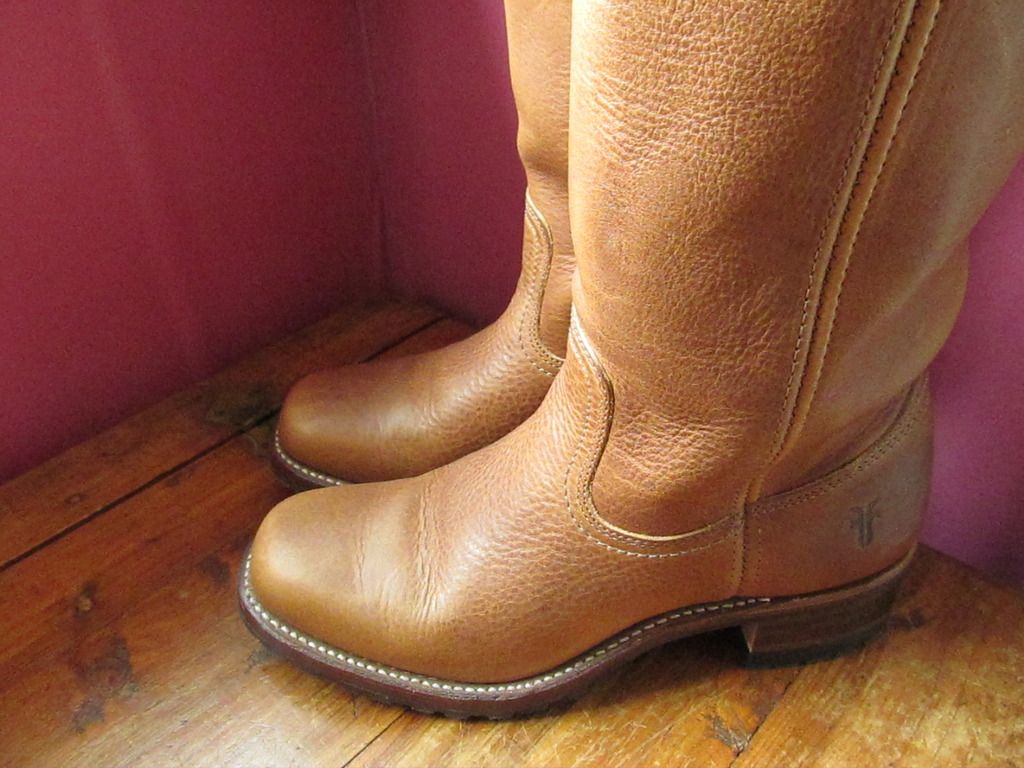 When I started thinking about investment pieces, I realize that I only have one so far. I recently bought my first pair of real shoes. My dad has been preaching quality shoes to me and Mom for years, and I'm finally getting it. :) Up until this point, I had never paid more than $25 for shoes...I bought cheap shoes at Payless, wore them until they fell apart, and then repeated the process. In the past year or so, I realized that having an ethically sourced wardrobe included shoes, too, and I started doing some research for shoes made in America. Talk about sticker shock, and a lack of options! Even though I've never been a shoe person, I fell in love with a pair of Frye boots and decided to start saving up for them. (A lot of their shoes aren't made in America anymore, but
some are
.) Then, over Labor Day weekend, Frye was having a sale, and I got these boots for about $120 less than what I was planning on spending. (They're identical to the ones I picked out originally except the leather is a bit lighter and they have a rubber outer sole instead of just leather. You can see them worn
here
.) They only had one pair left in my size...I couldn't pass them up. I've only been able to wear them twice so far, but I
love
them.
Over the next couple of years, I'm hoping to gradually replace my worn, cheap shoes with a few pairs of good quality ones. I love the idea of having leather shoes that will last for years and years, that can be resoled and repaired when necessary instead of being thrown away. I'm thinking about saving up for
a pair of these
next to replace my flats...I waver between thinking that they're pretty cute and that they're rather ugly, ha. Either way, I love the idea of them.
You can read
this week's post
by Karen at the Fringe Association, or follow along on Instagram
here
.