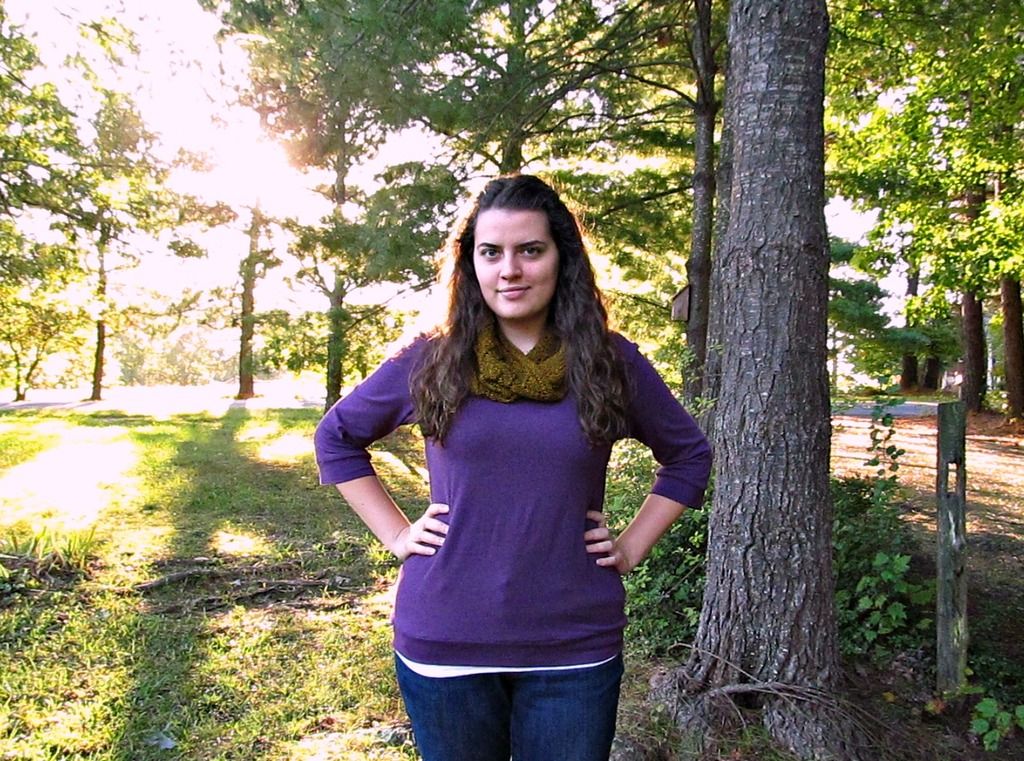 Week 2, October 5-11: SMALL
Handmade / living with less / quality over quantity / capsule wardrobe / indie fashion / small-batch makers / sustainability
There's been a lot of discussion on sewing blogs over the past couple of years about having a "uniform." At first that idea sounded really restricting, but when I thought about what I wear on a regular basis, I
do
have a uniform. All summer long, I wear a t-shirt, jeans, and flats. (I don't wear shorts or sandals. Have I mentioned that summer is not my favorite?) During the winter, I wear a t-shirt layered under a sweater, jeans, and boots (plus whatever knitted items I can get away with). I do wear dresses and skirts to church, but even then I have a silhouette that I'm drawn to: a more fitted top with a flared skirt.
I don't wear the same colors all the time (though most of my wardrobe is brown, blue, or black...those are just colors I gravitate towards), and sometimes I mix things up a little, but basically, that's my uniform. Either black or brown matches with everything I wear, so I have flats, boots, and church shoes in those two colors. (Ideally, though, I'd like to narrow down my shoes to about 4 or 5 pairs. And since I'm trying to gradually replace mine with American made, high quality shoes, that will likely be all I can afford, ha!)
When I write it out like that, it makes my wardrobe sound pretty boring. And maybe it is, but it doesn't feel that way to me. In general, I'm happy with what I wear. I'm finally at the point where most of the clothing in my closet is handmade, and I love that. I like having a smaller amount of clothes to choose from. I've never been one of those people who loves to put together new outfits and such. I want to look nice, of course, but I just don't want to spend much time getting there. (Yet another reason why
I don't wear makeup
and why I let my hair do its own thing.)
It's even better if all of my clothes are well made from ethically sourced materials...I'm always trying to improve on that, of course. I'm a bargain shopper by nature, so I'm constantly reminding myself that it's better to spend more on materials for a few quality items rather than to make lots of things from cheap materials. Quality over quantity.
Having said all of that, I've been looking through my clothes and thinking about what I need to replace or make to fill in some gaps:
- Jeans.
I'm actually okay with jeans right now...I have two good pairs of them, plus a couple more pairs that I can wear around the house. But the fact is that I wear jeans all the time, and I can't bring myself to buy any more from Old Navy and I can't afford ethically made jeans. So even though I never thought I would do it, I'm going to try to sew jeans. I bought the
Ginger Jeans pattern
a while back when it was on sale, so now all I have to do is get some supplies and print/assemble the pattern (to make things a bit more interesting, our printer isn't working). Oh, and gather my courage because the thought of sewing jeans is
so
intimidating to me.
- The perfect dress.
I still haven't found the perfect dress pattern. I love my
swing dresses
, but I don't want to wear that style all the time. I like my
Hawthorn
, but the neckline is too big and I'm not too sure about the collar. I want a fitted bodice (comfortable but not frumpy), a full skirt (but no pleats or gathers), and short sleeves (so I can wear it during the summer and under a sweater in the winter).
- Lightweight cardigans.
I have two cheap ones (brown and black, ha) that I bought at Target years ago, and they're getting stretched out and faded. I wear them all the time over dresses and with skirts and jeans, so I'd really love to replace them with handknitted versions. (Probably using fingering weight yarn, so this is more of a long-term goal.)
- Shoes.
I'm going to write more about this later on in the month, but all of my shoes are cheap (think $20 or less) and I've been wearing most of them for at least five years...needless to say, they all started looking ragged around the same time. Replacing my shoes is definitely going to be a slow process, though, because of the cost of quality ones.