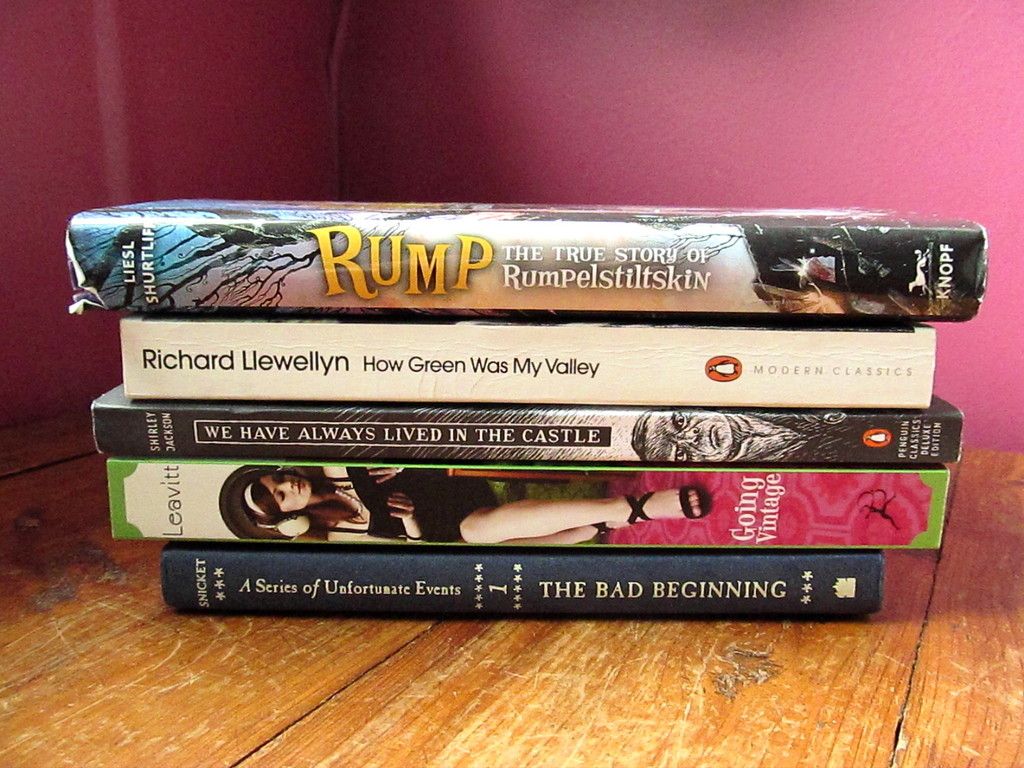 September was a decent reading month. I know I'm doing this post a few days early, but I'm pretty sure that I won't finish the book I'm currently reading before October 1st. :) I loved about half of what I read this month and the other half was a bit...eh. As always, click on the title to read my full review.
Rump: The True Story of Rumpelstiltskin
, by Liesl Shurtliff.
For some reason, I always go into middle grade books with this hope that they'll be charming and special, but unfortunately a lot of them end up being rather forgettable. Which was the case with this book. It sounded so promising...Rumpelstiltskin's backstory! But it was a bit slow and the resolution about his name felt forced. The best parts were all of the mentions of spinning and the illustration of a spinning wheel at the beginning. :)
How Green Was My Valley
, by Richard Llewellyn.
Reading this book was such an unusual experience. I literally couldn't rush through it. Not that I was trying to fly through it, but it took me two and a half weeks to read it and I honestly don't think I could have done it any quicker. This book forces you to read it slowly. After I got used to the Welsh dialect and finally straightened out who was who (there are a lot of brothers!), I absolutely adored this book. The writing was beautiful and I felt like I was there in the village, and the struggles of the family felt so real. I liked the second half a bit less...Huw was less likable after he grew up and things took a darker turn for a lot of the members of the family. But this is one of those books that really sticks with you.
We Have Always Lived in the Castle
, by Shirley Jackson.
This one is a new favorite. It was so creepy and disturbing (a perfect fall or Halloween read!), but I couldn't put it down. The characters are unhinged and crazy, but I felt so much sympathy for them. Despite all of the sinister weirdness going on, the writing is so simple and matter-of-fact. The first half or so reminded me of the Addams Family...humorous but dark. The scenes with the villagers and Charles made me so angry! I had to give this book five stars because it's been a long time since a story sucked me in like that. Highly recommended, though it's definitely not going to be everyone's cup of tea. Now I really want to read more from Shirley Jackson. (I read her famous short story The Lottery online earlier this year, but that's it.)
Going Vintage
, by Lindsey Leavitt.
After reading two rather intense books that I ended up loving, I picked this one up because I wanted something light and fluffy. Well...it might have been a bit too fluffy, or maybe I just shouldn't have read it right after two such amazing books. This one was cute, but a bit disappointing. I did like Oliver, but I felt like I just breezed through this one without connecting to the story or the characters.
The Bad Beginning
, by Lemony Snicket.
I loved The Series of Unfortunate Events when I was a kid (and a teenager, since I was 15 when the last book came out). I've been wanting to reread them for a long time, so I think I'll read one or two of them each month until I'm finished. It's probably been 10 years since I last read this book, and I was pleasantly surprised to find that I enjoyed it just as much now as I did then! It was an incredibly fast read. I love the characters and the illustrations and the writing style (I didn't find the "defining" aspect of it to be as annoying as I expected). This is my favorite type of children's literature: quirky and slightly creepy and sinister while still being hilarious. (That's probably why I'm so often disappointed with middle grade books trying to be like SOUE...they just don't measure up!)