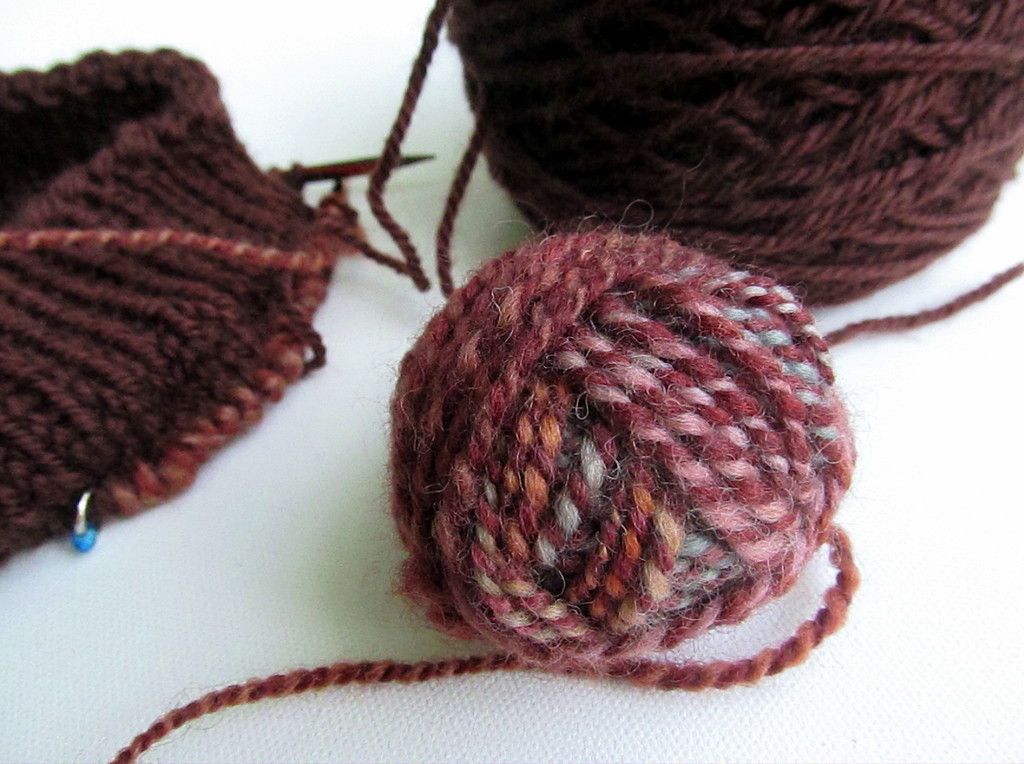 When I first learned to knit, there were a lot of things about it that I found intimidating. But I didn't want to be limited to knitting scarves for the rest of my life, so each year I focused on learning something new.
First, it was socks. I heard knitters saying things like, "I've been knitting for 10 years and I've
never
attempted socks!" I heard horror stories about turning the heel. But I found
a really good tutorial
and guess what? Turning the heel of a sock isn't scary at all...it's actually sort of magical, no matter how many pairs of socks you knit. (I don't really understand knitting. So I'm always blown away when you follow instructions blindly and amazing things happen. After all, knitting in itself is pretty unbelievable. How on earth did someone discover that you could take two sticks and some string and make a sweater?)
Next I tried a sweater. It wasn't the easiest experience, but I've learned a lot and my sweaters since then have been more successful than that first one. :)
Since I recently
learned how to read a chart properly and did some simple lace knitting
, I started thinking about knitting skills that still scare me...
1. Steeking.
If you're not a knitter, you might not know what steeking is. Let me explain:
you cut your knitting
. You take a pair of scissors and, for example, slice up the front of a pullover that is destined to become a cardigan. You take the piece of knitting that represents hours and hours of your life, and you cut it.
With scissors
. I think even a non-knitter should be able to appreciate how shocking and terrifying this is. I know that with steeking, you take all sorts of precautions to stop your knitting from unraveling, but wow...I don't know how knitters do this without having a heart attack. Because if you mess up, guess what? It's not like you can frog it and reuse the yarn, which is usually an option if a knitting project goes wrong.
At some point I'll learn how to do this, but I don't plan on it anytime soon. And when I do, I'm going to practice on a swatch about ten times before I cut into my real project.
2. Seaming.
Okay, so I've done a small amount of seaming before, on a pair of wristwarmers. But the thought of seaming a whole project like a sweater is overwhelming. Doing the finishing work on a knitting project is my least favorite part (I hate weaving in ends), and seaming adds a whole lot of finishing work. Plus, I'm afraid I would never get my seams to look neat. So for now, if I see that a sweater is seamed, I skip it.
3. Colorwork.
I really intend on learning colorwork this year. There are so many adorable patterns that I love that involve stranded colorwork. A lot of people tell me that it's no big deal, but something about it still makes me nervous. I think it's the tension aspect. I feel like my knitting tension is weird, anyway. For the first couple of years, my tension was so tight that I automatically had to go up one or two needle sizes for every project. But now, I often have to go down a needle size, especially with sweaters. Even tension seems pretty important for colorwork, which worries me.
What intimidates you about knitting? Am I worrying unnecessarily about any of these things?