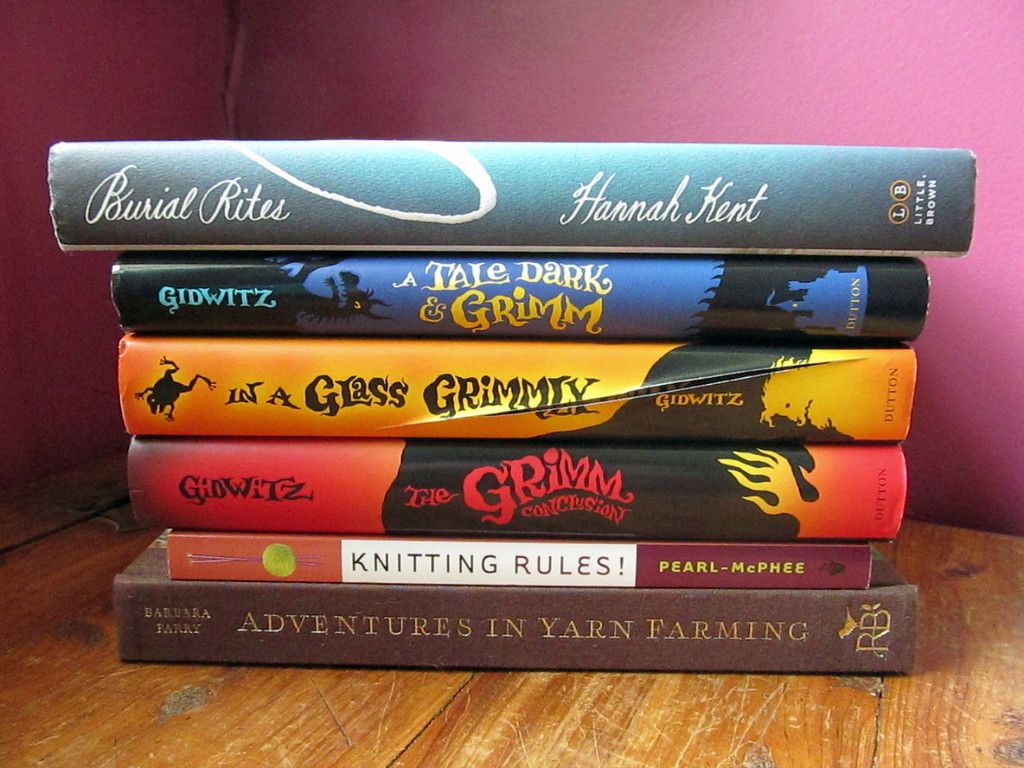 I started June off by making good progress on my
summer reading list
. In the first two weeks or so, I checked four books off my list. But near the end of the month, I got distracted by a couple of yarn books that arrived in the mail. :) In total I read six books and almost finished my reread of Emma. As always, click on the title to read my review on Goodreads.
Burial Rites, by Hannah Kent.
I'd been wanting to read this book for quite a while, and thankfully it didn't disappoint! The writing was beautiful and the story was engrossing, even though it was rather slow-moving. I didn't go into it expecting to feel so much sympathy towards Agnes. The book was very atmospheric, and now I'm even more fascinated with Iceland.
A Tale Dark & Grimm, by Adam Gidwitz.
This was a reread to refresh my memory before I picked up the third and final book in the trilogy. And after reading all three, I can say that this is my favorite of them. It feels the most cohesive. I love how the story of Hansel and Gretel is seamlessly incorporated into other more obscure fairy tales!
In a Glass Grimmly, by Adam Gidwitz.
This one, the second book, was also a reread. I love Frog and Eddie and the humor they bring to the story, but as a whole it just feels a bit too disjointed.
The Grimm Conclusion
, by Adam Gidwitz.
I
finally
got around to finishing this trilogy. I enjoyed the third book, but I didn't love it as much as I hoped to. Maybe it was just too much to try to read them so closely together? Like with A Series of Unfortunate Events (or other middle grade series), there are some repetitive aspects that feel a bit overdone when you read the books one after the other. Anyway, the devil and his grandmothers were definitely my favorite parts of the whole series (that makes so sense at all unless you've read the books)...they were hilarious.
Knitting Rules!
by Stephanie Pearl-McPhee.
There is some good practical information (and knitting "recipes") in this book, but overall I didn't enjoy it as much as her books of essays. Those are just funnier and more relatable. At times I almost felt like she was trying too hard to be funny in this one.
Adventures in Yarn Farming, by Barbara Parry.
This was such a beautiful book! There are lots of gorgeous pictures and the book itself is just really pretty (it's compact and dense and the pages are nice and glossy). As someone who's very interested in raising a couple of wool sheep (soon, hopefully!), this was an interesting look at life on a fiber farm.