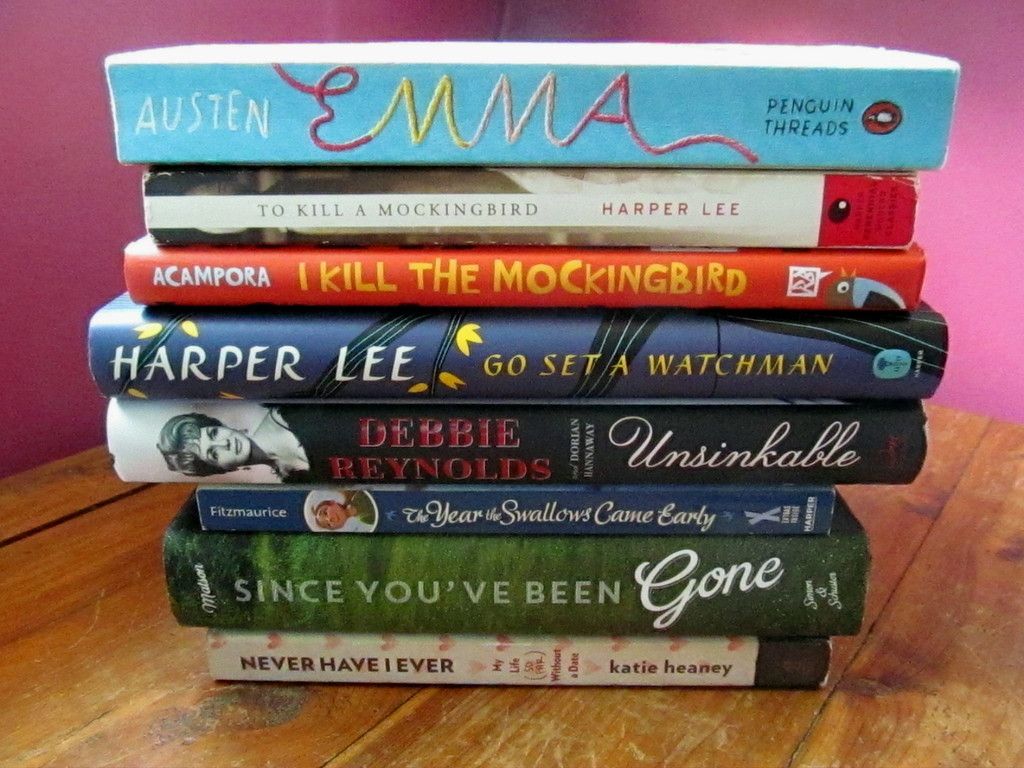 July was a good reading month for me! I'm still sticking to my
summer reading list
(I only read one book this month that wasn't on it). There's actually a decent chance that I'll complete my list this year, which would be awesome and a testament to my stubbornness (it would be nicer to say persistence, but let's call it what it is). As always, click on the title to read my Goodreads reviews.
Emma, by Jane Austen.
This was my third or fourth time rereading this one. It's such a lovely story! Austen always writes memorable characters, but this one is especially full of them: Emma, Miss Bates, Mr. Woodhouse, Jane Fairfax, etc. And let's not forget Mr. Knightley. I can finally admit that I prefer Mr. Knightley to Mr. Darcy.
To Kill a Mockingbird, by Harper Lee.
Another reread! I love this book. That's all.
I Kill the Mockingbird
, by Paul Acampora.
A fun middle grade book about three friends who hatch a plot to get more people to read Harper Lee's classic. I really enjoyed it. The three main characters were great and I'd love to be friends with them. :) The plot was the slightest bit underdeveloped, but it's a short book so that's understandable.
Go Set a Watchman
, by Harper Lee.
While I only actually enjoyed the first third or so of this book, it's still worth reading and it's fascinating to see what the story of To Kill a Mockingbird began as. I did a whole
review/discussion post of this one
.
Unsinkable, by Debbie Reynolds.
I wouldn't consider Debbie Reynolds to be one of my favorite classic film actresses, though she does happen to star in one of my favorite movies (Singin' in the Rain). But last year I read her first memoir and
really enjoyed it
. Her life story is depressing because apparently she's unlucky at choosing husbands (all three of them cheated on her and/or left her broke), but both of her memoirs are interesting and very readable. I liked this one less than the first one, because the first half is about her life from the 80s until present day (so no old Hollywood stories), and the second half is a recap of her films (and most of the interesting stories there are repeats from her first book).
The Year the Swallows Came Early,
by Kathryn Fitzmaurice.
This was a cute book. I enjoyed it, but it was just a standard middle grade read...not particularly memorable.
Since You've Been Gone
, by Morgan Matson.
I was so pleasantly surprised with this one. Honestly, I don't usually like YA contemporary at all...stories about modern-day teenagers tend to get on my nerves. But I enjoyed this book so much! It was a lot of fun, and the emphasis on friendship was nice. The main character, Emily, is shy and introverted, which was refreshing. Since this book lived up to all of the good things I'd heard about it, I'll definitely be picking up more of Morgan Matson's books.
Never Have I Ever: My Life (So Far) Without a Date, by Katie Heaney.
I've been wanting to read this memoir for the longest time, though I was worried it would be disappointing. It was. I expected a light, fun read that I could fly through, but it slogged at times. Also, there was a lot of bad language (which is one of my pet peeves). I could relate to the author at times, but sometimes that wasn't a good thing because whatever she was saying would be a bit ridiculous, and I would think,
wow...is that how I am?
Anyway, mixed feelings on this one. (Also, the subtitle is misleading. Maybe she's never been in any actual relationships, but she definitely describes going on dates in the book.)