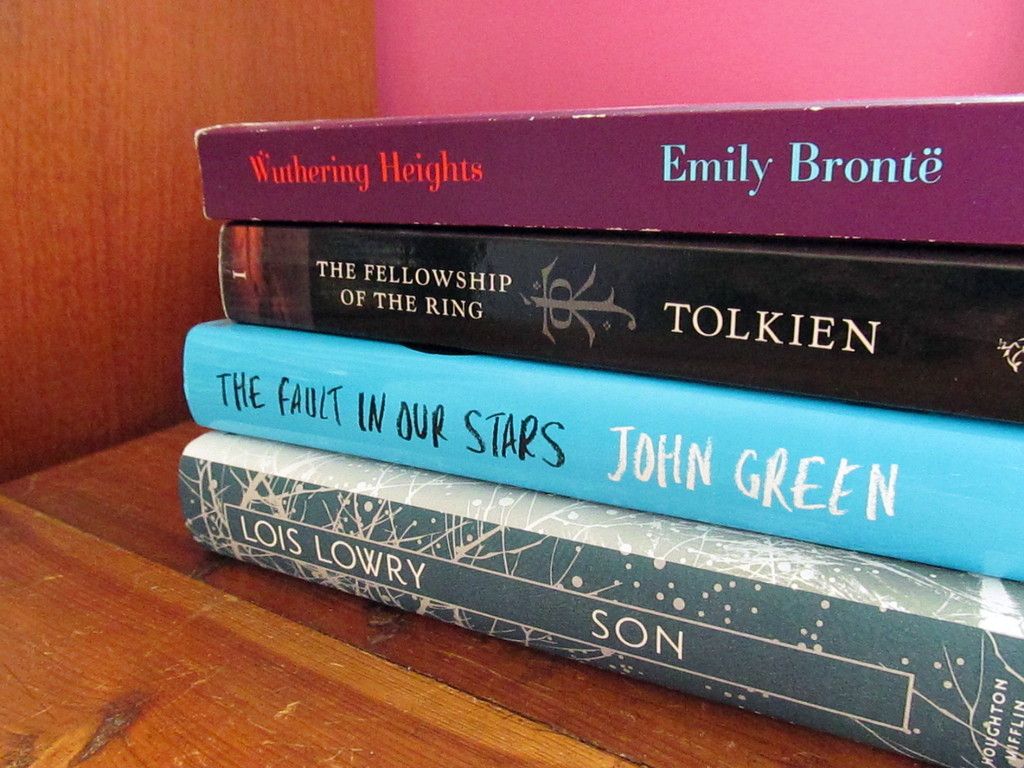 I often write about my favorite books. But today, for something a little different, I'm going to talk about books that I
don't
like. (I'm stealing this tag from
Cait over at Paper Fury
.) Sometimes it's oddly enjoyable to discuss books that you dislike. :) Of course, everyone has different opinions so please don't be offended if one of your favorite books makes the list.
For as many of the books as possible, I linked to my Goodreads reviews so you can read more of an explanation, if you're interested.
1. A popular book or series you didn't like.
Wuthering Heights
. (I know it's considered a classic, but it's so depressing and features some of the most unlikable characters ever.)
The Casual Vacancy
. (I'm not too sure how well-liked it is, but it was a huge disappointment for me.) I was also really disappointed with
Divergent
and
Miss Peregrine's Home for Peculiar Children
, given how popular they've been over the past few years.
2. A popular book or series that everyone hates but you love.
The only thing I can think of is The Giver Quartet by Lois Lowry. I know that a lot of people love The Giver but don't enjoy the other three books.
Son
especially seems to get very mixed reactions, but I loved it. It was probably my favorite of the series.
3. A love triangle where the protagonist ended up with the person you didn't want them to be with.
If I'm remembering correctly, Cassia in the Matched trilogy didn't end up with the guy I preferred. But to be honest, I didn't like either guy too much so it didn't exactly bother me. (Add the Matched trilogy to my list of literary disappointments.)
4. Popular genre you hardly read.
I don't read much contemporary. Also, I rarely read fantasy. And I've never read any of that vampire/paranormal/etc. YA that was so popular several years ago. :)
5. A popular or beloved character that you dislike.
Heathcliff! That guy is a nutcase (see the link above in the first question). Also, I know I've said this before, but I don't like Frodo. At least, I don't like movie-Frodo...it's been a long time since I read LOTR so book-Frodo might not be quite as bad. Bilbo Baggins is a hero. Sam is a hero. Movie-Frodo is a complete wimp.
6. A popular author you can't seem to get into.
I had heard such good things about Sophie Kinsella, so last year I read one of her books. It was kind of dull and there was a ridiculous amount of profanity. (Do people seriously talk like that?) Then there's Neil Gaiman. I want to love his books because I love the idea of them. And maybe he doesn't count because I haven't read any of his adult books yet. (I really want to try Stardust.) I've read
Coraline
and
Fortunately, the Milk
and while they were both cute, I wasn't blown away. But I will give him another try.
Also, I know I'm in the minority here, but I don't like John Green. I liked The Fault in Our Stars when I first read it several years ago, but looking back, I think that my favorable reaction was because of how emotional the book made me. Plus maybe I was riding the hype that the book was getting at the time. (And both of those are not good reasons for supposedly liking a book. I need to read it again sometime to decide what I really think.) I've read more from him since then and didn't like it. I know that so many people love the VlogBrothers, but there is just something about John and Hank Green that irritates me. They are always preaching tolerance and thinking for yourself, but they don't seem very understanding towards people who don't have the same beliefs as them.
7. A popular trope you're tired of reading.
Love triangles. Also, characters
always
being beautiful. This seems especially common in Christian historical fiction, strangely enough. The female character is always described as being stunningly pretty, thin, small, and elegant. As someone who is none of those things, it makes me roll my eyes. (Alas, few authors write about awkward female leads.) The only exception to this I can think of is A Distant Melody, by Sarah Sundin. Both of the main characters are described as being rather plain, which was refreshing. (That whole series is pretty amazing, by the way.)
8. A popular series you have no interest in reading.
The Outlander series. Game of Thrones. The second and third books in the Divergent trilogy.
9. A show or movie adaptation you liked better than the book.
The Lord of the Rings trilogy, just because it is
so difficult
for me to get through those books! I appreciate Tolkien's imagination and attention to detail, but goodness.
The Princess Bride
(the book didn't make me laugh...those lines are just so much funnier coming from the actors). I like the Cranford and North and South mini-series better than Gaskell's books. I didn't enjoying reading Divergent, but I was surprised by how much I liked the film. And one of the biggest examples of a film being so much better than the book: The Thin Man. Unfortunately, book-Nick Charles is not very charming.
What are some popular books that you don't like? Also, I'd love to hear about any movies you prefer to the book...