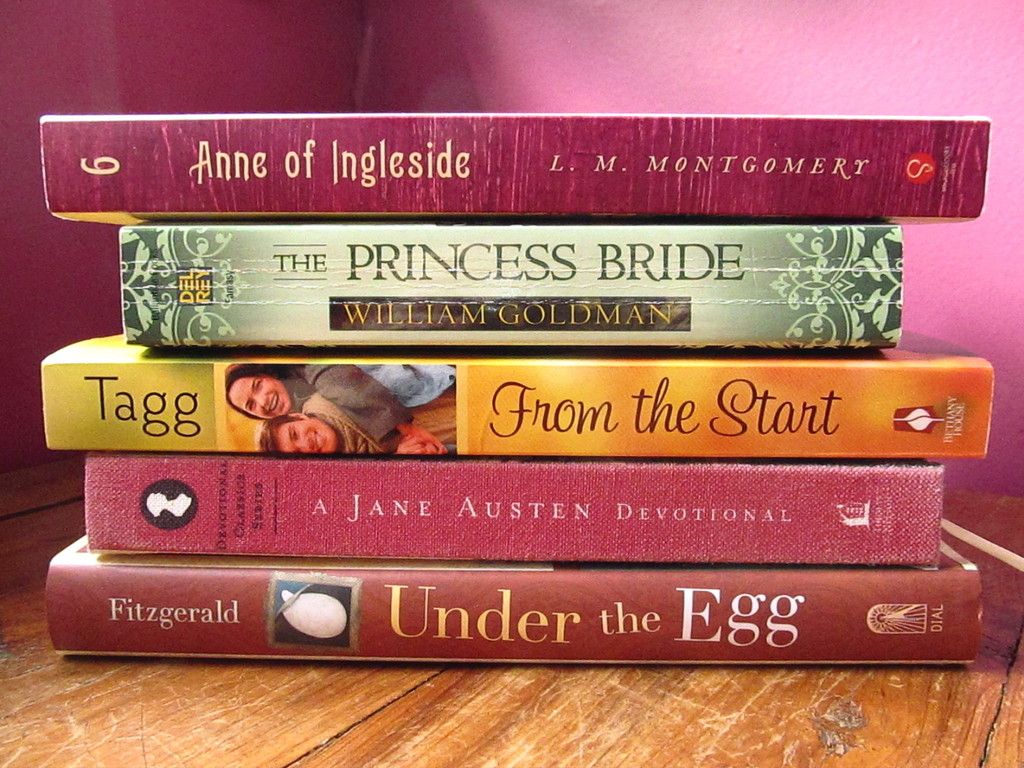 April was a decent reading month. I didn't get a lot read, but I enjoyed everything that I did read. :) As usual, click on the title to read my review on Goodreads.
Anne of Ingleside
, by L.M. Montgomery.
This is probably my least favorite of the Anne books. I still liked it, but it lacked the charm of the other books! The summary on the back of my edition was misleading, and while some of the stories about the kids were funny, I honestly had a hard time keeping them straight. (In the last book, Anne had one child- this is several years later and she has six or seven.) This is the last Anne book that I own, so I'm through with the series for a while. I'll probably read Rainbow Valley and Rilla of Ingleside later this year, but I've really loved reading this series!
The Princess Bride, by William Goldman.
I finally read this book! I bought it about 9 years ago after I fell in love with the film. I started reading it then, but got bogged down with all of the stuff at the beginning before the actual story. I held onto it for all this time, and I decided it was time to finally read it. Since I knew more about the author and the film now, I was basically able to sort through what was real and what is pretend in the beginning part, but it still felt like an awkward way to open a book. Anyway, the actual story itself was great, of course, but I still love the movie
so
much more. If you're a fan of the film, it's worth reading to get a little more detail and backstory to characters, but this is one of those rare instances when the movie is better (in my opinion).
From the Start, by Melissa Tagg.
I really enjoyed Melissa Tagg's latest novel. I wrote a full review of it on the blog, so I won't repeat my thoughts in this post.
A Jane Austen Devotional, by Steffany Woolsey.
I've been reading this devotional off and on since the beginning of 2014. It was pretty good, but nothing profound or life-changing. Some entries were better than others, but if you're a Jane Austen fan, you'll probably enjoy this one.
Under the Egg, by Laura Marx Fitzgerald.
I love reading middle grade books, but I've felt a bit let down by the ones I've read so far this year. Until this one! I loved it. It was so satisfying, and it's about art and WWII...so not exactly your typical middle grade novel topics. There were a couple of twists I did not see coming, and the whole book felt timeless- like a story I would have read and loved as a kid.