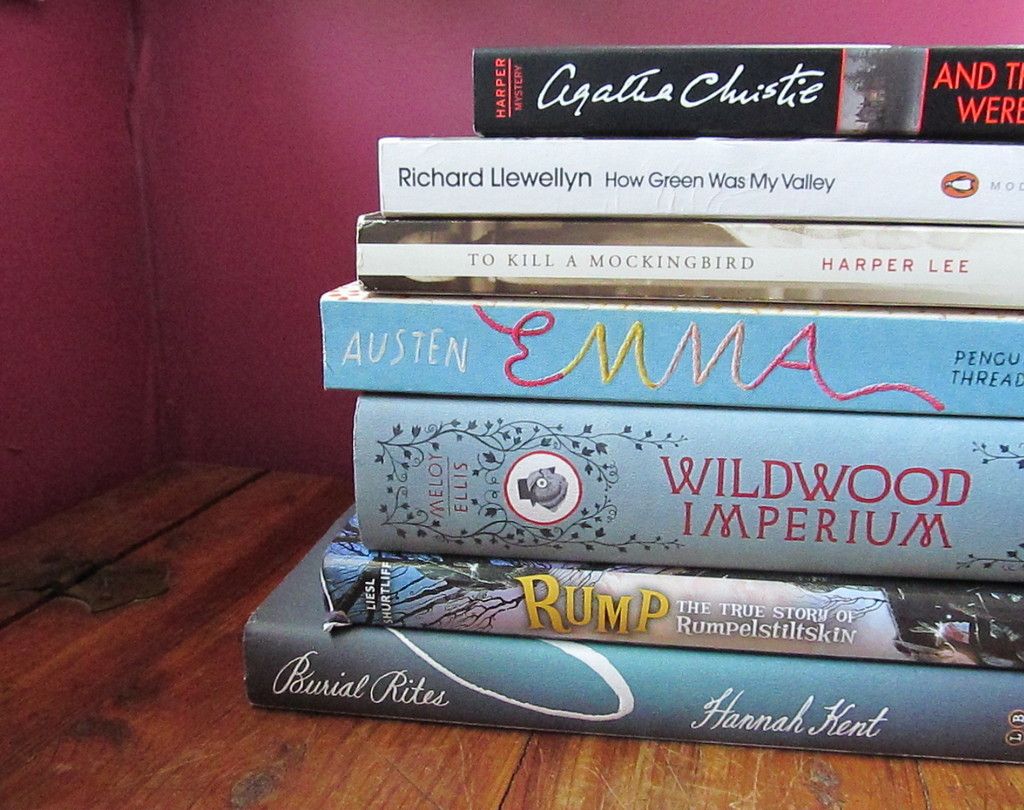 Last year, in an effort to find some good in summer (besides the fact that it's followed by fall, the most glorious time of the year),
I made a summer reading list
. My list was ambitious and I probably didn't read half of those books, but it was still fun. I decided to do the same thing this year, though with a
much
more manageable list. Here's what I'm hoping to read in June, July, and August!
Classics
Emma, by Jane Austen. Because I've been meaning to reread this one for almost two years now. Oops.
To Kill a Mockingbird, by Harper Lee. Though I consider this to be one of my favorite books, I've only read it once, back in 2011. So of course I'm overdue a reread, and it works out nicely with Go Set a Watchman releasing in July. To go along with those two, I also want to read a little middle grade book about TKAM called I Kill the Mockingbird, by Paul Acampora.
How Green Was My Valley, by Richard Llewellyn. I've heard good things about this one. It's about a boy growing up in a mining community in Wales, and it's supposed to be really beautifully written.
The Importance of Being Earnest, by Oscar Wilde.
After liking the web series
In Earnest
and rewatching the Colin Firth film (I didn't get the humor the first time I watched it, four or five years ago), I'm ready to read the play itself. :)
Middle Grade
I love good children's books, especially middle grade ones. I own a lot of them that I haven't read yet, and there's really no excuse for that since they're usually quite short and easy to get through. So I want to tackle a lot of my unread middle grade novels this summer and complete a couple of series.
Rump: The True Story of Rumpelstiltskin, by Liesl Shurtliff.
This book sounds adorable. Plus, a spinning wheel!
Wildwood trilogy, by Colin Meloy.
I'm carrying this one over from last summer. I really want to read the third and final book, but before I do that, I feel like I need to reread the first two.
A Tale Dark & Grimm trilogy, by Adam Gidwitz.
Same thing as the Wildwood trilogy. I've read the first two but want to reread them before getting to the third one.
The Year the Swallows Came Early, by Kathryn Fitzmaurice.
A little realistic fiction mixed in with all of the fairy tale/fantasy books. :)
Miscellaneous
A Bill Bryson book.
I like to read at least one travel book each summer. I haven't yet decided between Neither Here nor There (about his travels through Europe), or In a Sunburned Country, which sounds appropriate for summer. Though I know the heat here is nothing compared to Australia. :)
Unsinkable, by Debbie Reynolds.
I want to read this second memoir by her while the first one is still somewhat fresh in my mind.
Since You've Been Gone, by Morgan Matson.
Maybe I'll finally get around to reading a Morgan Matson book? I've heard this is a good summer read.
Burial Rites, by Hannah Kent.
This is supposed to be a darker book, so even though I'm really excited to read it, I'm waiting until I'm in the right mood.
And Then There Were None, by Agatha Christie.
This is one of her mysteries that I'm most excited for, and it's supposedly one of her best.
What are you planning to read this summer?