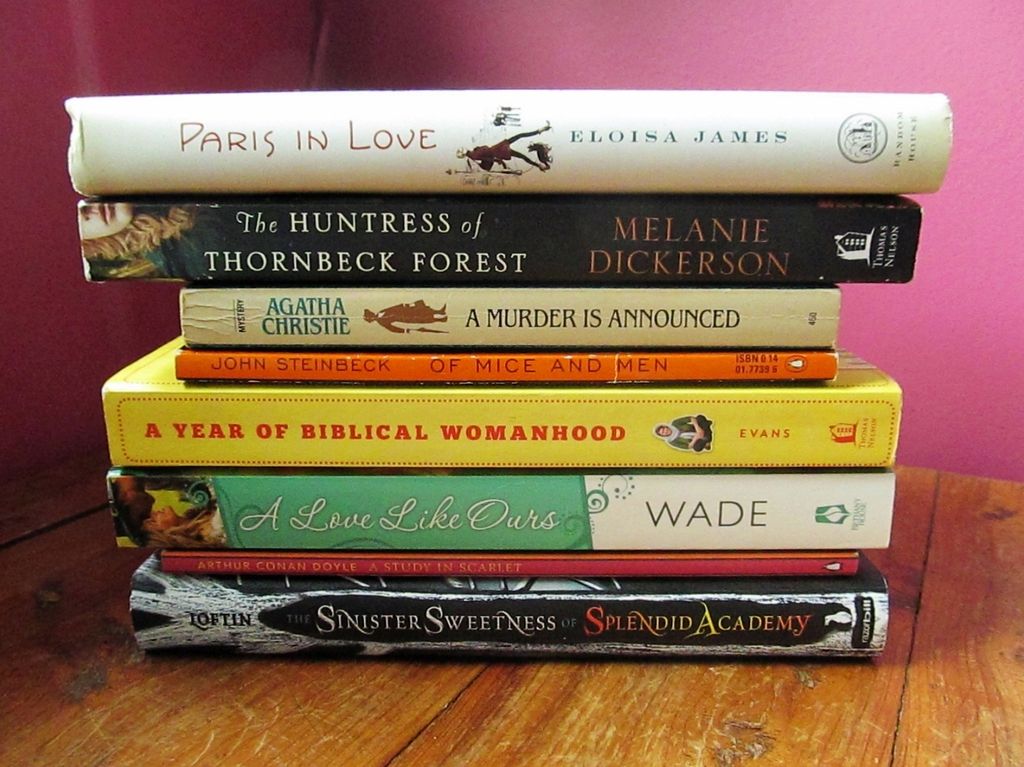 Looking at what I read in May, I love seeing such a variety: mysteries, classics, memoirs, middle grade, etc. This month it seems like I read all of my favorite types of books, but I never felt like I was reading too much of the same thing. I'd like every month to be like that! :) A bonus: I liked nearly everything I read.
I read eight books this month, which isn't quite as good as it sounds when I point out that two of them were barely 100 pages long. :) As always, click on the title to read my Goodreads review.
Paris In Love
, by Eloisa James.
This is the memoir of a woman who took a year-long sabbatical from her job and moved to Paris with her husband and two kids. It took me a while to get used to the way the book was set up (very brief anecdotes), but it ended up being a light, quick read. It was choppy at times, but overall I enjoyed it.
The Huntress of Thornbeck Forest
, by Melanie Dickerson.
Unfortunately, I was a bit disappointed with this one. It had potential, but I keep expecting more from this author's books. I received this one to review, so there's a full post on the blog.
A Murder is Announced
, by Agatha Christie.
So good! I just wish I had read it before I saw the TV adaptation so I would have been more surprised.
Of Mice and Men
, by John Steinbeck.
This was my first Steinbeck, and wow...it was good. So depressing but
so
worth it. I had heard that the ending was tragic, but I managed to go into it not being spoiled about what was going to happen. The writing was incredible. Maybe now I'll be less intimidated about tackling East of Eden?
A Year of Biblical Womanhood
, by Rachel Held Evans.
I really enjoyed this book. Of course I don't agree with every single thing the author wrote, but it was both funny and thought-provoking. Whether you go into it thinking you're going to agree with her or not, it's still worth reading.
A Love Like Ours
, by Becky Wade.
A good addition to the Porter Family series, though not quite as emotionally investing as I had expected.
A Study in Scarlet
, by Arthur Conan Doyle.
Why did it take me so long to read a Sherlock Holmes story? (Other than a rather forgettable brush with him in high school.) I was pleasantly surprised by how readable and amazing this little book was. It was so interesting to compare it with the BBC adaptation. I'm definitely going to be reading more Sherlock Holmes this year. :)
The Sinister Sweetness of Splendid Academy
, by Nikki Loftin.
A cute, creepy retelling of Hansel and Gretel. I liked it, but it wasn't anything spectacular.