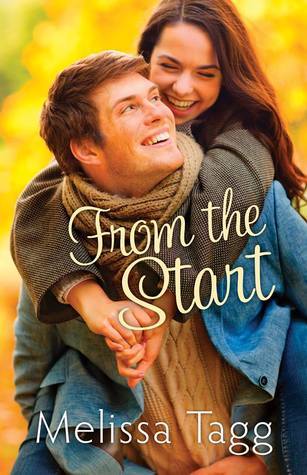 When it comes to Christian novels, historical fiction is definitely my comfort zone. But in the last couple of years, I've been venturing into more contemporary, and Melissa Tagg is one of the authors in that genre whose books I've come to expect wonderful things from.
Her latest, From the Start, was no exception. This book is the first in a new series (I hope so, anyway? That seems to be the case) that is loosely tied to her previous two books. It revolves around Kate Walker, a writer of TV romance movie screenplays, and Colton Greene, a former NFL quarterback who can't play anymore due to an injury. After a tornado hits Kate's hometown, both she and Colton end up there, helping the townspeople put things back together.
I really enjoyed this book. I haven't had a lot of time for reading lately, so it took me longer than it should have to finish this book. But when I
was
reading it, I flew through it because I didn't want to put it down. Kate and Colton were both great characters, and I enjoyed the way that their backstories were revealed. Sometimes authors will mysteriously hint about things in a character's past and then take forever to actually reveal what happened, but that wasn't the case here. And while the main characters both had pasts and things that were seemingly going to pull them in different directions in the future, there wasn't any over-the-top drama or any huge argument/falling out between them. (I appreciated that.)
There are lots of fun supporting characters, which gives the town of Maple Valley a slight Stars Hollow feel (though less kooky, I think). I hope that the series will continue on with the rest of the Walker siblings, because I'm interested in learning more about them. I also hope that Megan will play a part in later books, because I feel like her story isn't done!
I know that Melissa Tagg is a classic movie fan, and as a fellow fan, I really loved all of the references. And besides the slight Gilmore Girls vibe I was picking up from the town, part of the story also reminded me of It's a Wonderful Life (I think I can say "the old house part" without spoiling anything). Also, if you're not a sports fan, don't let the fact that Colton is a football player turn you off from this book. I know absolutely nothing about sports, and I was never lost by anything going on. :)
While I still think Here to Stay might be my favorite of Melissa's books (Blake is an awesome character, you guys!), From the Start is a close second. I can't wait to see what's next from this author! :)
*Note: I received this book for free from Bethany House Publishers in exchange for an honest review.*