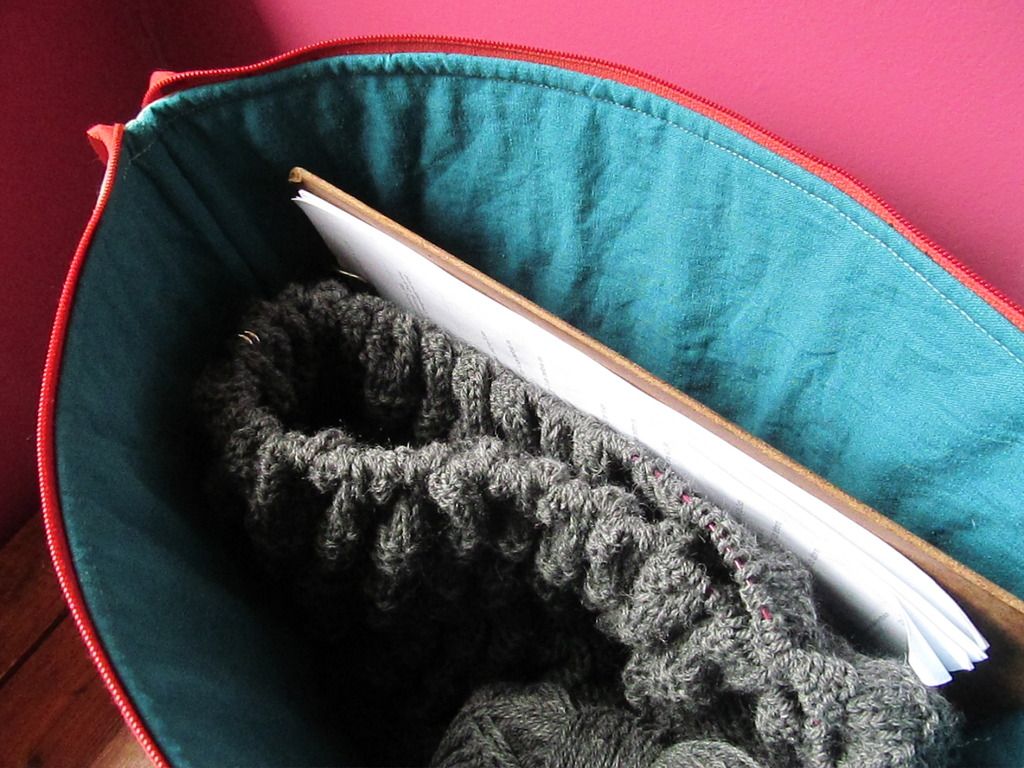 Recently I've been working on two of my new year's resolutions: use up some of my "special" fabrics, and sew a set of knitting accessories.
It wasn't until the past six months or so that I finally realized why most knitters tend to have tons of project bags. I used to only have one or two WIPs at any given time, and I never really used project bags. Well, now I do. Not only are they useful when you take your knitting with you everywhere (which I do), but it's also nice to have everything separate and organized instead of just having piles of knitting scattered around my room.
I'd been hoarding a 1/2 yard piece of fabric from Teagen White's
Fort Firefly line
since last year. It was organic cotton, probably the most expensive fabric I've ever purchased (which is why I only bought half a yard), and
so adorable
. I never used it because I was always trying to save it for the "perfect project." Finally I realized if I kept waiting for that, this fabric would probably never be used. (I have this thing for whimsical woodland fabric. Anything with flowers, trees, squirrels, foxes, rabbits, etc. See
my knitting bag
.)
I decided to use it to make a large-ish project bag. I have a couple of smaller bags, but anything bigger than a cowl or socks outgrows them quickly. This one is the perfect size for sweaters and shawls.
I used
this tutorial
again (as with
this little bag
, which I still use constantly), except I tweaked the numbers to made a bigger version. Mine turned out to be 10" tall and 13-14" wide, with a 5.5" gusset. Above I have my
Onward Shawl
and a clipboard with the pattern in it. The other day I also added my little notions bag and the socks that I'm working on and was still able to zip it up.
The outside is the above mentioned organic cotton print. The inside is a teal linen-blend that I had left over from a dress I made right before I graduated high school. (Which I'm shocked to realize was six years ago now!) I basted some cotton batting to the lining to make the bag sturdier and used some fusible interfacing on the outside pieces, which is already wrinkling, as you can see (I've had bad luck with interfacing lately). The zipper is vintage. I seem to have acquired tons of old zippers over the years...from yard sales and hidden in sewing boxes from thrift stores and others just given to me. A lot of them are in the most atrocious 70s colors, and I always used to think,
what on earth am I going to use these for? I would never wear clothes this color!
But ironically they often match well with bags that I sew. :)
(I feel like all I've been posting this month are Yarn Along posts! I just haven't had many finished projects to share, but lately I've completed some things. So hopefully there will be more variety.)