I've never been one of those girls who loves shopping for clothes.
First of all, as someone who has always struggled with insecurities and feeling overweight, shopping for clothes was usually a pretty depressing experience. Nothing fit the way I wanted it to or the way that I thought it should. A little later into my teenage years, I started realizing that most of the clothes I kept seeing were not modest enough for my preferences and on top of that, I just didn't
like
most of them. I know what I like to wear and usually those things don't overlap with whatever is trendy at the time.
Within the past two years or so, I became vaguely aware of the poor conditions of the factories where most of our clothing is produced, and I started feeling uncomfortable with the idea of buying new clothes. I made a lot of my own clothes and kept wearing what I already had, and for me personally it was pretty easy to not buy many new clothes (given my dislike of the whole process anyway!). In 2013 and 2014, I bought three Doctor Who t-shirts from Threadless (the shirts are made in Nicaragua and printed in Chicago), two pairs of jeans from Old Navy (made in China), and a winter coat (made in Vietnam).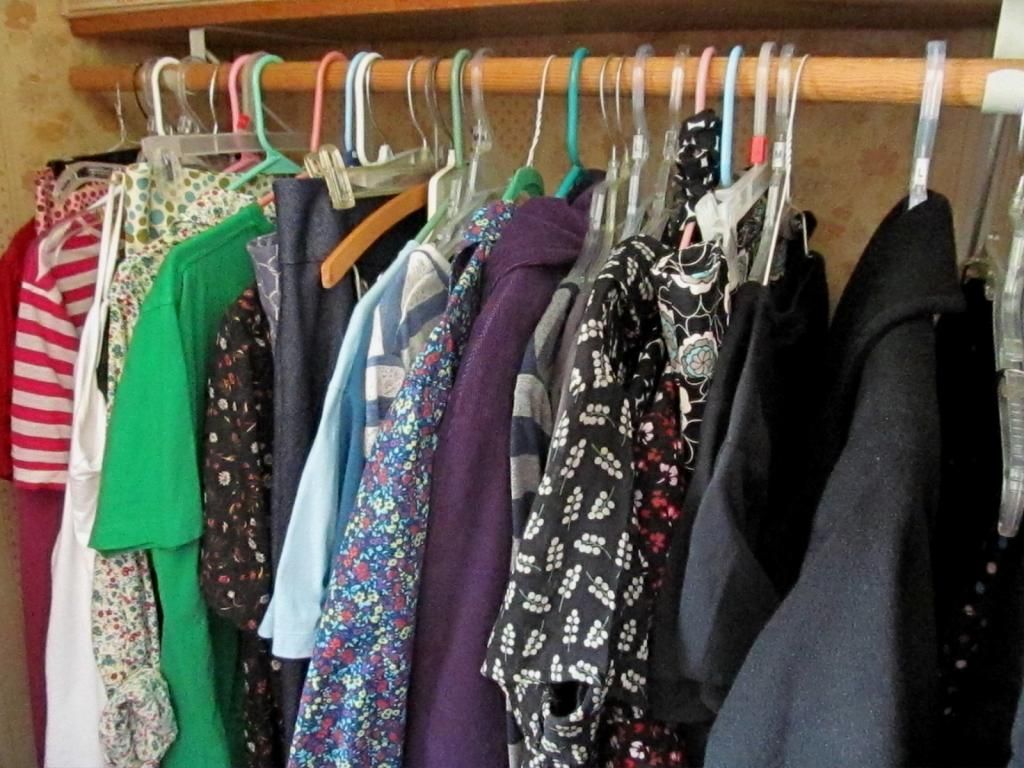 I just finished reading a book that I've been wanting to read for a long time. It's Elizabeth L. Cline's
Overdressed: The Shockingly High Cost of Cheap Fashion
. It solidified my opinion on what I already felt about cheap, fast fashion but opened my eyes in so many other ways. Everyone needs to read this book. I highly recommend it. I know that nonfiction isn't everyone's thing, but it's very readable. (A lot of the information in the rest of this post is gathered from this book...I don't take any credit for researching it.)
Our world is so messed up. I know that there are more obvious and important ways that our society is messed up. But cheap fashion is an issue that touches the lives of nearly everyone in the world, those of us who buy it and those who are making it (and those in poor countries who are inheriting the bales of old thrift-store donations that we don't need anymore), and for us Americans it's edged into our lives without us even noticing.
According to Overdressed, American families are currently spending less of their annual income on clothing each year than ever before, but they are buying more clothes. That's the allure of cheap fashion: if we only spend a few dollars on a t-shirt, who cares how long it lasts? We can always buy more. Clothes have become disposable. They used to be valuable...you invested in high quality garments, took care of them, and then mended when necessary.
After World War I, a mid-priced dress would have cost just under $200 in today's dollars. Now most of us don't want to spend more than $25 on an item of clothing. When Americans started buying high quantities of cheap clothing, companies started turning to overseas factories. Those factories can churn out huge amounts of clothing for a fraction of what it would cost to make them in America. The main reason? Cheap labor. The average wage of a sewing machine operator in the US is about $1,660 a month. In China, the minimum wage in some provinces is $147 a month and in Bangladesh it's $43 a month. People are working long hours in factories (unsafe ones in
some instances
), with little to no time off, and they're not even making enough money to live on.
The worst part is that it's our fault. We can't complain about the shoddy quality of our cheap store-bought clothes. (You get what you pay for, though according to Overdressed, most high-end and designer clothing isn't any better...you're paying for the brand name, not the quality.) We can't complain about the demise of the American textile and garment industry and how so many jobs have been moved overseas. We chose this! We chose cheap, fast fashion and this is what happened.
Please know that I'm not being judgmental, you guys. I'm not pointing fingers or trying to shame anyone for where they shop. This is part of our culture and it's hard to change! It's ingrained in most of us to look for cheap prices, because we feel like that's how we get the most for our money. Up until a couple of years ago, I bought clothes at Target and Old Navy. I haven't bought any shoes in years (because I tend to wear them until they fall apart), but most of my shoes came from Payless or Ross and I don't think I've ever paid more than $35 for a pair. Usually it was more like $15 to $20. I've been browsing for US-made shoes, and wow...talk about sticker shock! It's so hard to change my way of thinking, to stop believing that cheaper is better.
I don't pretend have the answers to this, but I do have some thoughts on the changes that I'm personally going to try to make. This post is already long enough, so I'll be writing another post with those ideas and how I think the cheap fashion mindset ties into handmade.
I realize this whole post is probably depressing, but I just want people to start thinking about where their clothes came from and how they were made.
What do you think about it? Where are your clothes made? Out of my clothes in my closet that were purchased rather than made by me, none of them are made in America.