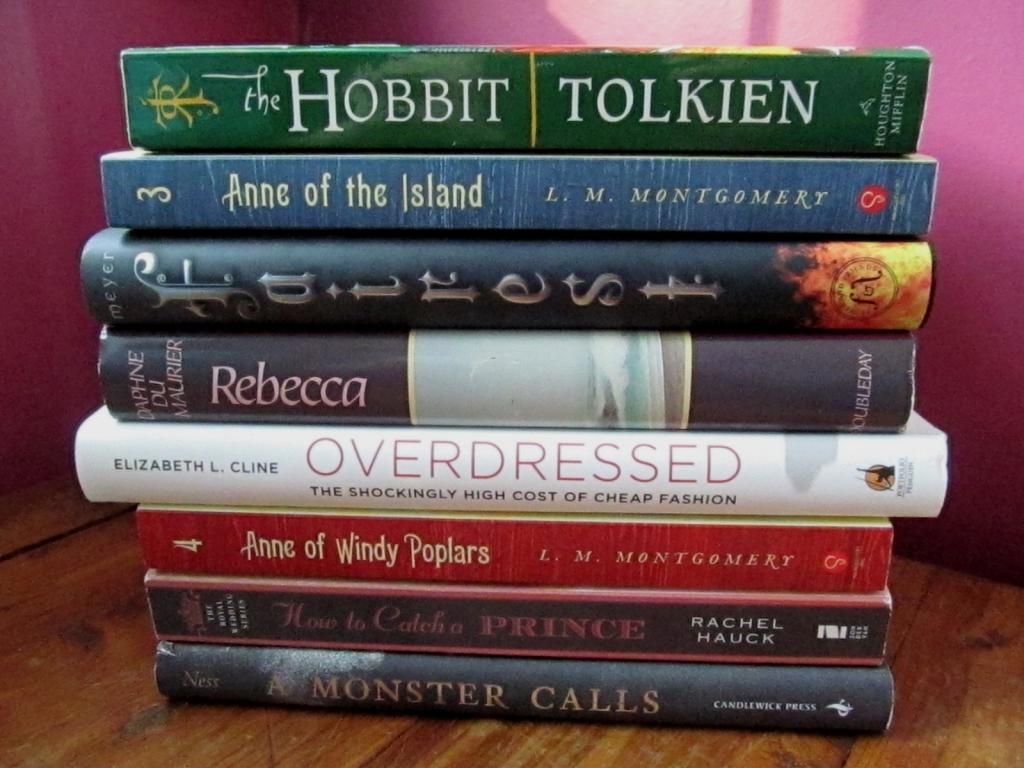 February was a good reading month for me. I managed to squeeze in more books than I expected, but it still seems like my to-read pile never shrinks. How is that? :) As usual, click on the titles to read my reviews.
(I'm trying something new with the photo this month instead of just using online images of the covers...I kind of miss seeing the pretty covers, though.)
The Hobbit, by J.R.R. Tolkien.
I was going to try to reread this one weekend before we went to see the last film in theaters, but unfortunately we waited too long and the film had already left our local theater. But I'm still glad I reread it so the ending is fresh on my mind when I get the DVD in a few weeks (March 24th!). This was, I think, my fourth or fifth time reading The Hobbit. If only the LOTR trilogy was so easy to get through! :)
Anne of the Island
, by L.M. Montgomery.
Loved this one. I don't think I enjoyed it quite as much as the first two, but honestly, it's impossible to not love these books.
Fairest
, by Marissa Meyer.
Levana is such a messed up character! I loved reading her backstory (though it was pretty depressing), and now I'm even more excited for Winter.
Rebecca, by Daphne du Maurier.
Wow...this book was amazing. Strange and depressing, but amazing. It was so much better than I anticipated and way better than the film! It's definitely one of my favorite books I've read so far this year, and one of the most atmospheric books I've ever read.
Overdressed: The Shockingly High Cost of Cheap Fashion, by Elizabeth L. Cline.
This book made me think and opened my eyes in so many ways! Everyone should read it. I wrote a bit more about it
here
.
Anne of Windy Poplars
, by L.M. Montgomery.
I liked this one much better than the third one. It was interesting getting to revisit characters that are in the second film that I had forgotten about. I don't know how in the world Montgomery manages to write so many quirky, memorable characters without ever repeating herself! Miss Minerva and her cursed family cracked me up.
How to Catch a Prince
, by Rachel Hauck.
I enjoyed this book a lot, though it's my least favorite of the series. I wrote about my thoughts a lot more in depth in the review. :)
A Monster Calls
, by Patrick Ness.
This book wasn't exactly what I expected, and it wasn't quite as impactful as I thought it would be. Still a beautifully haunting book, though...it's a sort of graphic novel (there are lots of creepy illustrations) about a boy whose mother has cancer.