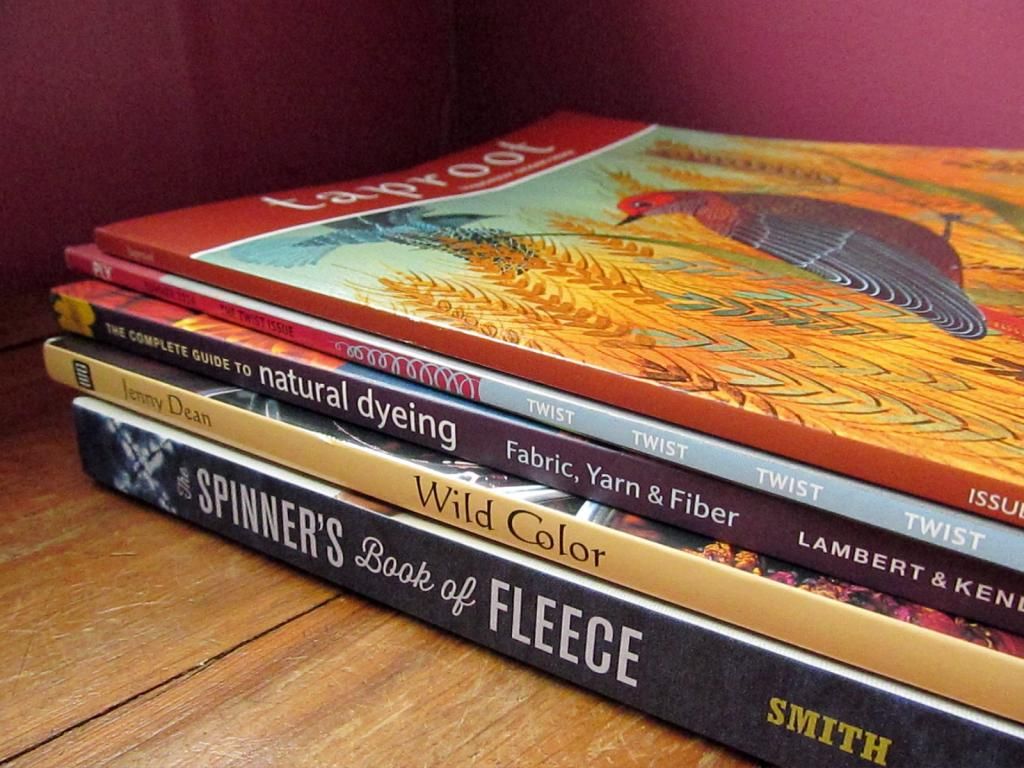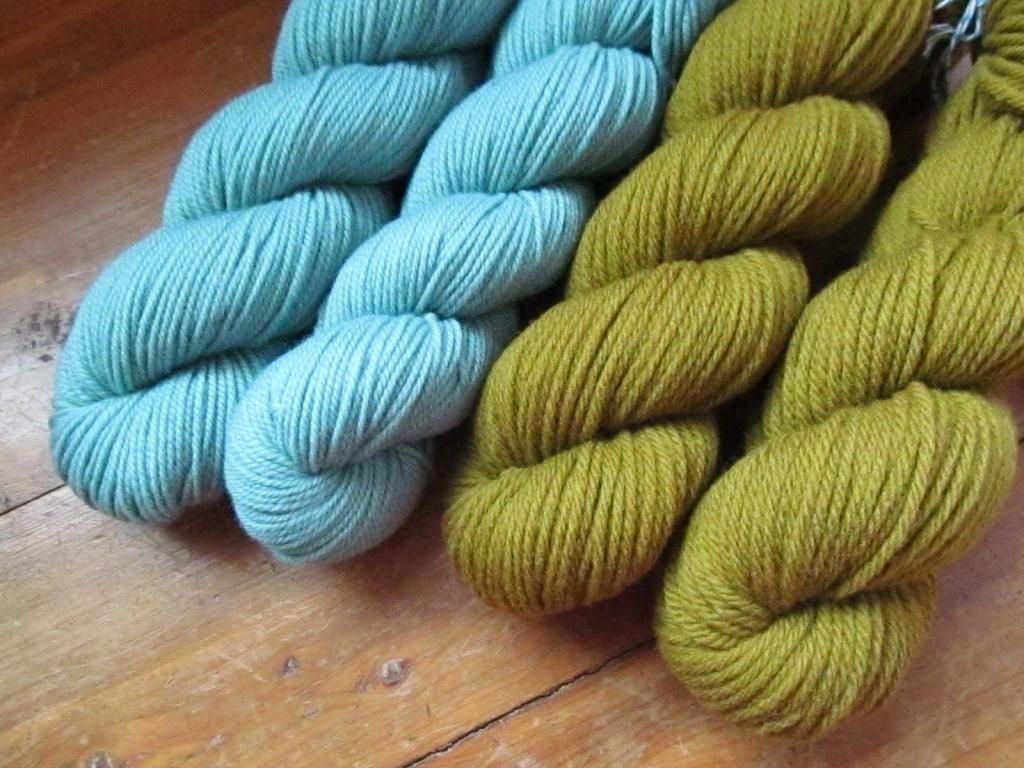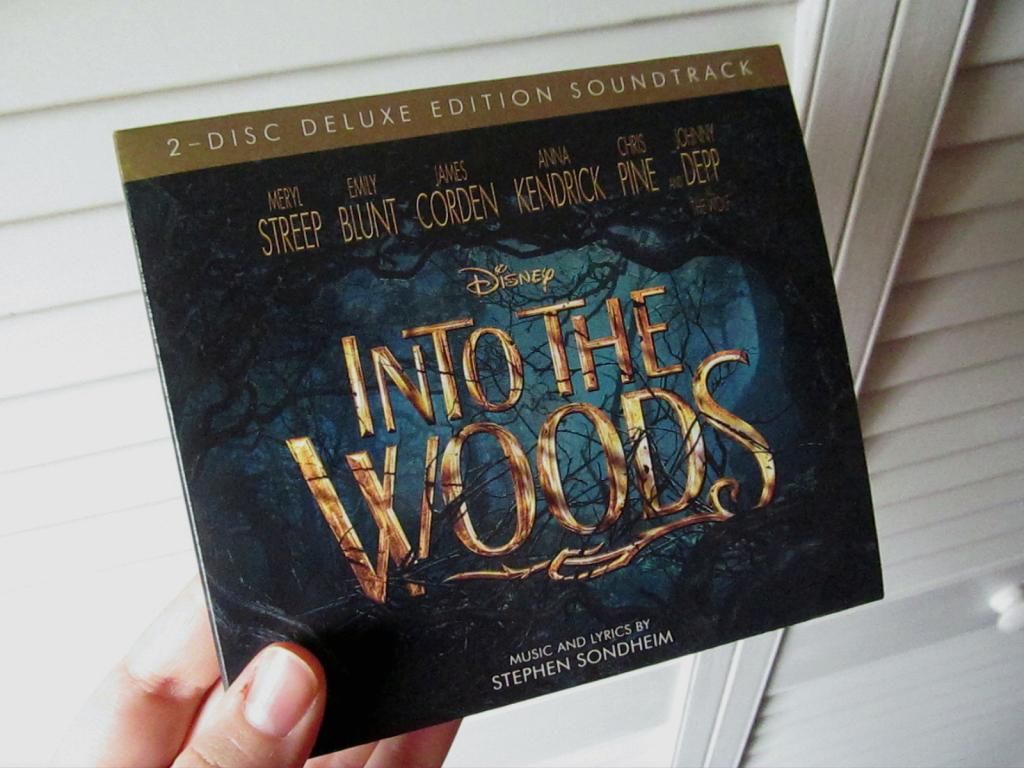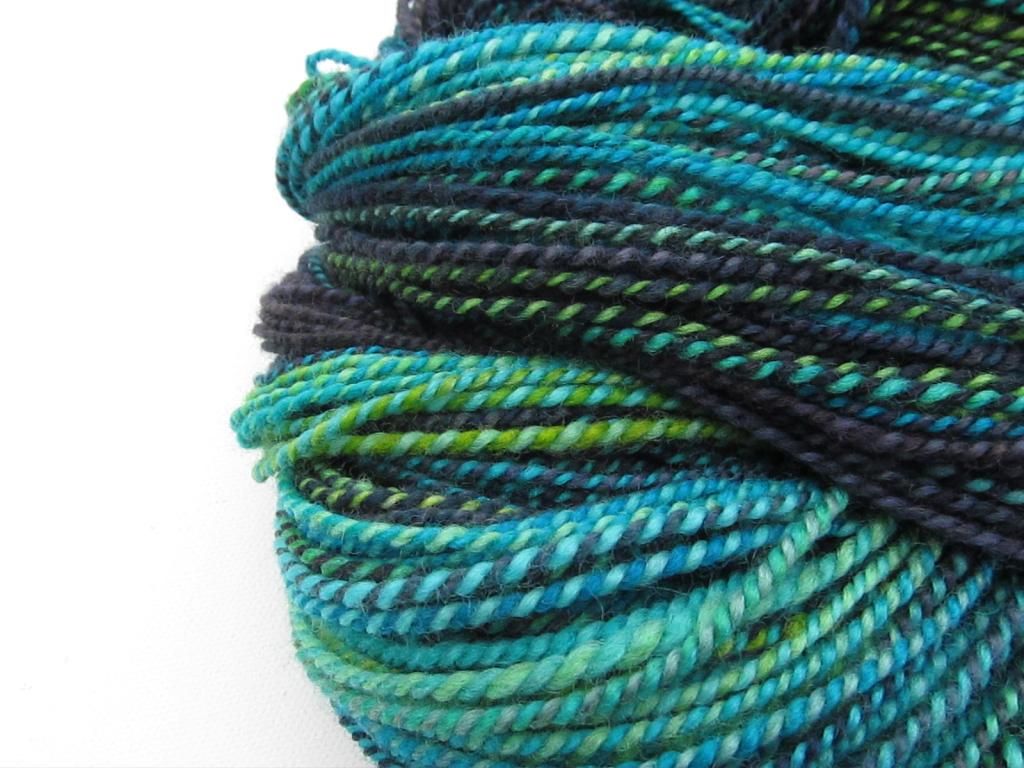 Just a few random things I've been enjoying lately, all jumbled into one post:
-These books.
My nonfiction reading seems to be focused on fiber...surprised? :) The two natural dyeing books arrived in the past week and I'm looking forward to learning more. Up to this point, my sources for natural dyeing information were scattered websites and one book: Harvesting Color. It's a wonderful book and I've learned a lot from it, but most of the plants included are found on the west coast and I'm in Virginia, so that doesn't help me a lot.
-Quince & Co. yarn!
I've been wanting to use some of their yarn for a long time now, because it's made with U.S. wool. I won the January giveaway for Liesl's
Monthly Sock Challenge
, which was a sock pattern and a gift certificate to Quince & Co. (Thank you
Liesl
and
Deneise
!) The blue is their Chickadee yarn, which I'll be using for my next pair of socks (along with the
sock pattern
I chose), and the other is Lark, which will probably become a hat at some point. It's so squishy and beautiful! (There are a lot of things in life that shouldn't be squishy, but squishy yarn is
always
a good thing.)
-These lovely pictures.
I realize that pictures of sheep probably don't sound exciting to some of you, but these sheep are so adorable (they're born black but their fleece lightens to white and gray as they get older) and the pictures themselves are pretty stunning.
-Into the Woods soundtrack
. I used to listen to
a ton of soundtracks
, but lately I haven't been. But you guys...I love musicals. I know, they're cheesy and it would probably get really annoying if people randomly broke into song in real life. (I don't know, though, I think it sounds kind of fun if you can sing, which I can't.) But I just can't help it:
I love musicals.
So the songs from this movie have been stuck in my head a lot over the past week, which makes me even more excited for the DVD release but it can also be irritating. (Like when I'm trying to fall asleep and one of the songs will be playing on repeat in my mind).
-The Woolful podcast.
I know I've mentioned this before, but it's so interesting and informative and inspiring! I've tried to get into podcasts before, but I always give up after a couple of episodes. With this one, I never miss an episode and I always anxiously await the next one.
-These two movies: The Young Victoria and Julie and Julia.
They're both favorites of mine that I rewatched this week and remembered just how much I love them. The Young Victoria is a beautiful period drama about Queen Victoria's life before she took the throne and the beginning of her reign. It's such a quiet, understated movie (similar to Miss Potter or more recently, Belle), and sometimes those are my favorite kinds.
As for Julie and Julia, I resisted watching that movie for such a long time. I'm sort of fascinated with Julia Child and I like Amy Adams as an actress, but I had heard bad things about the memoir that inspired the film. I finally watched it and absolutely loved it. It makes me want to learn how to cook. :) Also, I love the sweet way they portrayed the relationship between Julia and her husband Paul. From what I've read about their real life, it seems pretty accurate.
I've also been watching the BBC Robin Hood series. I just finished season one, and while it has grown on me quite a bit, I don't love it like I expected to. To be honest, I don't know if I would have made it through the first season if it weren't for Richard Armitage. :)
-This handspun yarn.
Here's a sneak peek for you...it's supposed to be for my new Etsy shop, which will hopefully be opening within the next month or so! But goodness, I'm going to have a hard time letting it go. I love this yarn. It's BFL and so squishy (there's that word again) and the colors are beautiful. I bought it at a fiber festival last year and the colorway was perfectly named Scuba Diving.
What are some things you've been loving lately?