Going into Siri Mitchell's latest book, Like a Flower in Bloom, I thought that I had a pretty good idea of what to expect. I've read quite a bit of Christian historical fiction, including five of this author's previous books, and it usually follows a pattern: an interesting historical setting, a sweet romance, and a bit of drama. I honestly don't mind a bit of predictability.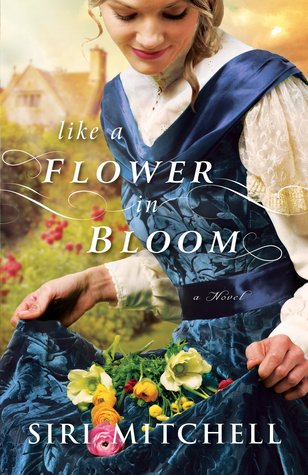 But I was so pleasantly surprised with this book. It wasn't until I read it that I realized what so much historical fiction is lacking: humor! I think one of the biggest reasons why people read Jane Austen or Elizabeth Gaskell or Georgette Heyer is because their words make us laugh...so I'm not sure why historical fiction tends to be so serious!
When Like a Flower in Bloom began, I wasn't quite sure in which direction the author was going to take it. Could Charlotte really be so socially inept? Was Miss Templeton going to turn out to be someone cruelly pretending friendship just so she could ridicule Charlotte? It wasn't until after I had read about a few of Charlotte's social blunders and watched her and Miss Templeton plot their marriage scheme (while thinking: this is obviously not going to turn out well) that I realized this book was going to be amusing. I didn't have to fret about something tragic or dramatic happening...I could just relax and enjoy the story. So I did. :)
Charlotte was a likable, though naïve, character, and I liked Mr. Trimble well enough, though I feel like I didn't really get to know him. Miss Templeton was amusing, and so were Charlotte's two endearingly awkward suitors. I liked the setting and the botany aspect, though sometimes I didn't know exactly what they were talking about. :)
I really enjoyed this book. It was light-hearted and fun, and it made me smile. It definitely has a different feel than Siri Mitchell's previous novels (and most Christian historical fiction in general), but for me it was a refreshing change.
*Note: I received this book for free from Bethany House Publishers in exchange for an honest review.*