I just finished watching Psych this week, and I'm feeling a little heartbroken that it's over. (We get Netflix DVDs instead of streaming, so basically I've been getting one disc of Psych each week since January.)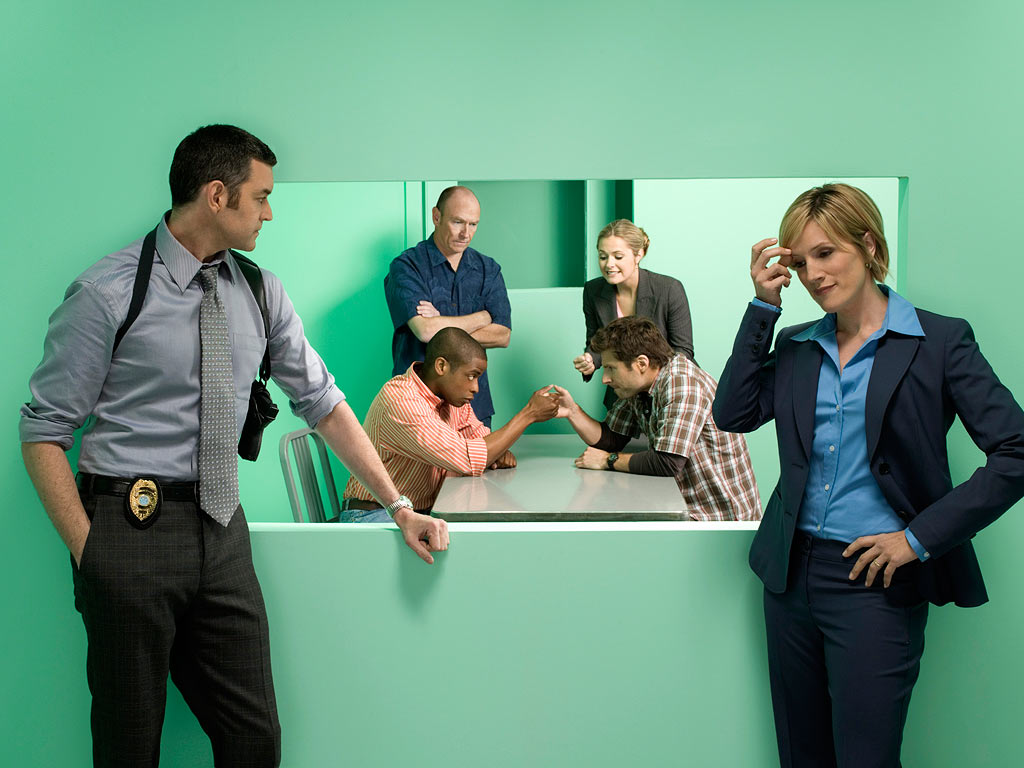 Over the past couple of years, I've realized that I like detective stories. Monk, Psych, Sherlock, Agatha Christie, the Flavia de Luce series...I love a good mystery! But with Psych, it's not about the crime-solving for me. Most of the time, I probably don't remember much about the actual mystery or who committed a murder. Psych is all about Shawn and Gus and their friendship, the quirky sense of humor, and the spoofs.
It took me most of the first season to really get into the show. I kept comparing it to Monk, and while I still love Monk more, I've come to appreciate Psych in a different way. :) Shawn and Gus make the show, but I also love
all
of the supporting cast.
I tried to narrow it down to my top five favorite episodes, but with a show that's eight seasons long, that's pretty much impossible. So here are my top six(ish?)...
1. Office Space (season 7).
It takes a lot for a TV show to make me laugh until I cry, and this episode did that several times. Gus finds his boss murdered and accidentally leaves incriminating evidence all over the crime scene. He goes to Shawn for help and things only go downhill from there. The beginning of this episode is so hilarious that I can't even begin to explain it. :) It's definitely my favorite episode of Psych.
2.
Last Night Gus (season 6).
The premise of this episode didn't draw me in at all, but it ended up being incredibly funny. Shawn, Gus, Lassiter, and Woody wake up in strange circumstances in the Psych office. They don't remember anything that happened the night before, but there's been a murder and the evidence seems to be pointing towards them, so they have to work quickly to solve the case. This episode is completely random and absurd, and I was so pleasantly surprised with it.
3. The Yin/Yang trilogy: An Evening with Mr. Yang (season 3), Mr. Yin Presents (season 4), and Yang 3 in 2D (season 5).
All three of these episodes were so creepy and well done. If I had to pick a favorite, it would probably be Mr. Yin Presents, just because I love Hitchcock so all of those references were amazing. These were some of the most suspenseful episodes in the entire show!
4. The Pierre Despereaux episodes: Extradition: British Columbia (season 4), Extradition II: The Actual Extradition Part (season 5), Indiana Shawn and the Temple of the Kinda Crappy, Rusty Old Dagger (season 6), and Lock, Stock, Some Smoking Barrels and Burton Guster's Goblet of Fire (season 8).
Wow...those are some seriously long titles. I'm a big fan of The Princess Bride, so of course I loved seeing Cary Elwes playing such a great character who was constantly taking me by surprise. I especially loved the last Despereaux episode because of all of the Harry Potter references. (Gus spending most of the episode in a Hogwarts uniform and searching for Rupert Grint and Shawn speaking in an awful English accent were highlights.)
5. Gus Walks into a Bank (season 3).
It's been a while since I watched this one, so I can't say much about it other than I remember really enjoying it. :)
6. The Break-Up (season 8).
I wasn't sure what to expect with the last episode. Honestly, with the amazing finale that Monk had, I thought the Psych finale probably wouldn't live up to that. I was surprised by how good it was, though! It was everything I could have wanted in the final episode, really, and it made me laugh and cry (sometimes at the same time). I could see how it could have been a bit too sentimental for some people, but I loved it. :) I also loved the Monk reference near the end. (
This
was one of the best moments.)
Some honorable mentions that I also really enjoyed: Weekend Warriors (season 1), Tuesday the 17th (season 3- I don't watch scary movies so I'm sure I wasn't even catching all of the references, but this one was seriously creepy), High Noon-ish (season 4- while I'm not usually a fan of westerns, I love the
idea
of them so this episode was fun), Feet Don't Kill Me Now (season 5- Lassiter tap dancing...need I say more?) In Plain Fright (season 5), Lassie Jerky (season 7), and 100 Clues (season 7- right after watching this one, I watched Clue, and it was neat to see all of the connections).
If you're a Psych fan, what are some of your favorite episodes?