I already had fall knitting plans (I always have knitting plans), but I hadn't given much thought to any fall sewing. My garment sewing this year has been practically non-existent...I've made one Renfrew, another one for a pajama shirt, and a pair of flannel pajama pants. Yes, that's it. It seems that ever since I became so obsessed with knitting and fiber, sewing sort of fell by the wayside. Add that to the fact that I'm not really comfortable with my size and weight right now, so sewing clothes for myself just hasn't been a big priority.
But I really do need some new clothes. I've realized that the majority of my good clothes (as in, clothes that I wear out and about...not the old t-shirts and jeans I wear around the house) are ones that I've made myself, which is good. But I wear the same things over and over. Other than two pairs of jeans, I haven't bought any clothes this year, and like I said, I really haven't made any either.
So it was perfect timing when I saw that Sarah is hosting a
Fall Essentials Sew-Along
, or FESA. But it's not just for sewing...you can knit (or crochet) items, too! There are seven categories and you can make as much or as little in as many categories as you choose. The best part is that it runs from the beginning of September until the end of November, so even though I don't anticipate making much this month, I still have two more months to participate! :)
Here are my plans and the categories that they fit into...
Fashionable Foundations for Frosty Weather
This category is for skirts, pants, etc. I could definitely use some more skirts for church. I've been wanting to make a full, chocolate brown, Penelope-inspired skirt for years now, so maybe I'll finally get on that if I can find the right fabric. And I'd like to make some more printed cotton skirts from my favorite skirt pattern, McCall's 5431. (Ignore that pajama pattern on the left...more on that later.)
Chic Chemises for Cool Climates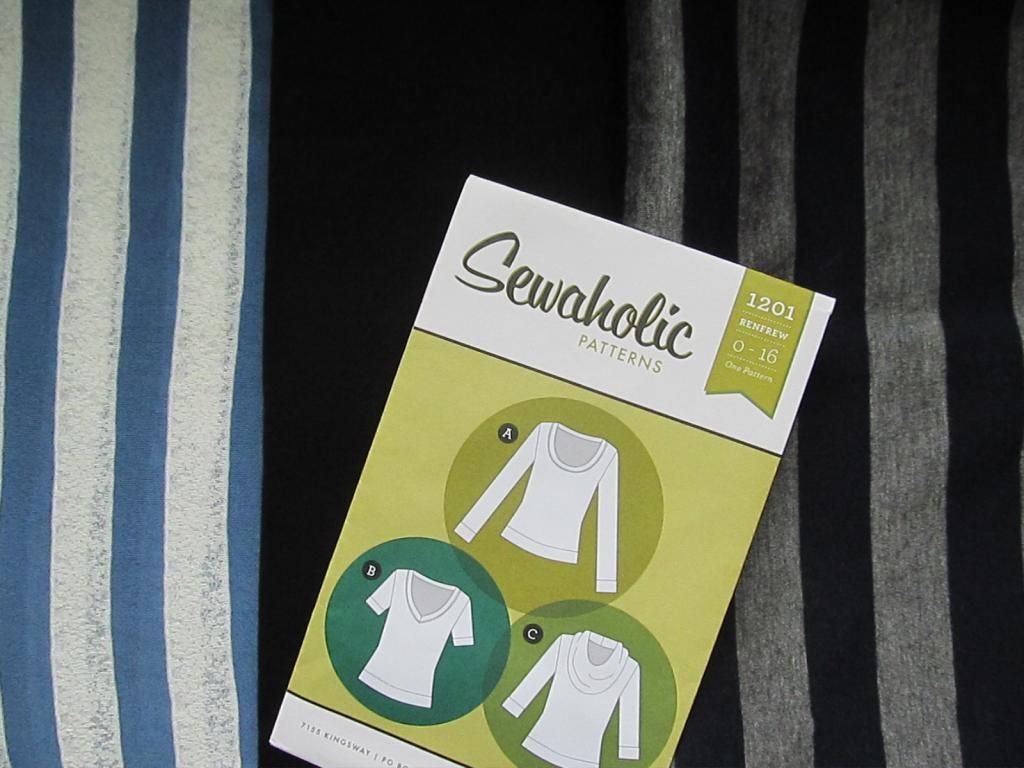 This is for any type of blouse, sweater, etc. The Miette cardigan that I'm currently knitting will fit into this category. I'm hoping to sew at least three Renfrew tops. A short-sleeved one in the blue and lacey striped knit (if this fabric looks familiar, it's because I've used it before with my
favorite Renfrew
...I love that one so much that now I want to make a short-sleeved version), a black one without the bands to wear with skirts, and a long-sleeved version out of the navy blue and gray striped knit.
A couple of years ago I heavily altered Simplicity 2447 into a button-up shirt pattern that I really liked. I need to make a few more changes to improve the fit, but after that I'd like to use the blue polka dots (same fabric I used for my Hawthorn dress) and the blue floral to make a couple of shirts. I've had that brown plaid forever and I want to make it into a button-up shirt, too, but I won't be using that pattern because I don't want to have princess seams with the plaid. I'd also like to sew some sort of cozy flannel shirt, but I don't have any definite ideas for that yet.
Fabulous Frocks
I bought this lightweight denim last year to make
another Hawthorn
, but I'm not so sure anymore. I love the idea of the Hawthorn dress, but I always feel a little uncomfortable in mine because the neckline feels too big on me. I'm constantly adjusting it, plus the facing in the back won't stay in place. Now that I think about it, though, I messed up a bit with the collar, so maybe that's why I'm having issues. If I do make this, I'm going to try the longer sleeves.
I really want to find a perfect dress pattern. I love the look of dresses but it seems I'm usually more comfortable in skirts and tops...maybe it's just because I haven't found the right pattern yet?
Tender Tootsies
Socks and slippers. I want to finally finish my
red socks
, which I haven't worked on in months. Oops. Then maybe I could squeeze in a pair of worsted weight socks, considering I can finish those in just a few days. :)
Those Cozy Nights
Pajamas! Whenever I get store-bought flannel pajamas, they fit me perfectly until they're washed once or twice. Then they shrink up and become 4 or 5 inches too short. At the beginning of this year, I made myself a pair of really long flannel pajama pants, and I wear them all the time when it's cooler. I want to make at least one more pair (from the Simplicity 1762 pattern above, which a few changes), plus at least one Renfrew pajama top.
Baby, It's Cold Outside
What about you? What are you hoping to make this fall?