Up until this point, my experience with the story of Robin Hood has been pretty limited. I am familiar with the basics, as much as anyone would be. I've seen (and really enjoyed) the 1938 film The Adventures of Robin Hood, starring Errol Flynn, several times...but that's about it.
I don't think I had ever seen the Disney adaptation of Robin Hood, though certain parts of it seemed so familiar to me. Mostly the song at the beginning (the whistling one, you know?) and Prince John sucking this thumb. :) I guess I might have seen this once as a kid?
Robin Hood is so much fun. There's excitement (seriously...the escape scene at the end was intense!) and romance and a bizarre mixture of English and American cultures. Robin Hood is such an English story, but this film has American voice actors (as well as English ones) and the music definitely has a folk/country feel.
The style of the music was right up my alley. I honestly think I liked every song in the film, which is really unusual for me. Usually there are a couple that I don't like. :) My favorites were Whistle-Stop and Not in Nottingham. I thought that the song Love sounded really familiar, and after a bit of research I realized that's probably because it's also featured in one of my favorite animated films: Fantastic Mr. Fox. :)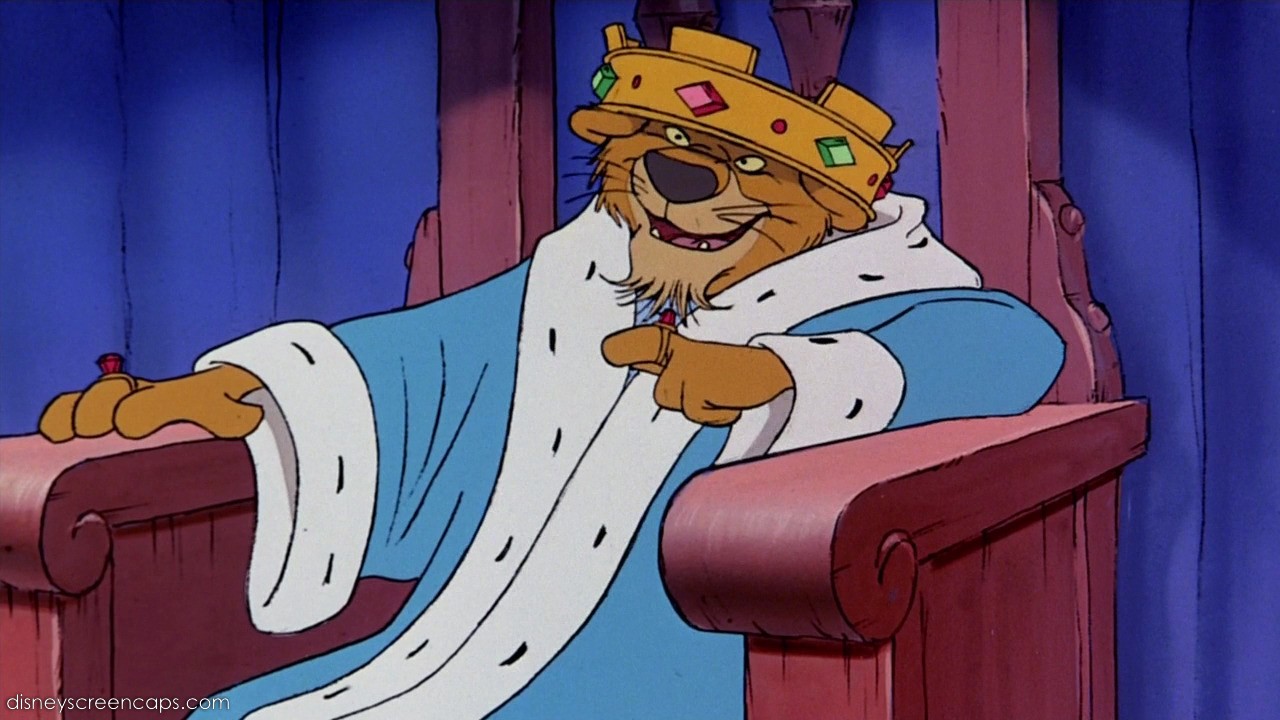 You know I can't talk about a Disney movie without mentioning the voice actors. There's Phil Harris as Little John, in his third major Disney role in a row! He was Baloo in The Jungle Book, Thomas O'Malley in The Aristocats, and he's once again a bear in Robin Hood. It should be obvious at this point that the Disney company really had favorites when it comes to voice actors. :) The Sheriff of Nottingham is familiar, as is the church mouse (Piglet!!) and his wife (Lady from Lady and the Tramp, Merryweather from Sleeping Beauty, and Kanga from Winnie the Pooh). Oh, and there's George Lindsay (Goober) again, this time as a vulture.
Apparently Disney had a low budget for Robin Hood (possibly even the lowest budget for any Disney movie?), because they recycled certain parts of scenes from previous Disney films. Sir Hiss looks so similar to Kaa from the Jungle Book...every time he opened his mouth I expected Sterling Holloway's voice to come out! And watch during the dance scene, when Little John dances with Lady Kluck...their moves are identical to Baloo dancing with King Louie in the Jungle Book.
Random little thing: Lady Kluck knits! Of course I always notice when a character knits in a movie. :)
Robin Hood is a really enjoyable movie. I wouldn't list it as one of my favorite Disney films, but it was good and kept my attention a lot more than some of the other new-to-me Disney movies I've watched during this project. I feel like this movie would be a good way to introduce kids to the story of Robin Hood.
Have you seen Robin Hood? Do you like it? What are your favorite adaptations of the story in general?