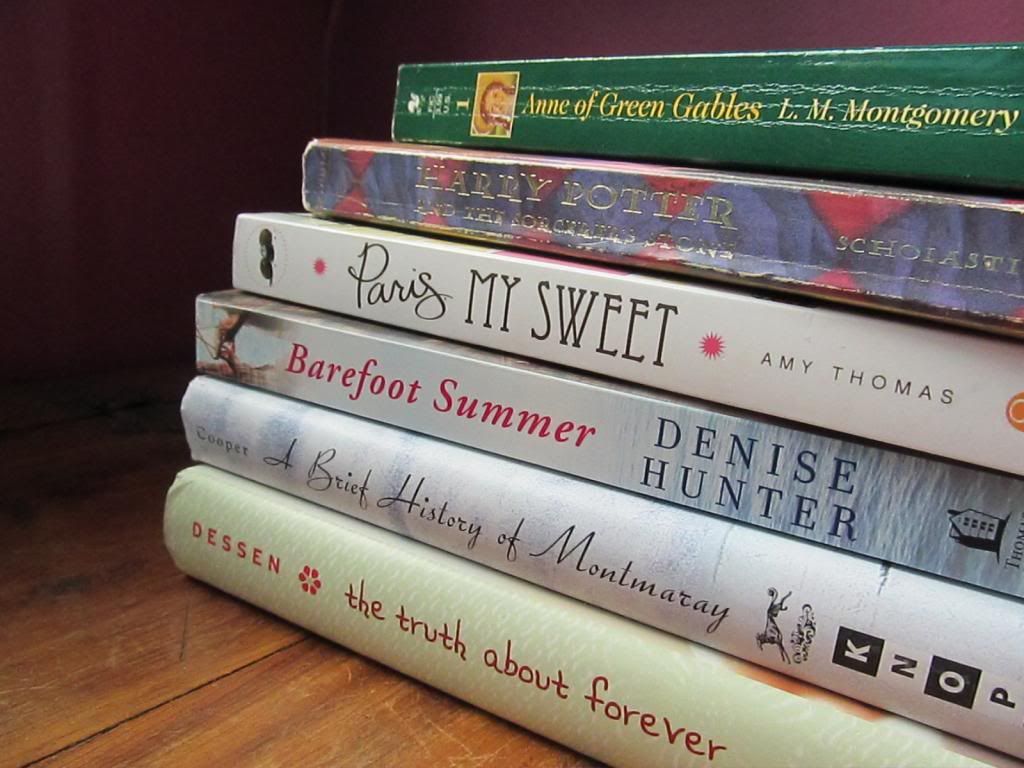 I don't know that I've ever made a summer reading list before now. That's probably because summer isn't a big deal to me. I basically spend June through September wishing that it was fall. My family doesn't go to the beach or the lake, and we don't have a pool anymore. Summers in Virginia are hot, humid, and sticky, and you can hardly walk across the yard without getting ticks on you. Yeah, I'm not a fan of summer, to say the least. :)
So, in an effort to give myself something to look forward to over the next few months, I've made a summer reading list. Because books make me happy.
Series
Wildwood trilogy, by Colin Meloy.
I've read the first two of these, and I recently got the third one. But it's been over a year since I read the second book, so I'm thinking I might read the whole series over again. And possibly do a trilogy review here?
Harry Potter series, by J.K. Rowling.
I am
itching
for a HP series reread. I usually get that way during the summer. It's a big time commitment, but I'm feeling so nostalgic for the series right now. :)
Anne of Green Gables, by L.M. Montgomery.
I've only ever read the first Anne book, and I feel terrible about that! I want to finally read the series this summer. (And after I make it through the series, if I have the extra money, I really want to trade in my ugly thrift store copies for
these editions
. They are
gorgeous
.)
The Montmaray Jounals, by Michelle Cooper.
I own all three of these, and
Ruth
gave them rave reviews, so I'm excited about reading them. :)
Travel Stories (so I can live vicariously through people)
Wanderlove, by Kirsten Hubbard.
A novel about a teenage girl traveling in Central America. I usually go for Europe-ish travel stories, so this should be something different.
Paris, My Sweet, by Amy Thomas.
Paris and desserts? Yes.
All Roads Lead to Austen, by Amy Elizabeth Smith.
Jane Austen and travel! It doesn't get much better than that.
Paris In Love, by Eloisa James.
I kind of love memoirs set in Paris.
Books With Summer in the Title (because it seems appropriate)
Barefoot Summer, by Denise Hunter.
I've heard good things about this one!
Summer of the Gypsy Moths, by Sara Pennypacker.
This is a middle grade with one slightly dark aspect to the plot. It sounds good, though. I think I remember
Natalie
recommending it on her blog once?
Contemporary
Here to Stay, by Melissa Tagg.
I'm so excited to read this book. :)
Meant to Be Mine, by Becky Wade.
I'm currently reading the first book in this series, so I'm anxious to get to the sequel.
Midnight in Austenland, by Shannon Hale.
I guess this could have fit under the travel category, because I'm assuming the main character isn't English...
Any Sarah Dessen book.
It seems like every girl except me has read at least one Sarah Dessen book. She writes contemporary YA, and I'm curious to see if she's as good as everyone says! I own three of hers that I picked up at a thrift store a while back. I think I'll try to read The Truth about Forever first, but I also own This Lullaby and Dreamland.
Miscellaneous
The Strange and Beautiful Sorrows of Ava Lavender, by Leslye Walton.
This book is so gorgeous, and after I read the first few pages of it at Target, I had to bring it home. Plus,
Madison
, a booktuber whose videos I really enjoy, loved it.
Cress, by Marissa Meyer.
I'm so excited to read this book.
Going Solo, by Roald Dahl.
I seem to always read at least one of Dahl's books each summer. These are his memoirs from his time in the service...sort of like a sequel to Boy.
Rebecca, by Daphne du Maurier.
This book seems like it would be a good summer read. Maybe because it takes place near the sea (I think? The Hitchcock film did, anyway).
Child Star, by Shirley Temple.
I own a lot of unread biographies and autobiographies, and it would be nice to get one read this summer.
Emma, by Jane Austen.
This is the next of Austen's works in my reread list.
This list is ambitious, I know. Especially with all of those series. I probably won't read nearly all of these books, but it's nice to have a general idea of what I'd like to read over these next few (hot) months! :)
What are you hoping to read this summer?