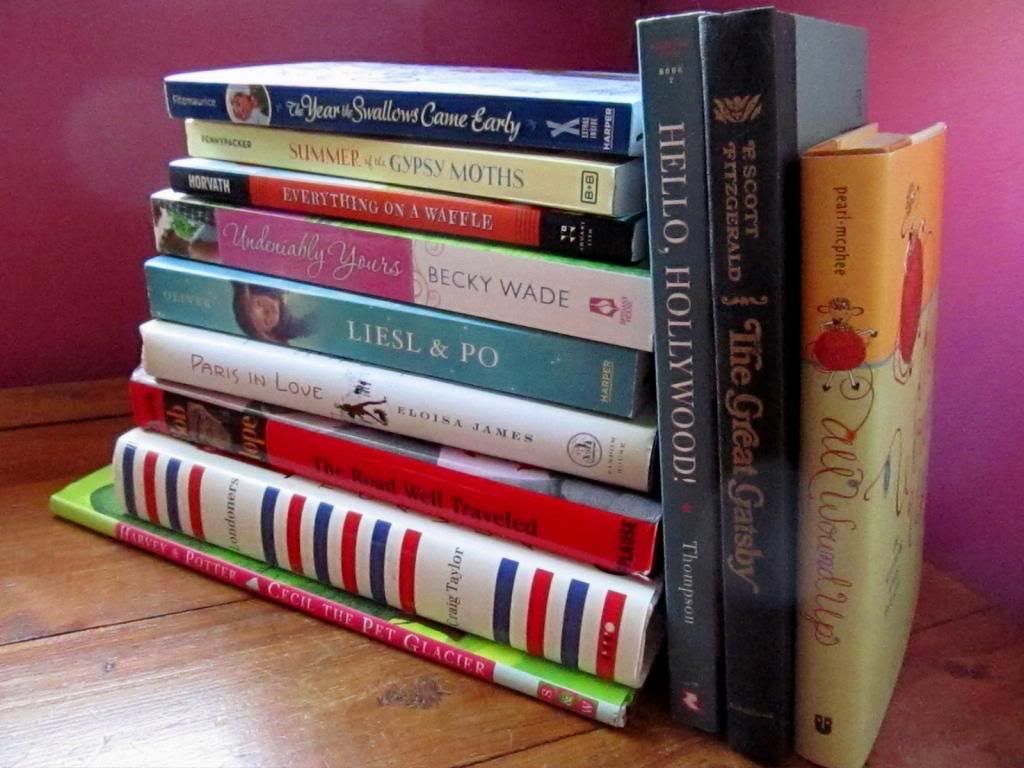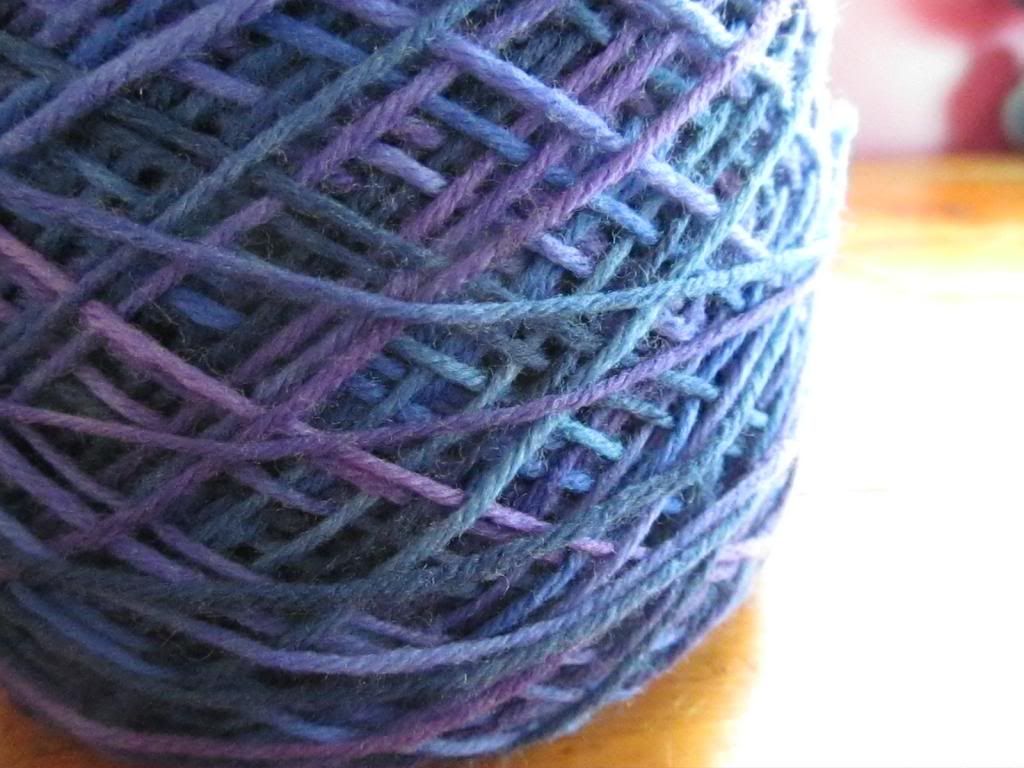 Today is my birthday...I'm twenty-three years old. I seriously love birthdays and I hope that I always will, no matter my age. There's something that certain members of my family always say on their birthday: "Oh, it's just another day." Well, I've never uttered those words and I don't plan on doing so...birthdays are too much fun to just brush aside! :)
We did my exciting birthday thing last weekend (the
fiber festival
), so today was quiet and slow. I got pretty sock yarn, Sherlock on DVD, and the stack of books above (yay for Book Outlet and Goodwill!). This morning I listened to Sinatra and Glenn Miller while I reorganized my bookshelves. You should know that I'm slightly obsessed with organizing my books. (Yes, I think it's fun. No, I'm
not
joking. Yes, I realize that's probably weird. :) Then I read, caked up the yarn for my next pair of socks, worked on some blog posts, had birthday cookie and ice cream, and spent too much time on Ravelry.
Then I put some Backstreet Boys songs on my iPod. Backstory: I've been feeling nostalgic lately. A few weeks ago, I was alone in the house washing dishes, when suddenly I found myself digging out my old BSB music and dragging my CD player downstairs. I don't know even know what happened. And it was so bad and cheesy and laughable, but at the same time I was ten years old again and it was good. So yeah...the Backstreet Boys are joining Sinatra and the Avett Brothers and Disney soundtracks in my music library, and I'm only slightly embarrassed about that.
The rest of the day will probably consist of knitting and watching some Doctor Who, and then watching Dancing with the Stars. Because after not watching for several years, I've been sucked back in. Mostly because of Candace Cameron Bure (I'm a Full House fan, and DJ was my favorite of the sisters). And last week- Disney week? Oh my goodness...too much awesomeness. I loved it so much. And I was afraid that Candace was going home, so there was definitely a big sigh of relief.
Hannah, a sweet blogger who writes over at
Alainn
, recently awarded me the Liebster Award, so I thought I would go ahead and answer those questions today, too. Thanks, Hannah!
1. If you had to change your name, what would you change it to?
If I absolutely had to, I'd change it to Penelope, which is my current favorite girls name. I don't think I look like a Penelope, but if I had to, that's what I'd choose. :)
2. What, or who, inspired you to start blogging?
I started a blog to document my sewing, because at the time I was really into Craftster, and it seemed like everyone on there had a sewing blog. :)
3. What is your favorite thing about spring?
All of the flowers blooming and open window weather. Oh, and the fact that my birthday is in the spring. :)
4. What's the last movie you watched, and what did you think of it?
Easter Parade. Because it was Easter. :) It's a pretty good musical that I've seen four or five times. It's nothing spectacular , but the cast is good (Fred Astaire, Judy Garland, Peter Lawford, and Ann Miller) and the songs are catchy.
5. Who is your fictional crush?
Probably Mr. Knightley from Emma. And I do still think that Prince Char from Ella Enchanted is dreamy. If we're talking movies or TV, then the Doctor, Jack from While You Were Sleeping, and Joe Bradley from Roman Holiday are pretty high on the list. :)
6. If you had to choose another time period to be born in, which would you choose?
Probably the 1940s or 50s.
7. What is your least favorite food?
I hate bananas. And celery. (I'm not big on most vegetables, actually.)
8. What is your favorite food?
Chocolate!! :)
9. If you could only reread one of your favorite books in your life, which book would you choose?
Goodness. If I could cheat and say a series, I'd pick the Chronicles of Narnia. If it had to be a single book, probably either Jane Eyre or one of the thickest Harry Potter books. Because they're longer so hopefully by the time I reached the end of it, I'd be ready to start over again. :)
10. What was your favorite movie when you were little?
Probably either Beauty and the Beast, The Little Mermaid, or Pocahontas.
11. What genre of music do you listen to the most?
Um...folk or bluegrass-inspired stuff. Like the Avett Brothers, the Civil Wars, and Mumford & Sons-ish music. After that, big band oldies.
I'm not going to tag anyone or make up new questions, but feel free to do the tag and answer Hannah's questions on your blog if you'd like!