Like I
mentioned before
, I always feel a bit weird posting "book hauls." Especially when, less than a month ago, I wrote about buying fewer books. Apparently I have
great big wonderful ideals
but zero will power, especially when it comes to cheap books...
So I'm a hypocrite. At least I admit it. And while I'm in a confessing mood: I placed an order with
Book Outlet
last weekend. Goodness. I justify that by saying some of those books will be birthday gifts. And they will be, but that doesn't change the fact that in a little over a month, they'll be sitting on my shelves.
(Is there even any more room on my bookshelves? I kind of doubt it, though I don't like to think about it. If I mysteriously stop blogging, it will probably be because I've been buried alive by my beloved books.)
Honestly, books are my one weakness when it comes to purchases. Not clothing (in general, I could care less about buying clothes), shoes, jewelry, fabric, or even yarn (as much as I do love yarn), but books.
Anyway, enough of these negative thoughts. :) I really am super excited about most of these, so here goes...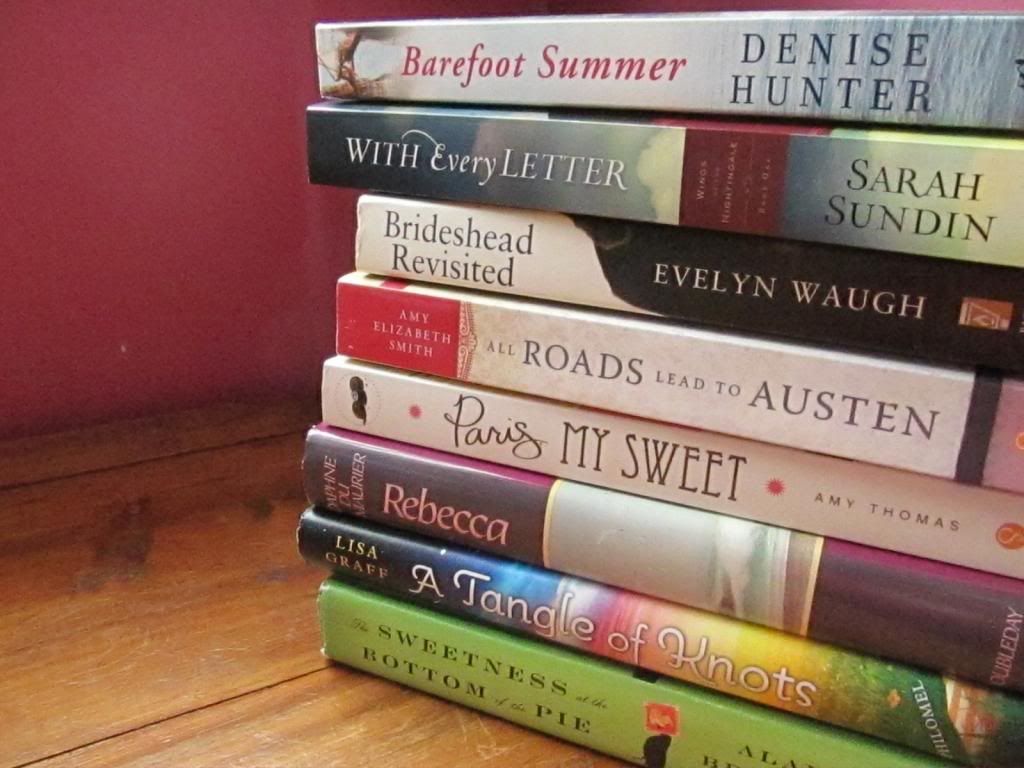 I bought these two last month at
Ollie's
. Our store just got in a huge shipment of religious fiction, and seriously...most of these books were published in the past two years or so. Practically new releases! I've heard good things about Barefoot Summer (
Rissi
!). And I read and loved Sarah Sundin's Wings of Glory series (except the third book...I own it but haven't read it yet), so I was excited to find the first book of her new WWII series. I can't remember which is which, but one of these was $3.99 and the other was $4.99.
These four came from my local Goodwill, which has a pretty amazing book section. The paperbacks were $2 and the hardcover was $3. (They've gone up on their prices, but they're still relatively cheap!) I love the idea of an Austen-ish memoir, so All Roads Lead to Austen should be good. Brideshead Revisited is a classic that seems to appear on a lot of lists. I have a bit of an obsession with memoirs about Paris and I love dessert, so Paris, My Sweet sounds like something I'd love. :) Then there's Rebecca, which I am really, really excited about reading!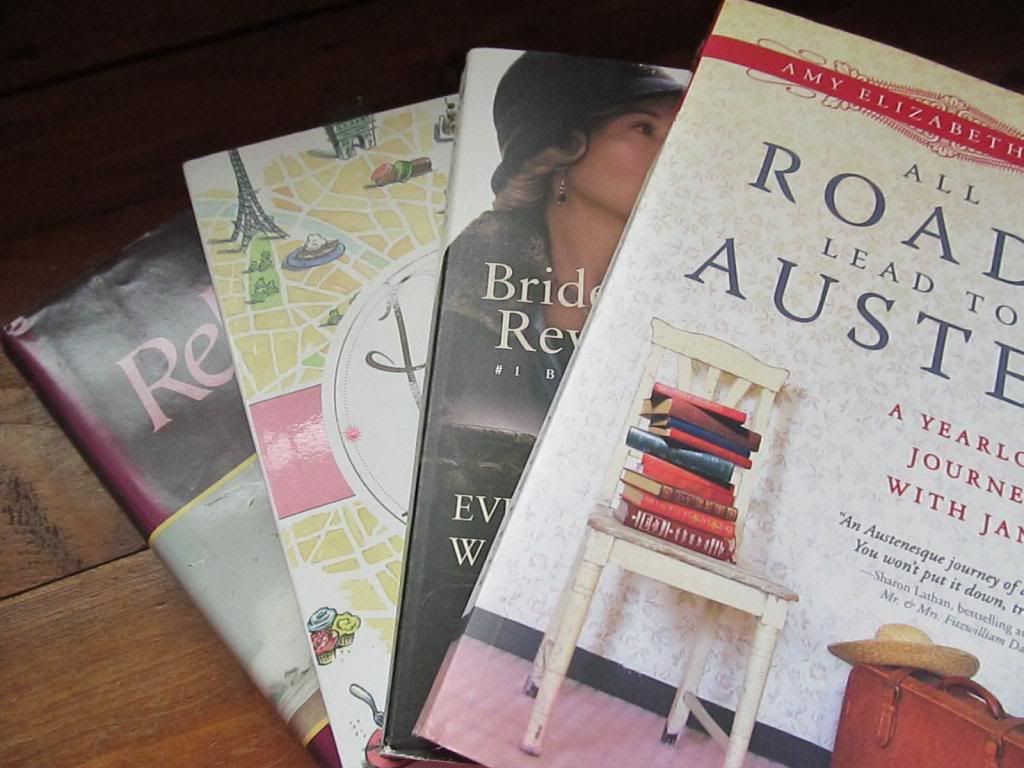 Can we just take a moment to appreciate how truly awful this cover of Rebecca is? It looks like a romance novel from the 70s or something. I actually saw this copy the last time I was in Goodwill, but the cover was so unappealing to me that I put it back. But after realizing that my local library doesn't have the book, and that a new copy costs about $12 online, I decided that I could probably handle the cover. I kept thinking about this copy, and when we went back to Goodwill, there it was, sitting in the exact place where I left it. Poor little book. :) I felt so guilty then that I had to bring it home! (Yes, apparently I personify my books. And if I must, I can discard the dust jacket because the hardcover is plain black.)
The same day that we went to Goodwill, we also stopped by
Ollie's
again. While sorting through the new arrivals, I found A Tangle of Knots, which is a middle grade book that I've been wanting to read (it released last year). It was $1.99. For a brand new hardcover! I love bargain books. :)
Then we went to another Goodwill (whew), where I found a hardcover copy of The Sweetness at the Bottom of the Pie.
I read it
(from the library) in February and really enjoyed it, so I'm pleased to have my own copy! I always keep an eye out in thrift stores for books from this series, but this is the first time that I've actually found one. It was $2.50.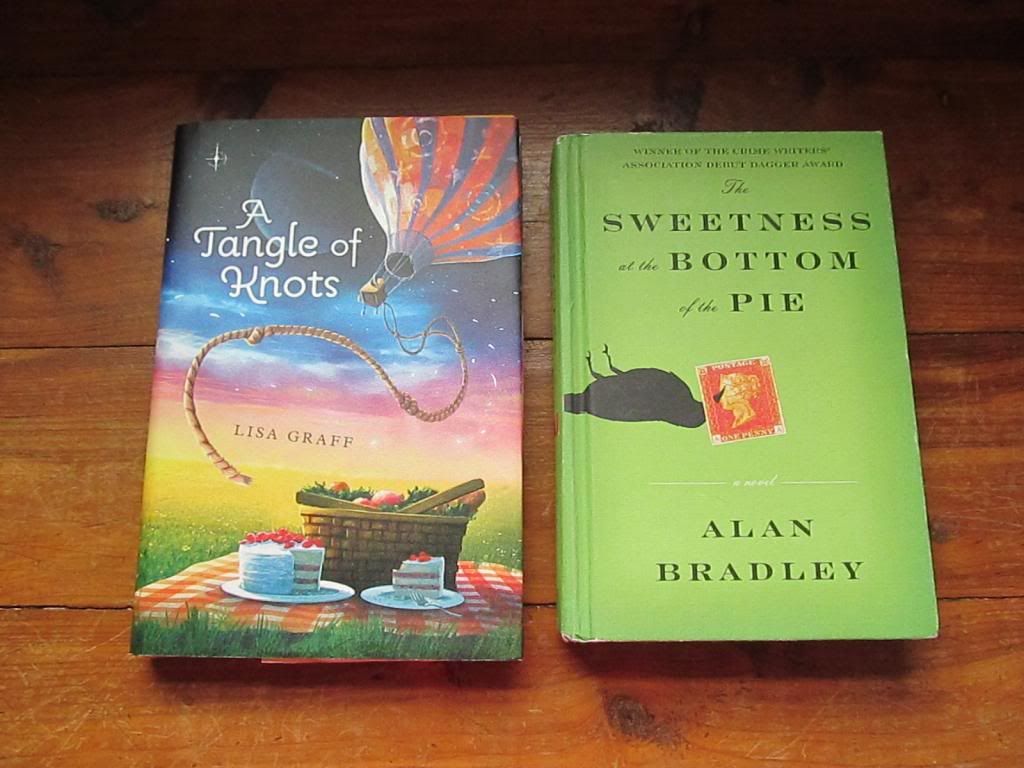 If you guys want me to show you the books I bought from Book Outlet when the package arrives, just let me know...*hangs head in shame*