Lately I've been itching to read more classics. I haven't actually read any recently, because I've been working through a stack of library books. (I think this possibly the first time that I've read every single book that I checked out before they were due back!)
I'll admit that sometimes it's hard for me to get through classics. But most of the time they pleasantly surprise me. After all, most of my favorite books are classics: Pride and Prejudice, the Chronicles of Narnia, Jane Eyre, Persuasion, To Kill a Mockingbird, Emma, etc.
Going through my shelves, I realized that I own quite a few classics that I want to read. By the way, in this post, I'm referring to classics from the 1800s and "modern classics" from the 1900s. Here's a peek at them!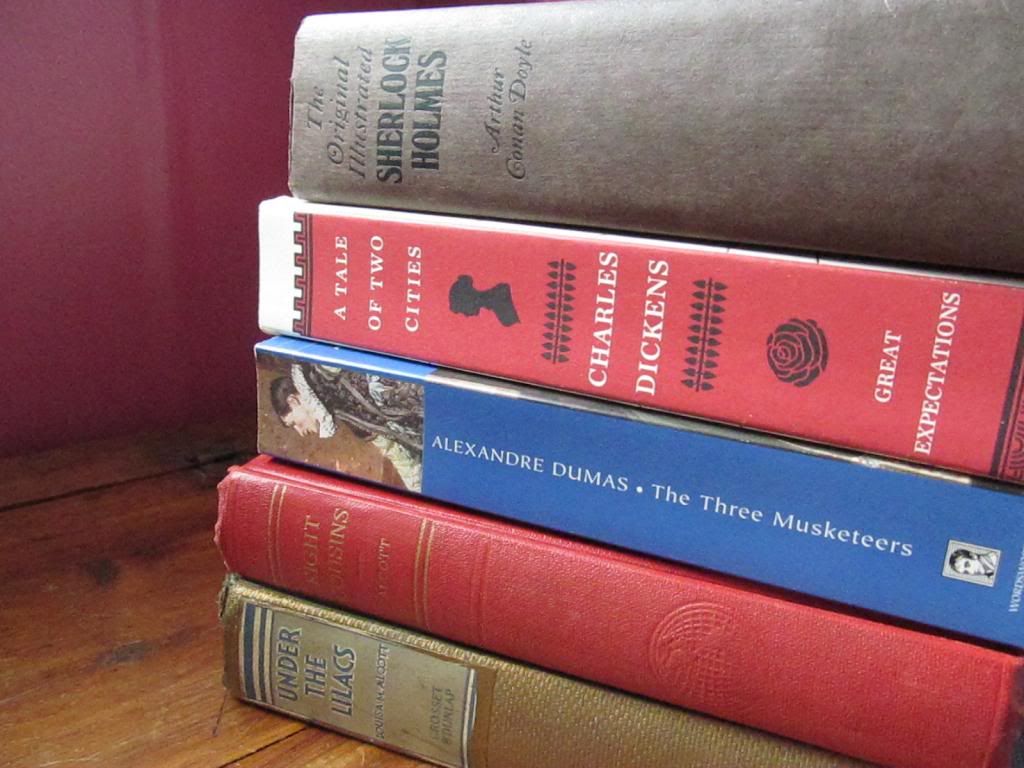 -Under the Lilacs and Eight Cousins, by Louisa May Alcott.
The only Alcott book I've read so far is Little Women, but I really enjoyed it so I'm always hoping to read more from her! The only reason why I own these two in particular is because they were old, pretty editions that I came across in a thrift store. :)
-The Three Musketeers, by Alexandre Dumas.
Yeah, not too sure about this one. :) I don't really have a lot of experience with this story...I've only seen the 1948 adaptation, and I pretty much only saw it for Gene Kelly. (I love him.) It was okay. I'm getting the 2011 adaptation/loosely based film through Netflix this week, so we'll see how it is. (Matthew Macfadyen! *ahem*) Anyway, I got this copy at a used bookstore several years ago, so maybe I'll read it eventually.
-A Tale of Two Cities and Great Expectations, by Charles Dickens.
I want to like Dickens. I love the BBC adaptations of his books (Bleak House and Little Dorrit in particular). But so far I've only read one of his novels: Bleak House. It was good, but oh so long and overwhelming. I want to read more of his books, but seriously...
so many pages
. I'm a wimp.
-Sherlock Holmes, by Sir Arthur Conan Doyle.
I love Sherlock (BBC Sherlock and the 80s-90s adaptations), but I've only read a couple of the original stories. I own this edition that includes 37 of the short stories and one of the novels (The Hound of the Baskervilles), and I'd like to read them all!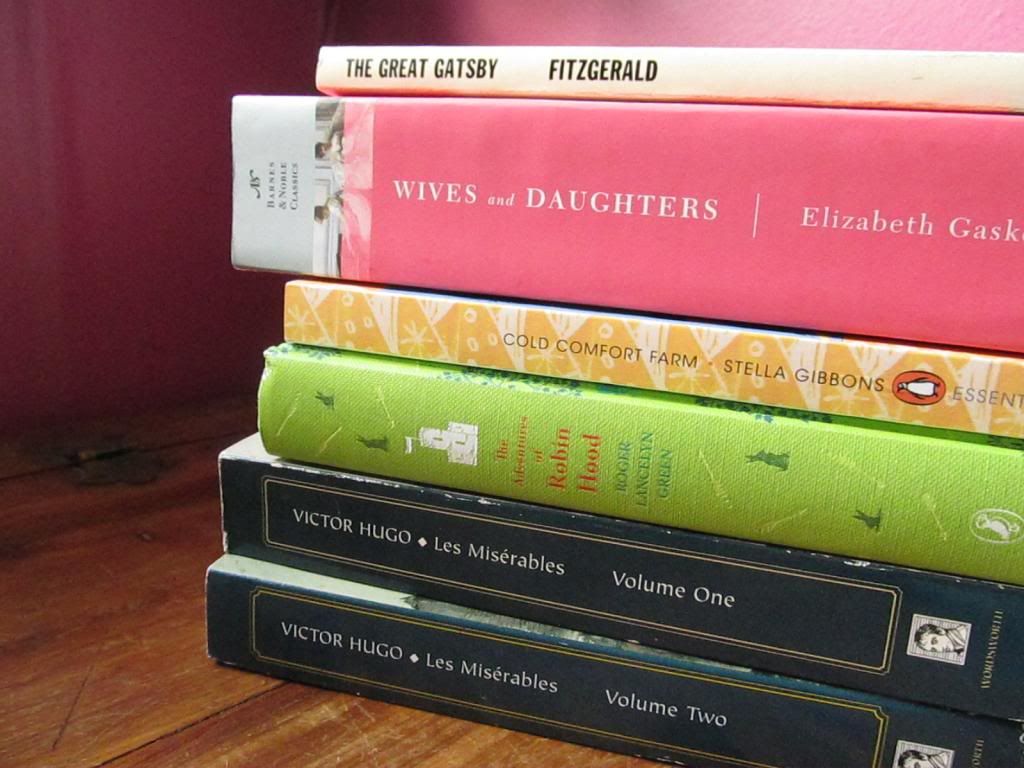 -The Great Gatsby, by F. Scott Fitzgerald.
I need to read this now! I love reading about this era, and this book is so tiny that I feel really silly admitting that I haven't it yet!
-Wives and Daughters, by Elizabeth Gaskell.
I've read Cranford and North and South and really enjoyed them both, and I love all three of these BBC mini-series. This book is just so big! (This seems to be a recurring theme with classics.)
-Cold Comfort Farm, by Stella Gibbons
. I've seen the film and liked it okay, but I felt like I was missing out on a lot. I've heard that the book is absolutely hilarious, so I'm excited to read it.
-The Adventures of Robin Hood, by Roger Lancelyn Green.
This is one of the prettiest books that I own. That's mostly why I bought it. :) But I want to read it! Love the 1938 film, and I want to see the newer film and the BBC series sometime.
-Les Miserables, by Victor Hugo.
This book is so long and intimidating. The fact that my edition is split into two volumes (with tiny print) doesn't help matters...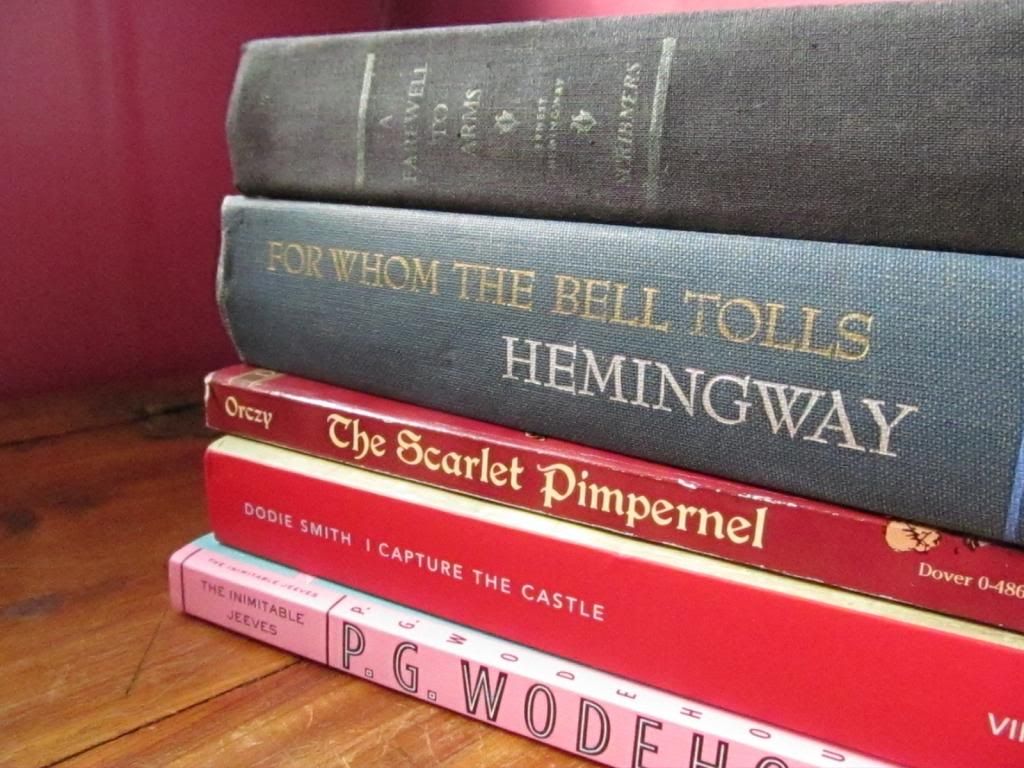 -A Farewell to Arms and For Whom the Bell Tolls, by Ernest Hemingway.
I have a love-hate relationship with Hemingway. I feel a connection to him since
I've visited his lovely former home in Key West
. (And if I was going to live in a warm, tropical-ish environment, that house would be my dream home.) I love his writing style and how he can make me want to read about things I have no interest in (The Old Man and the Sea!). But in the case of To Have and Have Not, he wrote a depressing, heartless tale that included too much profanity and other content issues for my taste. I have these two beautiful old editions that I'd like to read, to give him another chance. :)
-The Scarlet Pimpernel, by Baroness Emmuska Orczy.
I've heard lots of good things about this one!
-I Capture the Castle, by Dodie Smith.
This book sounds so good and I've been wanting to read it for the longest time now.
-The Inimitable Jeeves, by P.G. Wodehouse.
I've heard that the Jeeves books are hilarious, and this seemed like a good place to start! The
gorgeous cover
didn't hurt, either. :)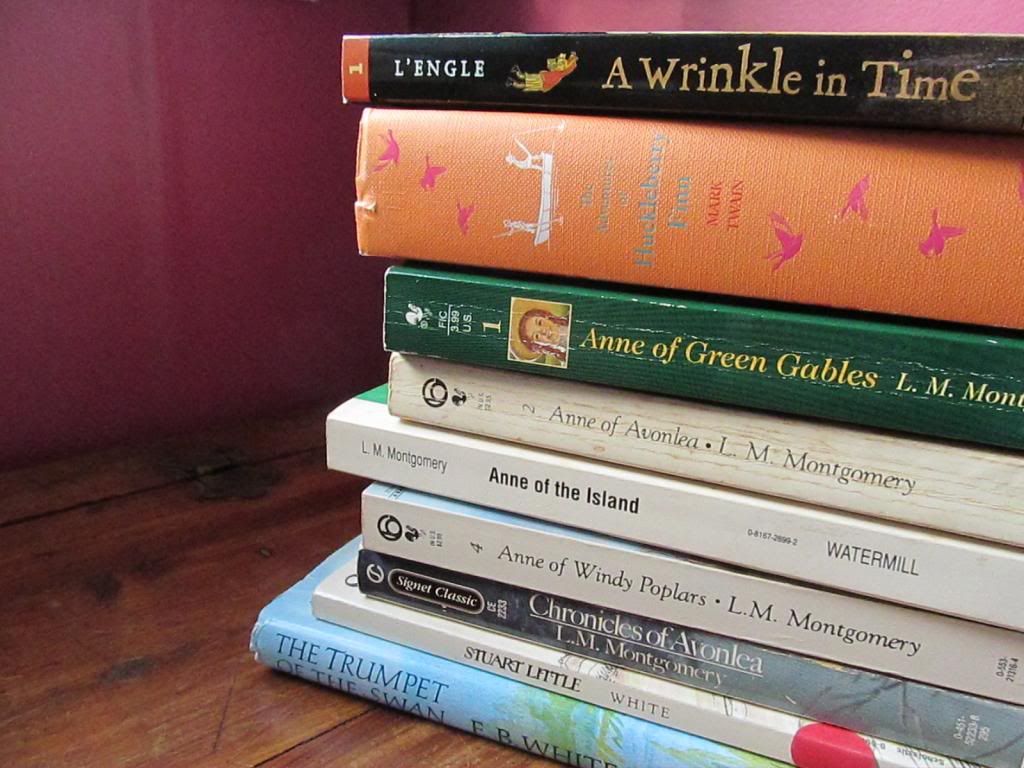 And now for a few children's classics:
-A Wrinkle in Time, by Madeline L'Engle.
Technically, I'm 99% sure that I read this book in elementary school, but I don't remember anything about it. I want to read the whole series.
-The Adventures of Huckleberry Finn, by Mark Twain.
Goodness, I absolutely love these editions. Is this a sequel to Tom Sawyer? If so, I guess I need to read that one first. :)
-The Anne of Green Gables series, by L.M. Montgomery.
Don't hate me for this, but I've only read the first book in this series! I don't know what's wrong with me. :) I do own the first four, plus another related book, and I plan on reading the entire series this year.
-Stuart Little and The Trumpet of the Swan, by E.B. White.
I may have read these in elementary school, but I'm not sure. I love Charlotte's Web, so I want to read them.
Also, I forgot to include it in the pictures, but I also want to read The Scarlet Letter, by Nathaniel Hawthorne...I was given a really
beautiful edition
of that one. Others I forgot: Black Beauty, by Anna Sewell and Goodbye, Mr. Chips, by James Hilton.
And here are a few classics that I want to read that I don't actually own, in no particular order:
-1984, by George Orwell
-Tess of the D'Urbervilles, by Thomas Hardy
-Harriet the Spy, by Louise Fitzhugh
-The Blue Castle, by L.M. Montgomery
-Lark Rise to Candleford, by Flora Thompson
-A Moveable Feast, by Ernest Hemingway
-Rebecca, by Daphne du Maurier
-An Old-Fashioned Girl, by Lousia May Alcott
-How Green Was My Valley, by Richard Llewellyn
-Anna Karenina, by Leo Tolstoy
-East of Eden, by John Steinbeck
Whew. I've got a lot of reading to do. :)
Do you like reading classics? What are some of your favorites, or some that you'd like to read?