I think that most people who love to read books also love to
own
books. There's something so magical about the whole process of owning a book...the thrill of buying a new book, bringing it home and finding its perfect spot on your bookshelf, reading it for the first time (and hopefully it's as amazing as you expected), and then being able to pick it back up for a reread whenever you want to return to that world.
I love collecting books. It's so comforting to have shelves full of favorite stories. I also like having some unread books there, too, in case I'm in the mood for something new. I'm all about physical books (e-books...no thank you!). I love owning them and always having one with me. I love the way they smell and how it feels to hold something heavy and substantial in my hands while I'm reading.
But lately I've been thinking about this whole book collecting (hoarding?) thing. Mostly this: how much is
too
much?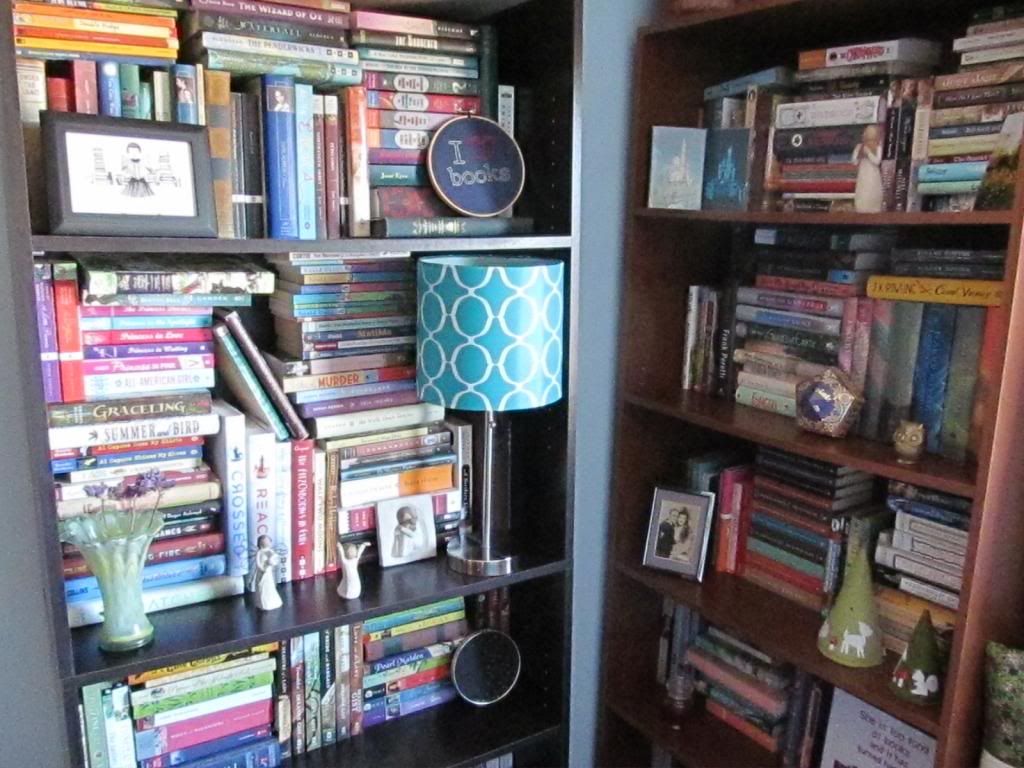 I honestly believe that you can't have too many books, as long as you've the space for them. But I'm starting to think that it's possible to have too many
unread
books. For me, anyway. I currently have two 5 shelf bookcases and another 3 shelf one that are nearly full. And at this point, I don't really have any more room in my bedroom for extra bookcases (though I've said that before and somehow managed to squeeze in more :). I probably own somewhere between four hundred to five hundred books, and almost 100 of those are ones that I haven't read yet! That number of unread books really bothers me...ideally, I'd like to own no more than about 15 unread books at a time.
Here's the thing: even though I buy quite a few books, I don't spend very much money on them. Probably one of the biggest reasons I justify buying more books is because I usually don't pay much for them. The vast majority of my books were purchased used from Goodwill or other thrift stores/library sales/yard sales, or were bargain books bought at places like Ollie's (which means they were brand new, but cost approx. $2 to $5 each). I do buy online from Amazon or B&N sometimes, but it's usually just a couple of books here or there (just enough to get free shipping). For the past couple of years, I set myself a book limit each month (either a number limit or a price limit). I didn't do that this year, though, because I've finally realized that there will be some months when I buy several books and some when I don't buy any.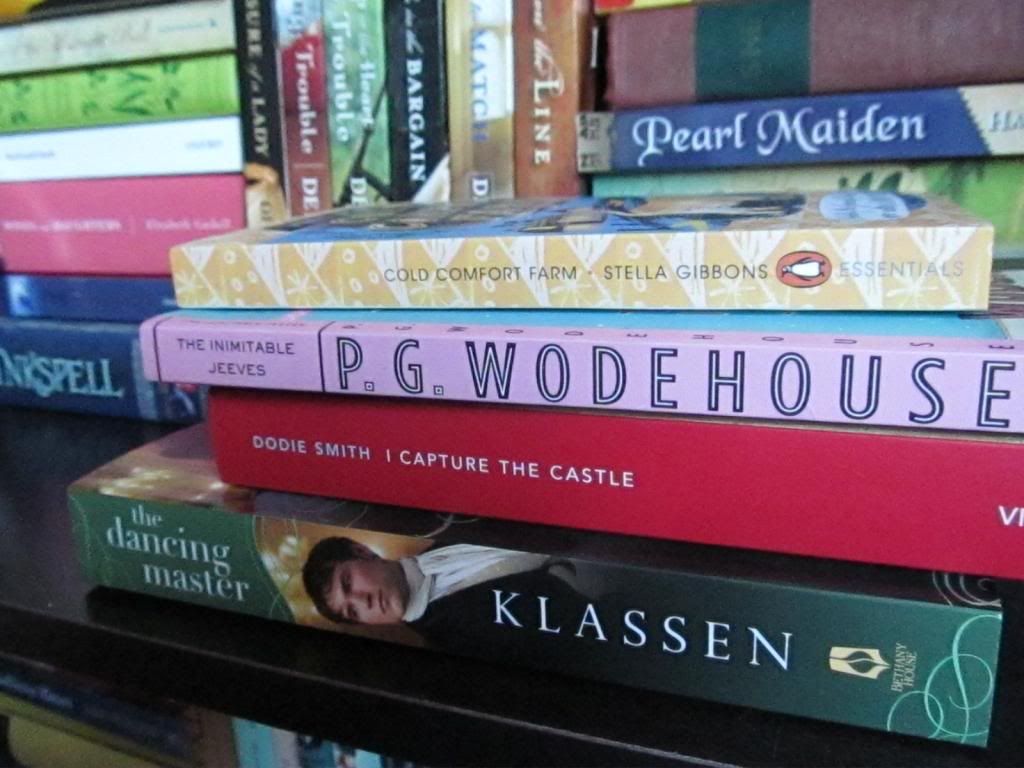 But no matter how cheaply I'm able to find books, I'm at the point now where I need to stop buying more and more. It doesn't matter whether they're expensive new releases or $2 thrift store finds. I need to make a big dent in the unread books that I already own. I think about some of the books I bought recently, earlier this month, and how excited I am about reading them. And then I think about the unread books that have been sitting on my shelf for a year (or two or three)...I was that excited about reading them when I first bought them, too!
This whole thing comes down to a bigger issue in the end: being materialistic vs. being content with what I have. Of course, whenever I want to buy another book, it's because I want to read it. And because I hope I'll enjoy reading it. (Or, in the case of a different edition of a book I already own, for the very superficial reason that it will look pretty on my shelf. Just being honest here! I'm a sucker for pretty books.) But sometimes I get so obsessed with buying certain books. Right now, I have 5 books in my Amazon cart and 14 in my BookOutlet cart.
(Yes, fourteen! It's ridiculous. But to give you an idea of how cheap BookOutlet is, the total for fourteen books there is just a few dollars more than the total for five books from Amazon. I think I need to somehow block myself from that website!)
I'm not going to buy them now. Mostly because I don't have the money. But over the past few weeks, I've been thinking and thinking about those books. And then it hit me: why do I think I
need
these books so desperately? The only thing I can figure is that I somehow believe that buying those books will make me happier and make my life better in some way. And that's just ridiculous. Sure, I'd be happy when I opened the package, but in the long run? Whether or not I own those books right now is not going to have a big impact on my life.
So where am I going with all of this? I'm not saying that I'm going to stop buying books. But I am trying to make changes. I'm making a conscious effort to read books that I've owned for a while but haven't read yet. So far this month,
I've read nine books
: two of those were books I recently received for free, one of those I received for Christmas, and six were unread books that I'd owned for at least six months. (One of them, The Wizard of Oz, I've owned for about
ten years
! And I just got around to reading it! By the way, I don't usually read that many books in a month. One of them was an incredibly short Roald Dahl book, and then I blazed through five books of a children's series that were really quick reads.) When I'm getting ready to start a new book, I look through my list of "
own but unread
" and try to pick one of those.
When I am considering buying a book, I'm trying to really think about it more. Do I see myself reading it in the next few months? If not...it can probably wait. I'm also weeding out my bookshelves. Every couple of months I try to go through and find at least one book that I'm okay with getting rid of. Unless I enjoyed it and plan on rereading it someday or I'm keeping it for some sentimental reason, I probably don't need to hold on to it. (This is pretty big for me, because up until a year or two ago, I
hardly ever
got rid of books.) And I'm going to try to use the library more. Especially with newer releases or books that I'm not sure I'll like. Actually, I'm planning on visiting the library next week. :) My only problem with the library is a tendency to check out more books that I can likely read before they have to be returned.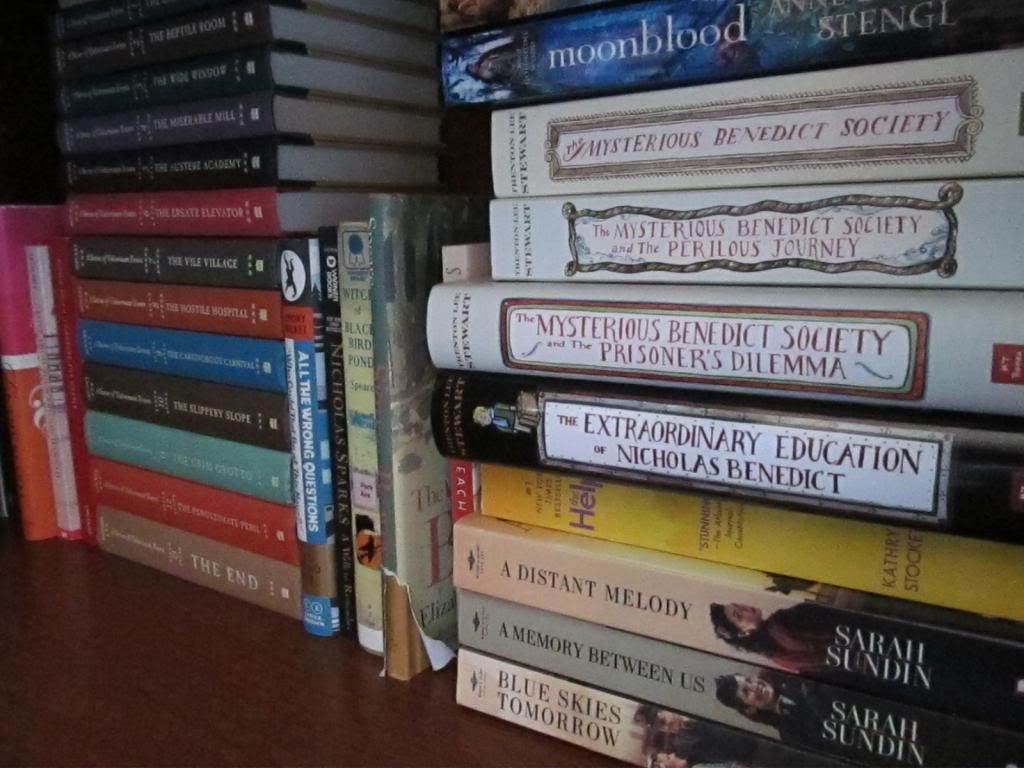 What about you? Do you buy too many books? Do you mostly own books that you've read and enjoyed, or do you have a lot of unread books, like me?
P.S. Speaking of book collecting, would any of you be interested in a little video tour of my bookshelves sometime in the next couple of months? And by video, I mean footage of strictly my shelves, not myself. :) I'm camera shy and while I don't think I have that much of an accent in real life, my voice sounds extra-twangy on video. I have a strange fascination with seeing other people's bookshelves, so I was just curious if that's something you guys would be interested in.