On Saturday, I came home to find an unexpected package in the mail...a book-shaped package. And it was the very best sort of surprise that it could have possibly been: a galley copy of
Natalie Lloyd's
upcoming novel, A Snicker of Magic!
Of course I started reading it immediately. And now that I've finished it, I've been trying to put into words just how much
I love this book
. First up, how about a little description? Stolen from Goodreads:
"Midnight Gulch used to be a magical place, a town where people could sing up thunderstorms and dance up sunflowers. But that was long ago, before a curse drove the magic away. Twelve-year-old Felicity knows all about things like that; her nomadic mother is cursed with a wandering heart.

But when she arrives in Midnight Gulch, Felicity thinks her luck's about to change. A "word collector," Felicity sees words everywhere---shining above strangers, tucked into church eves, and tangled up her dog's floppy ears---but Midnight Gulch is the first place she's ever seen the word "home." And then there's Jonah, a mysterious, spiky-haired do-gooder who shimmers with words Felicity's never seen before, words that make Felicity's heart beat a little faster.

Felicity wants to stay in Midnight Gulch more than anything, but first, she'll need to figure out how to bring back the magic, breaking the spell that's been cast over the town . . . and her mother's broken heart."
I've been reading Natalie's "nonfiction" (the magazine column she used to write, her blog, and her book Paperdoll) for years now, and ever since she posted snippets of fiction on her blog in the past, I've been hoping she'd write a novel. And her debut novel is nothing less than magical.
A Snicker of Magic drew me in right from the beginning. I tried to pace myself because while I just wanted to read it
all the time
(
seriously, I carried it around with me, hoping I'd have a moment to read a bit here or there
), I also wanted to make it last as long as possible. I didn't want it to end.
Natalie's writing style is so wonderful (if you've read anything she's written, you'll know what I mean). Her descriptions are the perfect balance- never overly long or flowery, but so beautifully written that I can see everything playing out in my mind. I love the quirky mountain setting of this book. I've lived in Virginia my whole life, and some books just capture that Southern, homey feel perfectly, and this is one of them.
(Though of course Midnight Gulch is in Tennessee, not Virginia. By the way, if you think that Virginia isn't really "Southern", don't you dare let anyone from my part of the state hear you say that. :)
And can I just say that I absolutely adore the fact that the Avett Brothers inspired Natalie's book and that the Threadbare Brothers are loosely based on them? The Avett Brothers make some of my favorite music ever.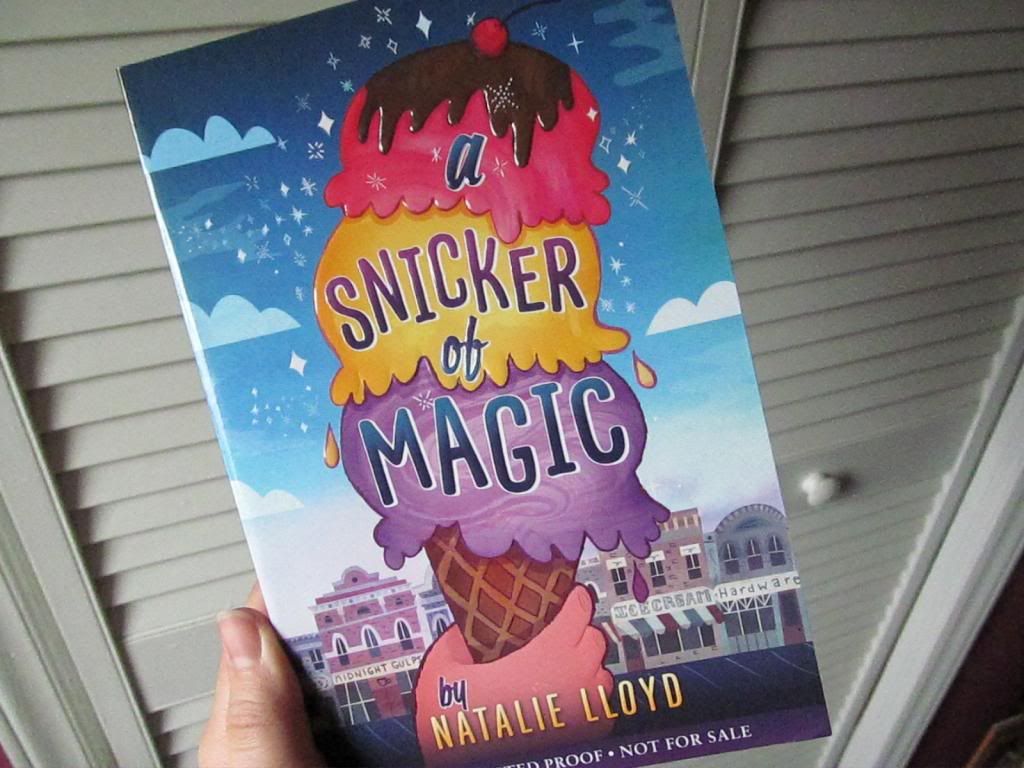 There are so many awesome things about this novel, but the best things are probably the characters. I honestly loved
every
single one of them. (And there are a lot!) The main character, Felicity Juniper Pickle (one of the best character names ever!), is so fun and spunky and I can definitely relate to her nauseous reaction to public speaking. :) Jonah was so sweet and he makes me want to do more little random acts of kindness, though of course his aren't random at all. Frannie Jo was adorable, and oh my goodness, I absolutely loved Cleo (she's a crazy crafter/quilter!) and Boone. And those are just some of Felicity's family members. Don't even get me started on the hilarious townspeople. (I just have to mention a couple. Day Grissom! He was great. And Elvis Phillips. He sings and dances on the sidewalk in honor of his namesake. :) Even though there are lots of characters, I never had to try to figure out who was who: they're all so quirky and distinct that it's no trouble keeping them straight.
One of my favorite parts is when the Pickle/Harness gang goes to Snapdragon Pond. It's not an incredibly important, dramatic scene. But I just love the fact that they're all wearing fairy wings (even Boone...ha) and how Felicity describes the pond and her talk with her mom in the tree and the fact that Day Grissom shows up at the end. :) It's wonderful.
By the way, I don't think I've mentioned that A Snicker of Magic is a middle grade book. I personally love middle grade and read it quite often, and it doesn't bother me in the least that I'm approx. 10 to 12 years older than the target audience. :) I think that middle grade books tend to have more humor and heart (both things I really appreciate) than some of the other more popular genres, like YA. So not only can you read and enjoy this book, but you can also share it with the younger people in your life! (Call me weird, but I'm always compiling a mental list of books I want to introduce my niece to when she's older...as you can imagine, she doesn't exactly do much reading quite yet, considering she's only three months old. This book just made the list.) And I'm really smitten by the whole "magical realism" aspect. Sure, I love Harry Potter, but I also love books that are set in a realistic time and place but still contain, shall we say,
a snicker of magic
. (Think Sarah Addison Allen-ish, for kids?)
I feel like I haven't written much about the actual story, but I really don't want to spoil anything. I just loved this book so much that I had to gush about it a little (or a lot). I enjoy lots of books, but every once in a while I come across a special one that works its way into my heart and settles in and makes me feel like somehow it has been one of my favorites all along, even if I just read it for the first time. I'm pretty sure I had a goofy grin on my face the whole time I was reading A Snicker of Magic. It made me snort laugh (out loud) and cry, and on at least one occasion, both of those at the same time. It was lovely, and I really want to read it again
now
.
(And I would, if my to-read pile wasn't so big. But I definitely hope to reread it sometime this year. The sooner, the better!)
A Snicker of Magic has everything: gorgeous writing, a charming setting, a whole cast of quirky characters, and a girl learning about family and love and home. Plus a whole lot of sweetness (that could possibly have something to do with all of the ice cream in this story :).
It releases on February 25th
!
{Just so you know, this isn't my normal book review deal. I am in no way obligated to write a review for this book. I wrote this post because I wanted to. :) I know it seems like I usually only post book reviews for books that I've requested from Booksneeze or Bethany House Publishers, but this year, I'm hoping to write more about books that I love in general, instead of only ones I'm required to review.}