A month or so ago,
eShakti
contacted me about reviewing an item from their winter line. I
reviewed a dress
from them before, back in February, and I really liked that dress so I decided to give it a go again. :)
I picked out
this dress
, a "retro plaid shirtdress." I did enter my measurements so I could get a custom size, but I didn't change any of the other options. I liked the elbow-length sleeves and the pockets (love the pockets!). The dress automatically comes in a below-knee length, and while that's my preferred length for dresses, the last one I ordered was a bit short for my tastes. So I debated about getting the next length, just to be safe, but ultimately decided not to. I'm glad I left it as it was, because below-knee on this dress worked out perfectly!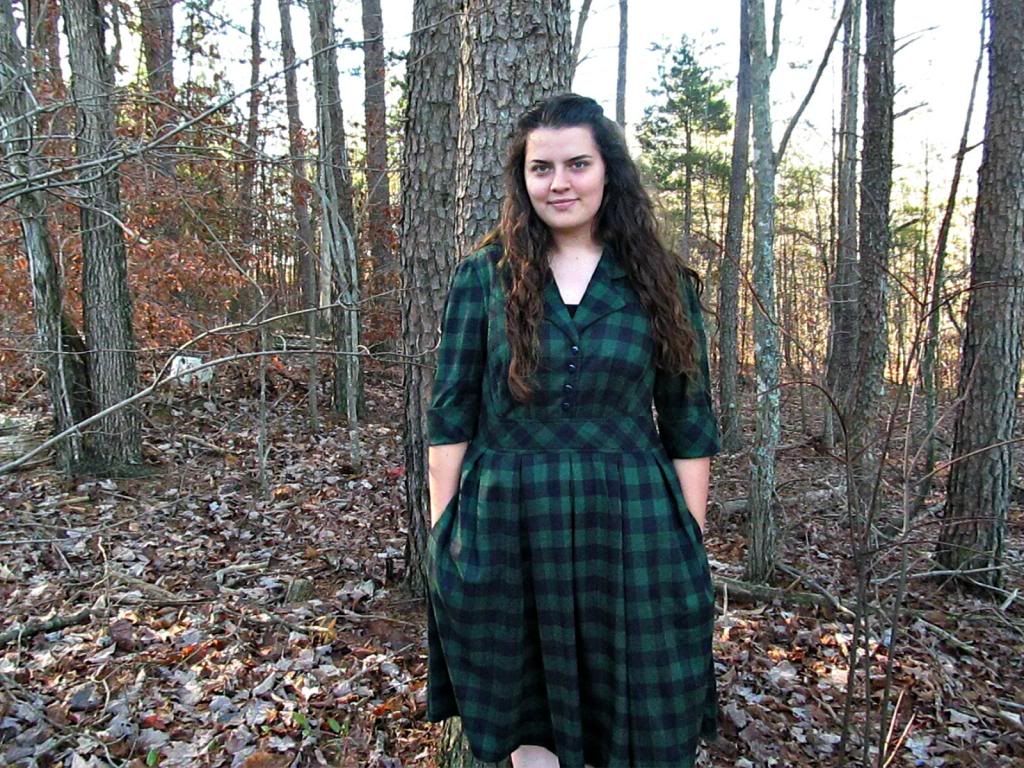 In my past two experiences with eShakti, I was sent an email when the dress was shipped. With this dress, I kept waiting for that email, but it didn't come. After about two weeks, I was nearly ready to email them to verify that my request went through, when the DHL man pulled into the driveway asking for my signature on a thin, square box that could only be from eShakti. :) I'm not sure why I didn't get the email, but two weeks is still within their time frame of making and shipping the dress (though not as quick as the last one I received).
To be honest, my first impressions of my dress were a little
eh
. Here are the things I did love right from the start...the fabric is lovely: nice and heavy and soft and perfect for a winter dress. I love the way that the bodice fits. There are three darts on each side instead of just one. I also like the plaid and the full skirt and the collar.
What I didn't like: the buttons and the sleeves. The buttons were cheap gold ones, and they looked so tacky on the dress. For a dress that costs well over $100, it looks like the buttons could have been nicer! But that was an easy fix: I just switched them out for some navy ones from Hobby Lobby. The sleeves are gathered in a weird way at the shoulders. The sleeves are loose, which is a good thing because it makes them comfortable (this dress is ridiculously comfortable). But when I lift my arms, I feel like the extra sleeve fabric at the shoulders poofs out and gives me wide, football-player shoulders.
I seriously considered trying to alter the sleeves...that's how much I disliked them at first. But now I'm wondering if I was just overthinking it and being too self-conscious. Looking at these pictures, the sleeves look perfectly fine! I'm glad I didn't go and chop off them off or anything. :)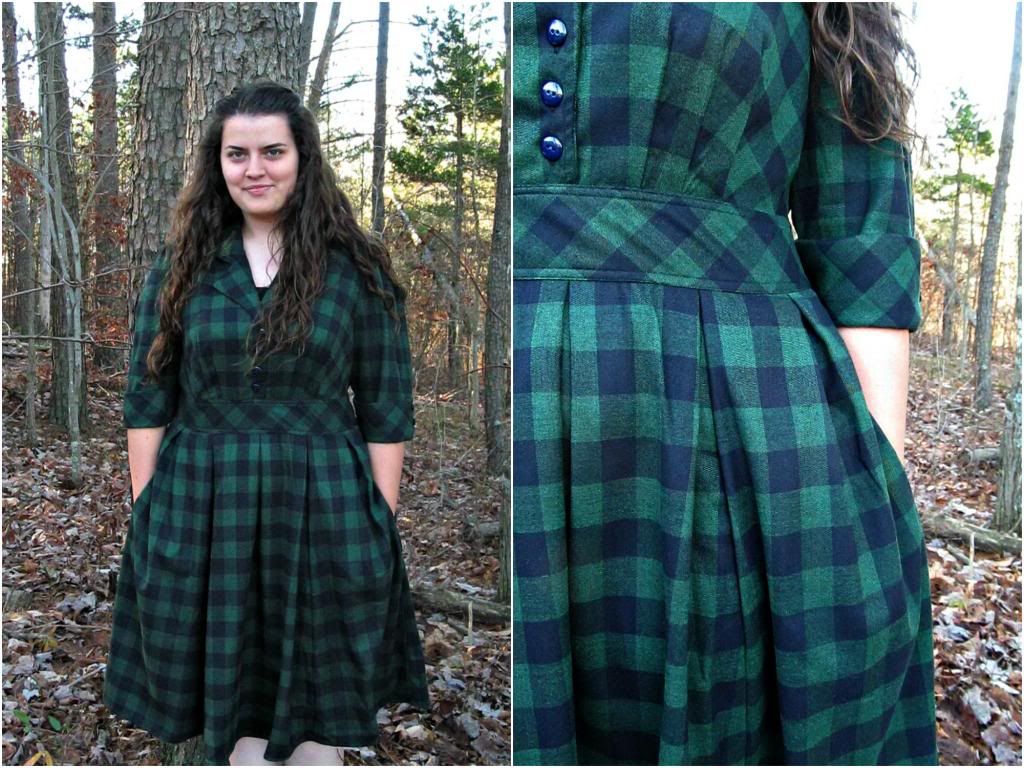 The dress seems to be constructed nicely. Though the buttons on the front are functional, there's an invisible zipper on the side. Because the fabric is thick, there's some bulk at the waistband and sometimes the zipper gets a little snagged at that seam. I think it'll be fine though (I hope so, anyway, because I don't relish the thought of having to replace that zipper).
Overall, I'm pleased with the dress. I don't absolutely love it like I hoped to, but it's growing on me. It's a cute, warm, and super comfortable winter dress. The customized fit worked out perfectly, and I think I'll eventually get over the sleeve issues. :) Aside from not getting an email when the dress was shipped, the whole process of ordering went smoothly and within two weeks, I had a new
custom made dress
! Thanks,
eShakti
, for giving me the opportunity to review another dress.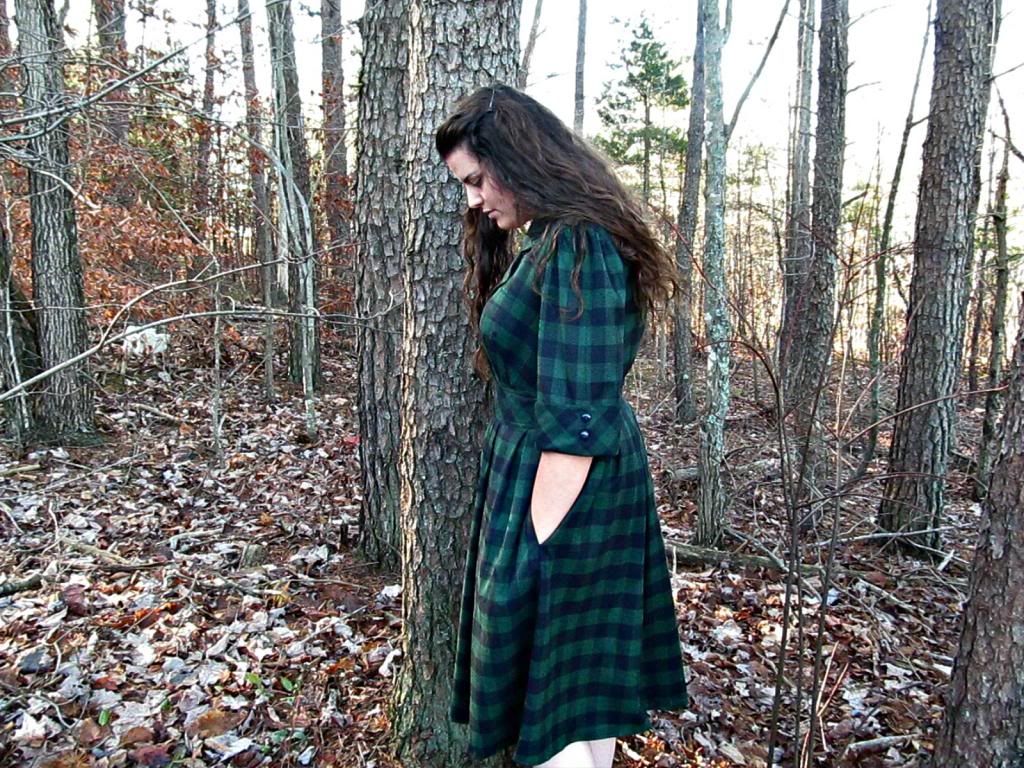 *Note: I received this dress for free from eShakti in exchange for an honest review.*