I've mentioned before that I'm currently participating in the
Summer Sweater Knit Along
over at
luvinthemommyhood
. I've been struggling with my sweater turning out huge because I can't get gauge, but I'll write more about that when it's finished because I think I've sort of got it back on track now. :)
Anyway, when I saw Shannon's
"What's in your knitting bag?"
post yesterday, I thought I'd join in, too. :) I'm the sort of nosy person who likes to see what other people carry in their bag.
I usually carry my knitting stuff in a tote bag (I'm currently using
this one
). Soon I'd like to sew myself a bag devoted to knitting, but I'm still looking for the right pattern. :) I do have the small bag shown below (blogged
here
) to hold sock knitting. Inside my tote is a clipboard to hold the pattern I'm using, my current project (my first sweater), and a pouch to hold all my other stuff.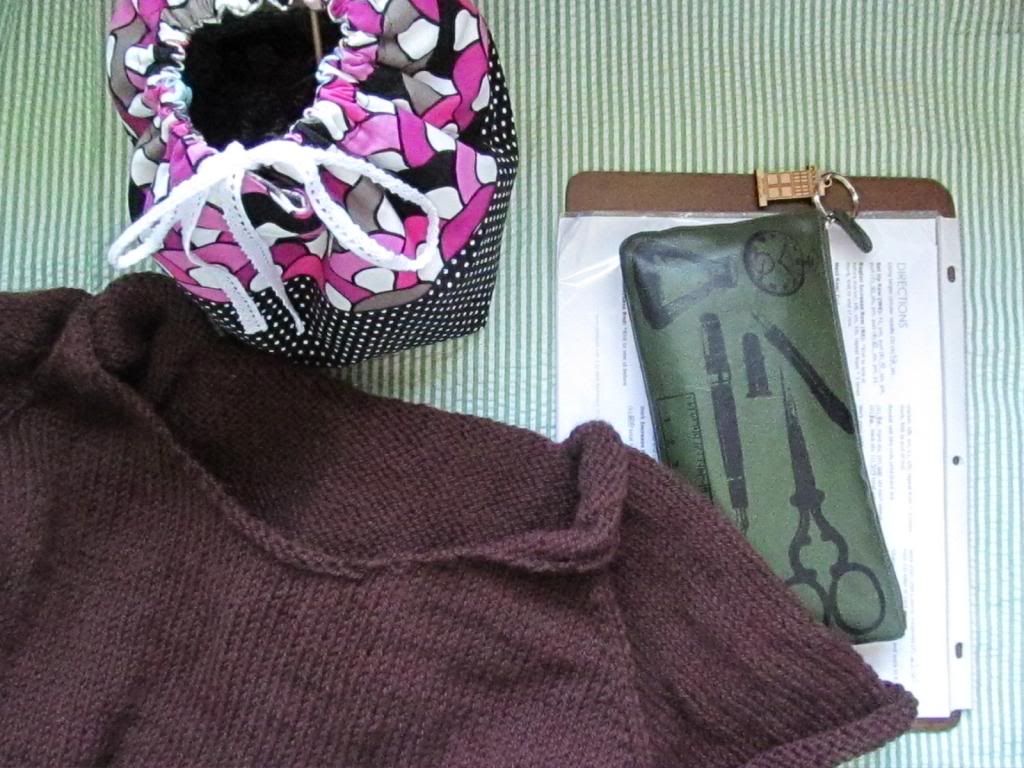 I got this pouch on clearance at Target sometime over the past year or two. I think it was like 40 cents? It's cute, but because I sew, there's really no excuse for me to be using some cheapo Target pouch. :)
Did you see that little TARDIS peeking around the corner? :) That's my
WPI tool
for spinning.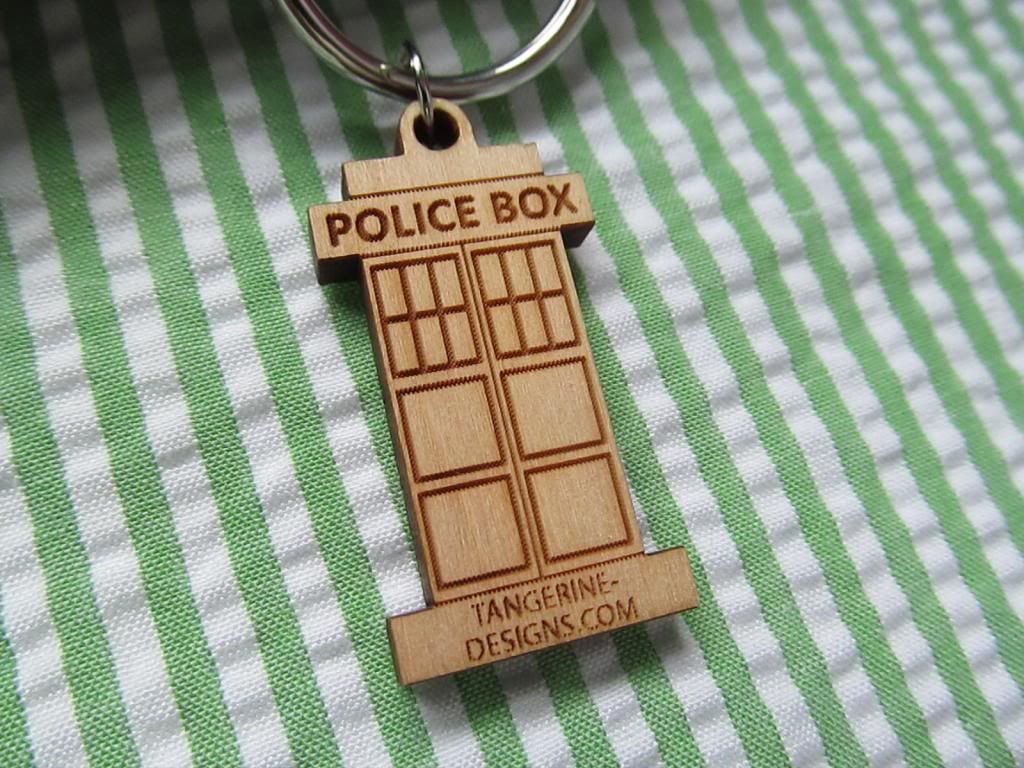 When I ordered from that
Etsy shop
, she also sent me this little button. :)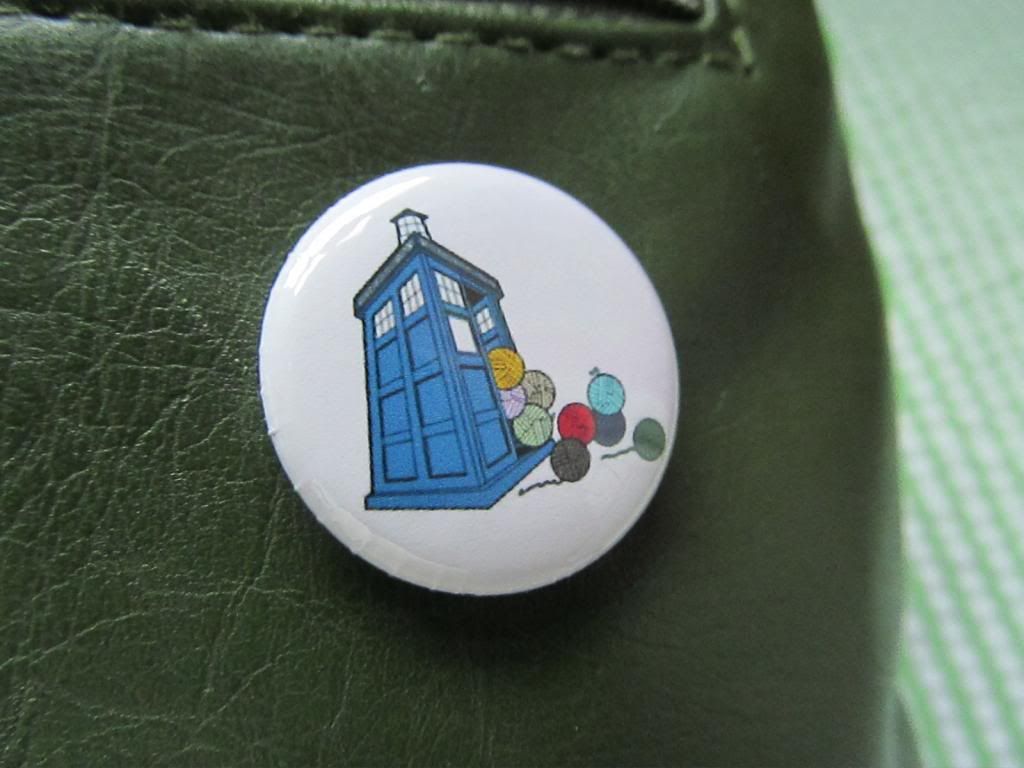 Here's the mess of what's inside the pouch...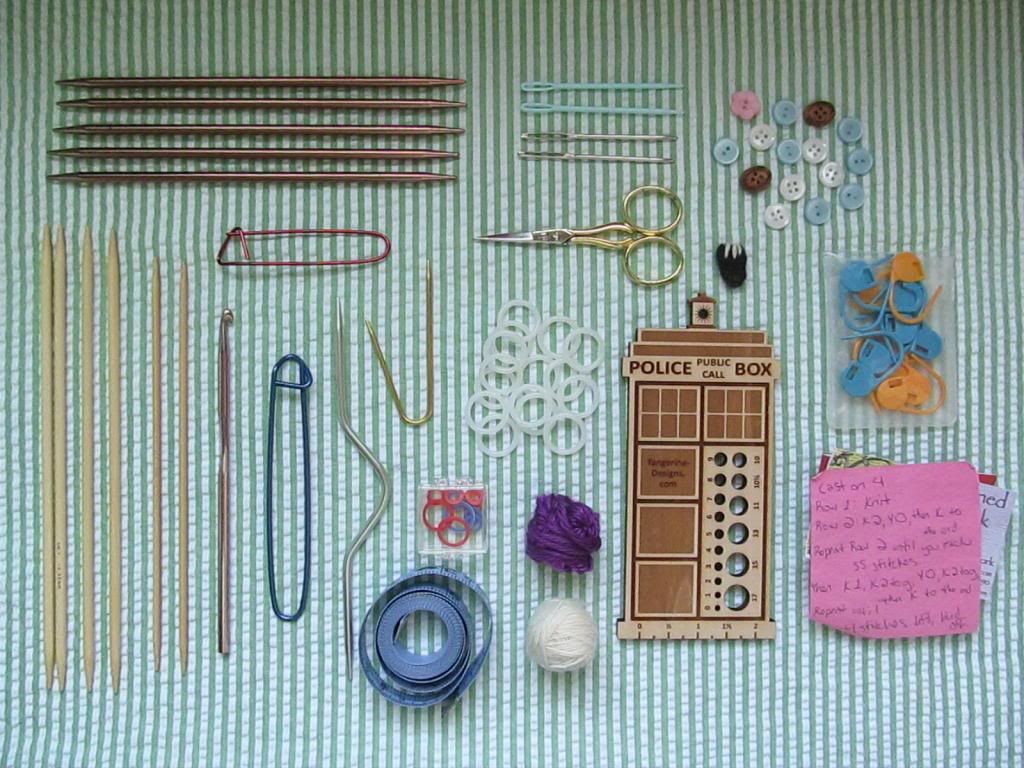 Two sets of DPNs that I'll need eventually for my sweater, two random DPNs from my current neglected sock knitting, a couple of stitch holders and cable needles, a crochet hook for catching any accidentally dropped stitches, and my scissors.
Clover locking stitch markers, other cheap ones from Hobby Lobby, and those big awkward plastic ones that I promptly threw away after taking these pictures. Because I've never used them...they came in some beginner's knitting kit I got a couple of years ago.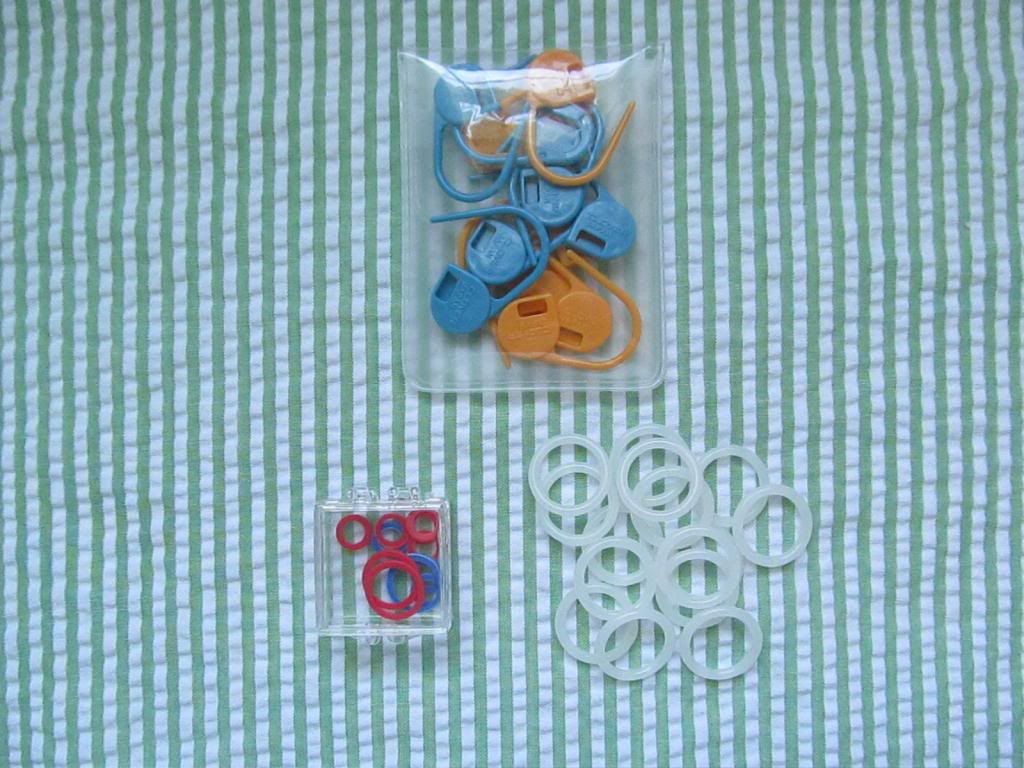 A measuring tape...I really should invest a few dollars in one of those retractable ones because this one is always coming unwound and getting tangled up in my bag. Tapestry needles. I never use those light blue ones. I used to have some green hard plastic ones that I loved, but they both snapped in half recently. Now I'm a fan of metal ones. Leftover buttons from baby knitting projects. :)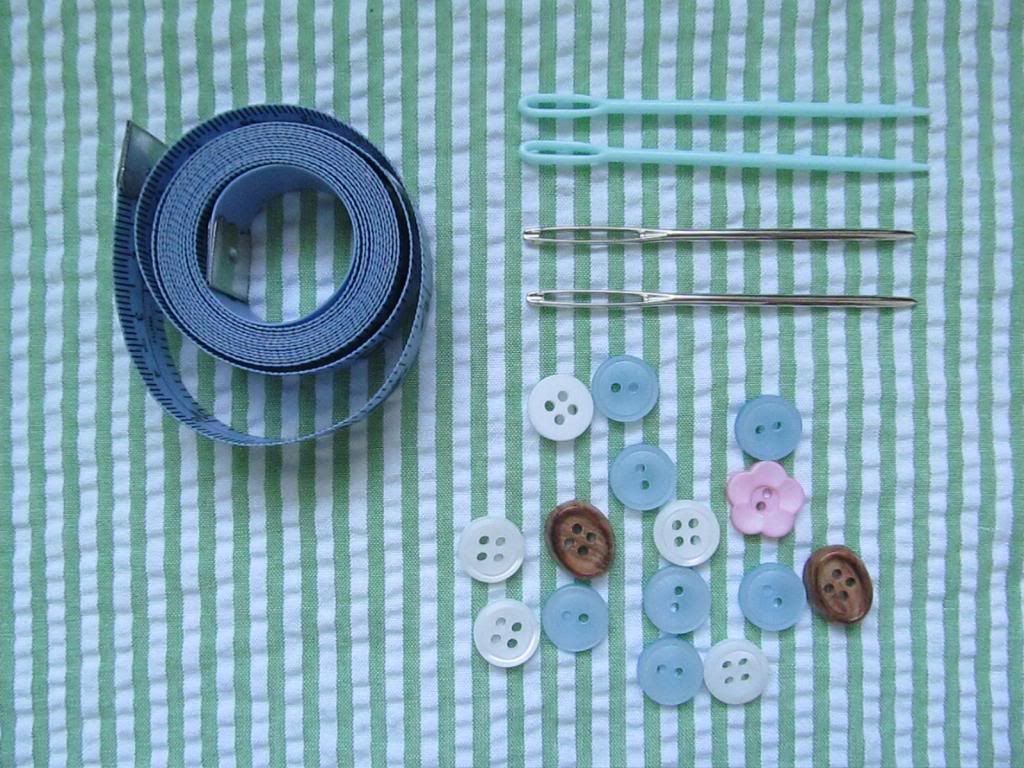 My awesome
TARDIS needle gauge
! I could finally justify buying one after I lost my metal one earlier this year. I couldn't have planned that better myself...and no, I did not "lose" my other one on purpose. :) A ball of white handspun singles that I sometimes use to tie skeins of handspun yarn. A ball of purple scrap yarn that I've been using to hold stitches on my sweater. And a random little badger paw from
these mitts
that I decided not to attach.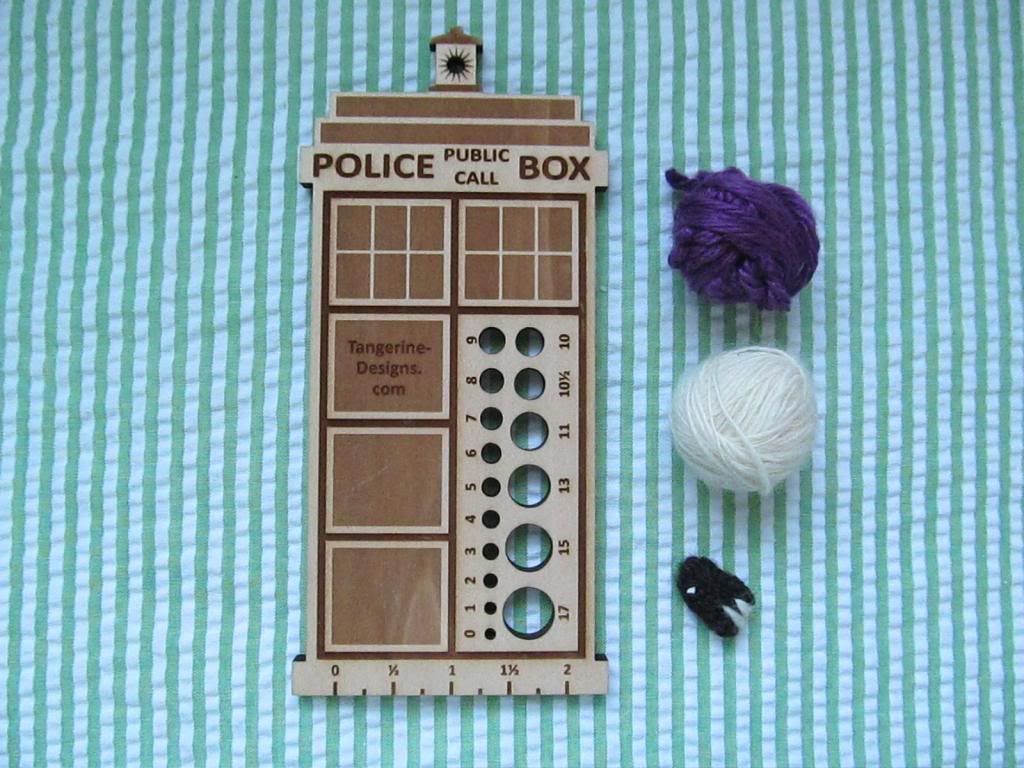 A couple of random yarn tags and sloppy instructions for knitting dishrags. Because simple as they are, sometimes I need a bit of help when I haven't knitted one in a while. :)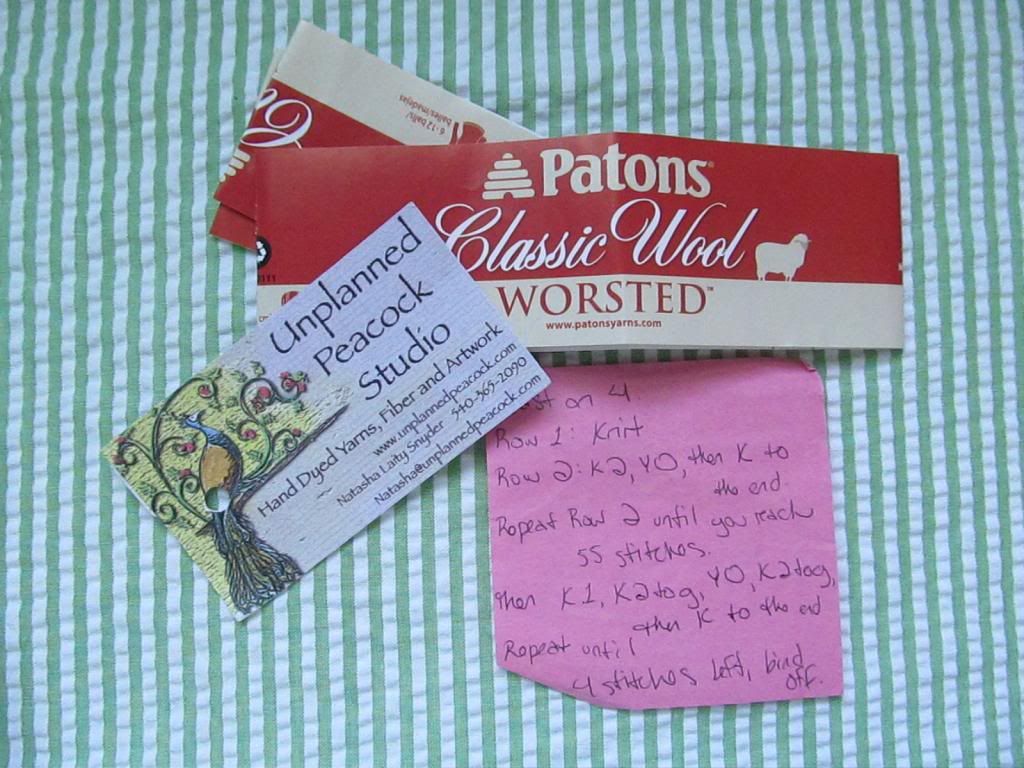 And lastly, several row counters. These didn't make it into the group photo because I have three and they're all currently being used in projects.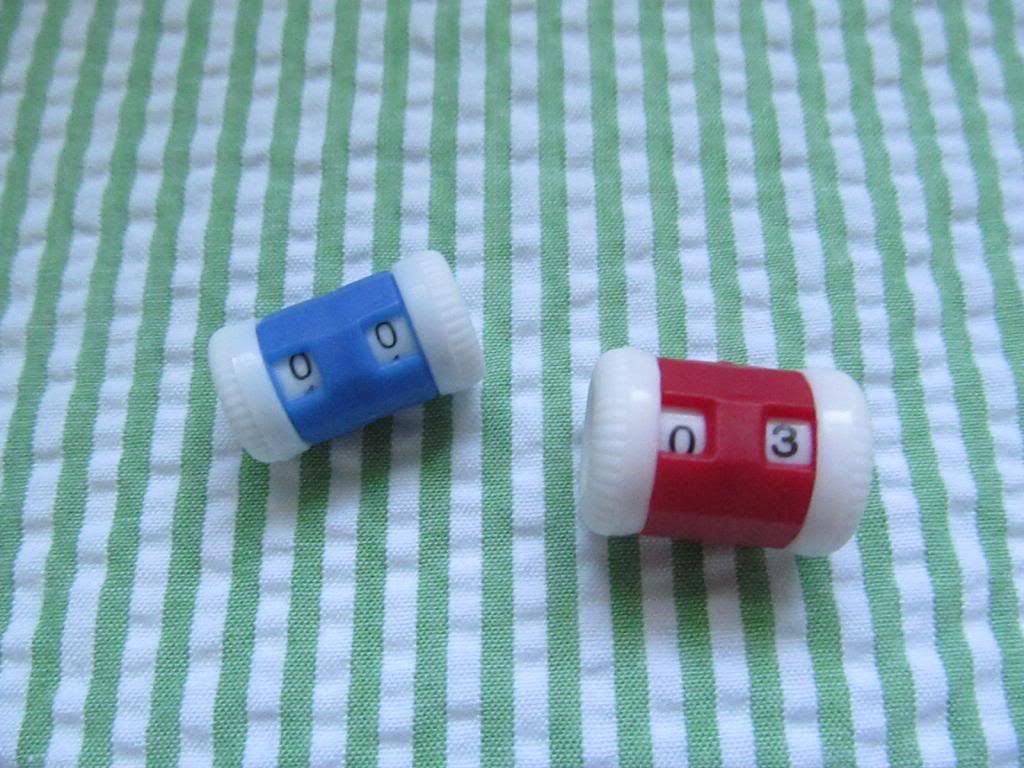 And here's a peek inside my sock bag...I haven't worked on these socks in forever.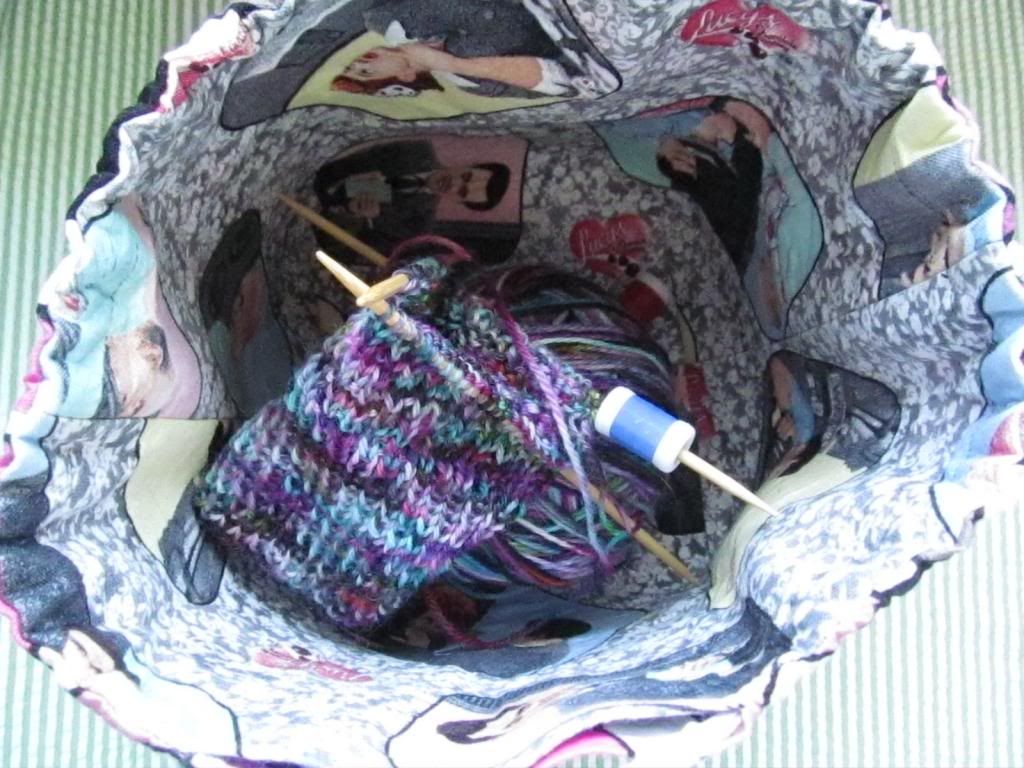 What's in your knitting bag? :)
Until next time,