I guess I'm a little obsessed with
this pattern
. The only clothes I've sewn so far this year have been Renfrews, and I'm currently up to five of them (
number 1
,
number 2
, and number 5 will be posted later this week). And I've got plans for at least one more in the very near future. That means it's tied with
McCall's 5431
as my most used sewing pattern.

It might sound extreme, but it's really not. :) I used to have a good collection of short sleeve, elbow-length, and long sleeved knit shirts from Target, Old Navy, etc. And I honestly wear them a lot. Just about all of my older ones are too worn and have recently been moved into the "everyday" category (which means to wear around the house, while babysitting, etc.) I wear knit shirts during the summer when it's miserably hot, and I wear them layered under sweaters and such all winter.
I'm trying not to buy any new store bought clothing this year except jeans. So that means that I've had to resort to making my own t-shirts! Which is kind of nice, actually. I've gotten so spoiled to easy Renfrews that who knows when I'll make another button-up. :)
My third Renfrew is like the previous two: scoop neck and elbow length sleeves. I used this
black polka dot cotton jersey
from Girl Charlee. I've been pleased with all of the fabrics I ordered from there, but this was probably my favorite...super soft cotton and no stripes to match up! :) Plus I like polka dots, though this is only about my second item of clothing featuring them.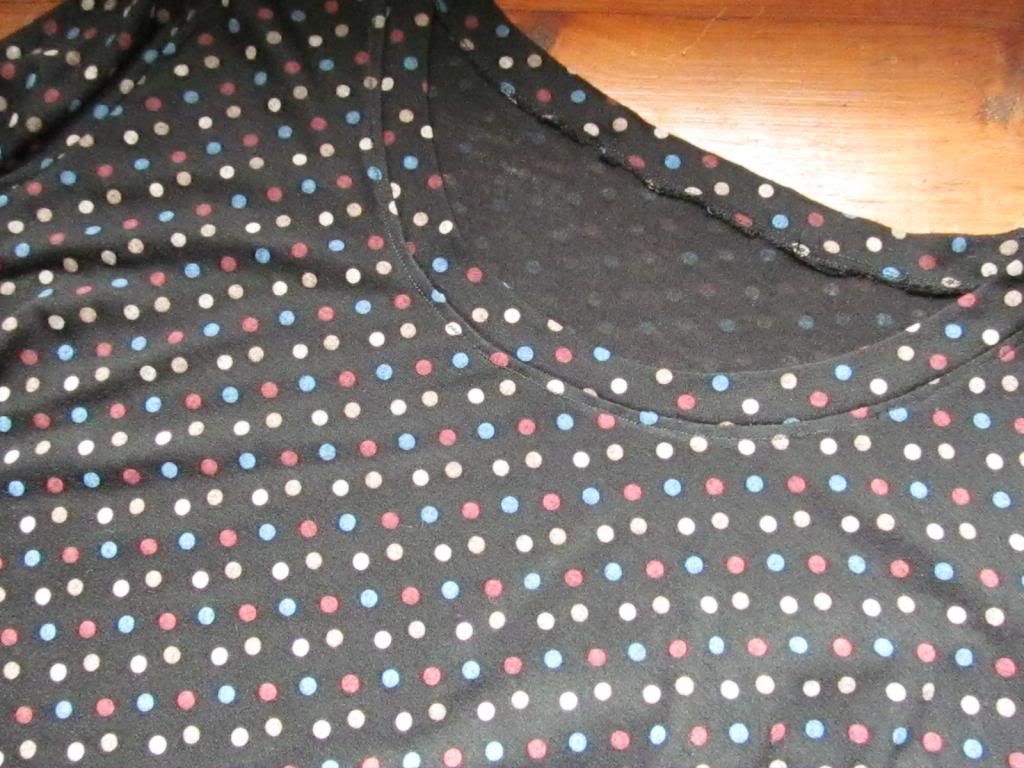 Number four also has the same neckline, but I did short sleeves. The fabric is also from
Girl Charlee
, but I can't seem to find it on the site right now. It's a bright pink and cream stripe. And apparently it makes me look sort of pale and washed out (I blame winter).
The stripes were half an inch wide (slightly more narrow than my
last one
), and I don't care to ever work with any thinner stripes than this. :) I matched them up at the side seams. I still messed up a bit around the waist band, as some areas are much thicker than others:
But I finally got the hang of it by the time I did the sleeve bands...the stripes are much more even.
By the way, I accidentally used a normal sewing needle when sewing this shirt. I thought I had left my ballpoint one in the machine, but apparently not, and I didn't notice until it was completely finished.
My sewing machine has a tendency to suck knits down under the needle plate. I always start raw edged seams about half an inch in, and then go back and do that unsewn part. Lately, it seemed that my machine had been acting even worse about that, but it didn't do it any with this shirt. It seemed to work better with the standard needle! Anyway, I know you're not supposed to use those with knits. So with my next shirt I swapped out to a new ballpoint needle (don't think I've ever replaced it before...oops!) and it did better.
Lesson learned: I'm really awful about replacing needles! Also, I've never had my machine serviced or cleaned inside, and I've had it for about 4.5 years now (and there is
a lot
of lint in there). Some little things have been acting up, and I'm thinking I definitely need to get it serviced soon. As soon as I can save up the $75 and bear to part with my machine for a while! :)
Until next time,
{As usual, thanks to Mom for taking the photos!}