The whole thought of a bucket list sounds a little morbid at first, doesn't it? A list of things you want to do before you die. But it's not morbid...it's actually pretty exciting. :) I can't remember what first inspired me to write one (it may have, subconsciously, come from the movie A Walk to Remember), but I did write one out. At the end of July, nearly a year ago. So far there are twenty-one items on the list, but it is always being added to.
Polka Dot over at the lovely blog
(Life Is Too Short Not To) Wear Red Shoes
is hosting an incredible giveaway (with like...17 prizes??) based around the idea of bucket lists. It's such a cool idea that I wish I had come up with it. :) So I'm participating by writing about a few of the items on my list.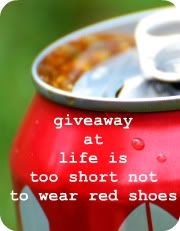 An excerpt of my bucket list:
#4: See a real Broadway play or musical.
Preferably one that I like. :) I would love to see something like Mary Poppins, The Lion King, or The Phantom of the Opera.
#8: Learn to cook.
Ha. I need to be working on that right now. I feel so nervous and incompetent in the kitchen!
#10: Memorize a poem.
It just sounds like it would be fun. Once upon a time, in the 7th grade, I knew Robert Frost's
The Road Not Taken
by heart. Not anymore.
#11: Visit a place where one of my favorite movies was filmed.
This pretty much means any number of gorgeous English locations where my beloved Jane Austen movie adaptations were filmed.
#17: Own a wardrobe.
Mr. C.S. Lewis is solely responsible for this one. I'm the girl who used to push on the back wall of my closet, hoping I could crawl into Narnia.
#19. Tour a real castle.
This is a given if I ever make it to Europe.
#20. See Switchfoot in concert.
I missed a very close opportunity last fall, because my first craft show was the next day.
#21. Visit the Eiffel Tower.
It's gorgeous and I love it. I want to see it for myself.
So far, I have only checked off two items on my bucket list. They are:
#6. Write a novel.
As terrible as my writing is, I did this with NaNoWriMo in November of 2009.
#15. Learn bookbinding.
I love to bind books. I learned how to in August of 2010.
But, another item will be crossed off by the end of this week.
#16. Attend a midnight movie showing.
Because I've convinced my parents to go with me to a 12:01 a.m. showing of
Harry Potter and the Deathly Hallows: Part 2
. :)
Yes, I'm a Harry Potter nerd. I started reading the books when I was about 8 or 9. When I was 10, the first movie was released. Me and my brother won four tickets and a HP prize pack from a radio station. They were asking questions related to the series, and I was too scared to call in. So my brother called in, and I told him the answer.
(Question: What is the name of the school Harry Potter goes to? Answer: Hogwarts!)
My family went to see the movie, and we've been to see every film in theaters since. From book four on, I was one of those people who bought the books the day they were released.
I know this is going to sound cheesy, but I'm one of those people who sort of grew up with the books. I grew up with the characters. I could always related to Hermione the most- we're so much alike. Obsessed with following the rules and making good grades. Perfectionists (to a fault). Shy and nerdy.
The books have come to an end. And now, the films are coming to an end. Me and my parents have been rewatching all of the films in preparation for this week. I've been rereading the books, too. I started out just planning on rereading the last one, but by a weird incident I began reading book 1 again. So then I knew I wanted to go through the whole series. There was a point when I didn't think I could finish in time, but I just finished rereading the last chapter of the Deathly Hallows about two hours ago.
It's all pretty sad to think about, in a way that only Harry Potter fans can understand, I think. But I am so ridiculously excited about this last movie!
My parents were a little iffy about going to the midnight showing. I was too, at first, to be honest.
-My dad was iffy because he has to get up at like 5:00 a.m. every morning to do chores.
-My mom was iffy because she goes to bed early and has a little problem with staying awake during movies. She was dozing off while we were rewatching the movies, and that was usually about 7:00 p.m. I kept poking her and saying, "Mother! Wake up!" She didn't like that too much.
-I was a little iffy because I'm not your typical 20 year old who stays up all hours of the night. I like my sleep. I often nod off while reading at 9:30 p.m. Sure, the idea of staying up late (or all night) used to appeal to me when we had church lock-ins when I was 14 or 15. Now staying up all night is the last thing I want to do.
But we've bought our tickets. I know that it will be worth it, but I'm still a little nervous. My mom is, too (for the above-mentioned reason). My dad is excited because he's either going as a Dementor or Googledorf (his nickname for Dumbledore). Just kidding. I'm a little worried because I don't drink coffee or soft drinks, so I don't know how I'm supposed to stay up that late (
maybe I can write blog posts up until we leave. That's the reason why I'm up, rambling, way past my bedtime tonight
). I'm hoping that I'll just be so excited and pumped up that I won't be sleepy.
Any tips from you seasoned midnight showing goers? :) Like, how to stay awake?
And I know that I'll be mean and miserable the next day. When I used to stay up all night at lock-ins, my mom used to always say that I was ill as a hornet the next day. And I was. I vividly remember the feeling. Snappish and irritable. Drowsy and oddly emotional. I'm also afraid that the weird emotional mood will strike at the movie theater. I never cry at movies when I'm in the theater. But I can't even make it through the
Deathly Hallows
book without crying- how am I going to make it through the film?
So, to wrap up this long, bizarre post, here is how I'm going to show my HP devotion Thursday night. I'm not brave enough to dress up. But when I saw what other another
Muggle
was wearing, I decided to make a t-shirt for the movie. Well, I bought the shirt, but I personalized it. :)
The last line of the last book of a fantastic series. And his scar.
I downloaded a font from the books from Mugglenet, typed up my message, and printed it out. Then I transferred it to the shirt my usual way (tape the paper to a bright window, secure the fabric over it and trace). This was my first time embroidering on stretch fabric- I used some tear-away stabilizer on the back and stitched through both layers. I did the letters in a split stitch in a burgundy/Gryffindor color, while watching
Half-Blood Prince
and
DH: Part 1
(it was slow going because I didn't want to stretch the fabric while stitching).
Then I found some orange Gryffindorish felt and cut out my lightning bolt, and stitched it on.
I cut away the excess stabilizer close to the stitching. I didn't tear it away, because I felt like it would stretch the fabric and the stitches and mess things up. As it is, it's not noticeable through the fabric, and the embroidery hasn't stretched at all yet.
I also made this Deathly Hallows little felt pin. I was planning on putting it on my pocketbook, but Dad might want to wear it. :)
Until next time,