These are the books I read this past month. :)
The Hidden Magic of Walt Disney World, by Susan Veness
I wrote about this one
here
.
Michal, by Jill Eileen Smith
A bit slow at times, but overall an enjoyable read. I like novels that are based around Biblical events, because even though they're speculation and imagination, they help the people of the Bible seem more real and human. I didn't find Michal to be very likable for a large part of the book, but I was very happy with the ending!
Abigail, by Jill Eileen Smith
I enjoyed this one a lot more than Michal. I think that's because Abigail is a much more likable character! :) Some parts seemed slow to me, as with the previous book. I would rather read about Abigail and her life than David's battles and such, but I know both parts are necessary for the story. I was so impressed with how the author overlapped certain parts of the story with Michal- basically writing some of the same scenes, but from a different person's perspective. These two stories were interwoven together, and even when I was reading about something that happened in the first novel as well, I never felt that the author repeated herself.
By the Shores of Silver Lake, by Laura Ingalls Wilder
I didn't enjoy this one quite as much as Plum Creek, but it was still good. I do enjoy the books more now that Laura is getting older, and we had our first sort-of introduction to Almanzo Wilder in this one! We didn't really meet him yet, but he's mentioned in passing. :) Also, some time has passed from the previous book to this one, because at the beginning of this one, we learn that Mary is blind. One of the things I loved about the previous book was the family having neighbors nearby, or being "settled," as Ma would say. :)
The Long Winter, by Laura Ingalls Wilder
The Long Winter really sucked me in! I read nearly all of it in an evening, sitting in my warm room with a fan blowing on me, but I honestly felt like I was with the Ingalls family, starving and freezing through blizzard after blizzard in the little town on the prairie. Before I started this one, I remember thinking that a book about a long winter must be pretty repetitive, but it wasn't really. Her writing style draws you in, especially with the descriptions that make you almost know how cold it really was (can you imagine waking up to find that the roof leaked in the night and you had to be shoveled out of the snow that covered your bed?). Almanzo Wilder has a bigger part in this story.
Little Town on the Prairie, by Laura Ingalls Wilder
Loved this one! It's more of a cheerful return to the feel of the other books after the long winter. Some parts of it skim over months very quickly, but I loved seeing the Ingalls family living in town setting. Especially as the girls are "socializing" and getting older. Nellie Oleson makes a new appearance in this book, and the scenes with her and the schoolteacher make me cringe and feel almost as angry as Laura. :)
These Happy Golden Years, by Laura Ingalls Wilder
Wow, a lot happened in this book! I loved it. :) It was a very sweet and fitting conclusion to the series. I'm not planning on reading "The First Four Years" yet. So I guess I'm finished with the Little House series (for now!), which is definitely bittersweet. I love these stories.
The Screwtape Letters, by C.S. Lewis
This was another reread for me. The Screwtape Letters is an incredibly eye-opening little book. It consists of a series of letters from a senior demon, Screwtape, to his nephew Wormwood, in which he gives advice for keeping his "patient" safely away from the Enemy (who, of course, is God from the demons' view). This was my third or fourth time reading this book, and each time I read it, I'm amazed at how insightful it is. In every chapter, the demons discuss something, some silly flaw of humans or a way that we think, that is so spot-on that I felt it must have been written about me.
The Wilder Life, by Wendy McClure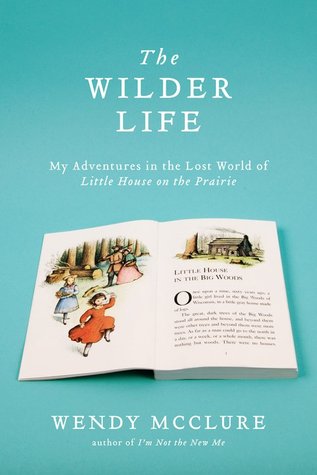 I wrote about this one
here
.
Dave at Night, by Gail Carson Levine
I didn't know what to expect from this book. Gail Carson Levine is one of my favorite authors, because I love her "retold" fairy tale stories. This book, her first, I think, is totally different...It takes place in 1920s Harlem, full of jazz and rent parties. Dave is an orphan sent to live in the Hebrew Home for Boys. The home itself and its administration are cruel, but he discovers a love (and talent for) art and a camaraderie with the other boys, who all call each other "buddy." He has a whole different life at night, when he sneaks out and makes friends with a rich young African American girl and encounters all sorts of famous people of the era. Of course, the plot and setting was vastly different from most of the author's books, but the writing style was much the same. I thought she did a great job writing from the viewpoint of a young boy, instead of a girl. I enjoyed this quick read.
Courting Trouble, by Deeanne Gist
Loved this book! Deeanne Gist has yet to disappoint me. I was intrigued by the blurb, which mentions that thirty year old Essie makes a list of eligible bachelors and randomly chooses one to pursue. This sounded like a romantic comedy-type premise, which it was at first. But I had no idea that her desire for a husband would lead to so much heartache. Due to a part of the plot, a section of this book is likely slightly more graphic than most Christian historical fiction novels are, but it's never inappropriate. I had no idea how things would turn out, and I thought to myself that I probably wouldn't read the sequel. Honestly, for the first half or so of the book, I couldn't relate to Essie very much. But that quickly changed, especially over the last few chapters. This book had a lesson that I truly needed, and towards the end Essie had some of the exact same thoughts I've had. I was so impressed, even with the end, which I know many people disliked because it's not your average "happy ending."
Until next time,