I wasn't planning on writing about the royal wedding- this post was going to be about a Hitchcock film. But I couldn't resist mentioning it! :)
I'm not one of those people who's obsessed with the royal family or Prince Will and Kate's relationship. But I did realize that watching this wedding was like taking part in history (in a small way). Also, I am a
little
obsessed with all things related to Great Britain.
I did not wake up at 4:00 a.m. I woke up about 6:15, thinking (for some reason) that the actual wedding didn't start until 8:00. So I was pretty surprised to turn on the TV and see that they were already saying their vows! But oh, well, I got to watch the rest of it, as well as see clips of the beginning of the wedding.
I really liked Kate's dress (it would be perfect if the neckline wasn't quite as low). And the Prince's uniform reminds me of one of the old Disney princes in the picture below. :) And look at the little girl in the bottom left corner. She cracks me up!
I loved the trees placed in Westminster Abbey. It made the huge building seem a little smaller somehow. Plus, it was sort of like having an outdoor wedding while being indoors.
I also loved that the Queen wore yellow. But maybe I'm biased because it's my favorite color.
But most of all, I loved how enthusiastic the British people were in their celebrations. I know that a lot of people in England complain about the royal family, how much they cost the people, etc. Maybe they're right. But I think it's kind of nice to hold on to traditions like that. And it was amazing to see so many people waving their flags, cheering for the couple, and showing pride for their country.
I did
not
, however, love the hat that Princess Beatrice wore (on the right). When I first saw it, it reminded me of an octopus. Then I was just amazed at how it could possibly stay on her head. I read that the designer of the hats has designed hats for the Harry Potter films. Hm.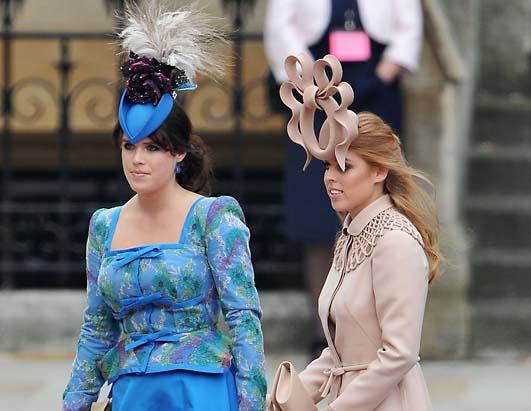 Okay, now on to Alfred Hitchcock. He was English, too, so this isn't such a big jump. :) The other day I watched
Strangers on a Train
again for the second time (it's on the Hitchcock set I got for my birthday).
I love this movie! It was even better than I remembered it being.
Robert Walker is
so
creepy as Bruno. And the ending, at the amusement park with the carousel, is one of the most visually stunning (and terrifying) scenes I think I've ever seen in black and white.
Strangers on a Train
could possibly be my favorite Alfred Hitchcock film that I've seen so far. You should go watch it!
Until next time,