At the end of 2009, I did a sort of recap post, where I wrote about all of the great music, movies, books, etc. I discovered that year. It was fun, so I want to do it again now that we're nearing the end of 2010. I'm planning to break it into three posts, though, over the next three days, so as to not be overwhelming. :)


2010 has been a year of changes. I, in general, do not like change. But I'm not saying this has been a bad year...it's actually been a very good one. Just different. Some parts were more difficult than others.


In 2010, I turned 19. I continued taking college classes, even through the summer (ugh). I spent part of my summer doing work study at the college child care center. Through a series of unfortunate events, my family had to leave our church, the church that I'd gone to my whole life. This was one of those very difficult changes. On a happier note, I opened my own Etsy shop (
Sew Technicolor
, just in case you didn't know) in October and it's been pretty successful so far. I also participated in my first ever craft fair, which was a nice experience.
This year was good, but I'm hoping 2011, even with its challenges
(public speaking class- oh, dear)
, will be even better.
Now, on to the books of 2010! I did a lot of reading this year. More than I thought I would be able to do with classes. I actually kept a list of all the books I read this year. For all of you fellow bookworms, here it is. If you're not interested, please don't feel obligated to read it! :) Books that I reread, that I had read at least once previously, are in italics. This is the order I read the books in, as well.


1. When God Writes Your Love Story, by Eric and Leslie Ludy
2. Are You There, God? It's Me, Margaret, by Judy Blume
3. The Magician's Elephant, by Kate Dicamillo
4. Once Again to Zelda, by Marlene Wagman-Geller
5. Love Comes Softly, by Janette Oke
6. Havah, by Tosca Lee
7. Prada & Prejudice, by Mandy Hubbard
8. The Book Thief, by Markus Zusak
9. Emma, by Jane Austen
10. The Lion, the Witch, and the Wardrobe, by C.S. Lewis
11. A Wizard of Earthsea, by Ursula Le Guin
12. The Miraculous Journey of Edward Tulane, by Kate Dicamillo
13. Homecoming Queen, by Melody Carlson
14. Catherine, Called Birdy, by Karen Cushman
15. Viva Vermont! by Melody Carlson
16. Taste of Salt, by Frances Temple
17. Paperdoll, by Natalie Lloyd
18. So Over My Head, by Jenny B. Jones
19. Pride and Prejudice, by Jane Austen
20. Turning the Paige, by Laura Jensen Walker
21. A Little Princess, by Frances Hodgson Burnett
22. The Secret Garden, by Frances Hodgson Burnett
23. Ruby Unscripted, by Cindy Martinusen Coloma
24. Me, Just Different, by Stephanie Morrill
25. Quest for Love, by Elisabeth Elliot
26. Wuthering Heights, by Emily Bronte
27. The Boy in the Striped Pajamas, by John Boyne
28. James and the Giant Peach, by Roald Dahl
29. The Tiger Rising, by Kate Dicamillo
30. The Tale of Despereaux, by Kate Dicamillo
31. Persuasion, by Jane Austen
32. Fantastic Mr. Fox, by Roald Dahl
33. 100 Cupboards, by N.D. Wilson
34. Daring Chloe, by Laura Jensen Walker
35. The Mysterious Benedict Society, by Trenton Lee Stewart
36. The Sweet By and By, by Sara Evens with Rachel Hauck
37. Becca By the Book, by Laura Jensen Walker
38. Dreaming in Black and White, by Laura Jensen Walker
39. Dreaming in Technicolor, by Laura Jensen Walker
40. Walking with Frodo, by Sarah Arthur
41. Charlotte's Web, by E.B. White
42. A Bride in the Bargain, by Deeanne Gist
43. Mary Poppins, by P.L. Travers
44. Tales of a Fourth Grade Nothing, by Judy Blume
45. Kristy's Great Idea, by Ann M. Martin
46. Paperdoll, by Natalie Lloyd
47. Stars in the Night, by Cara Putman
48. Passionate Housewives: Desperate for God, by Jennie Chancey and Stacy McDonald
49. A Constant Heart, by Siri Mitchell
50. Harry Potter and the Deathly Hallows, by J.K. Rowling
51. How Do I Love Thee? by Nancy Moser
52. Fools Rush In, by Janice Thompson
53. Swinging on a Star, by Janice Thompson
54. She Walks in Beauty, by Siri Mitchell
55. Savvy, by Ingrid Law
56. How to be Hepburn in a Hilton World, by Jordan Christy
57. The Voyage of the Dawn Treader, by C.S. Lewis
58. It Had to Be You, by Janice Thompson
59. Matched, by Ally Condie
60. A Bride Most Begrudging, by Deeanne Gist
61. Preparing to Be a Help Meet, by Debi Pearl
So that's it. Sixty-one books. Sixteen rereads. Four "classics." A lot of children's books (I rediscovered children's literature this year!). And a lot of Christian chick lit and historical fiction...I don't know exactly what to call it. Your typical Christian bookstore books, except that I got them for just a few dollars each at the bargain bookstore.


I wanted to pick out the top ones that I read this year. Note that these are books that I read for the first time this year...this doesn't mean that they were released in 2010. Some of them were, but some weren't.
Dreaming in Black & White and Dreaming in Technicolor, by Laura Jensen Walker
I really loved the two little books! I meant to do a post about them but never got around to it. I first came across Laura Jensen Walker earlier in the year, with her Getaway Girls trilogy, which involves a book club and traveling to Europe! I also really loved that series. These are all really light chick lit type books. Anyway, these two books are about a single girl named Phoebe Grant. She is a huge classic movie fan...I think that's what drew me in. :) There are ton of old movie references. I read these at the beginning of the year, so I'm not qualified to give a good description months later. The ending of the second book was the slightest bit disappointing for a hopeless romantic like myself. I want to reread these, though!
Mary Poppins, by P.L. Travers
This Mary Poppins is not the Disneyfied Mary Poppins you're thinking about. :) The movie was based on this, the first book in the series, but they are vastly different! P.L. Travers' Mary Poppins is a very cross, vain nanny, not much like Julie Andrews as the singing, cheerful, "never cross" nanny. The book is just lovely, though. It's clever and imaginative in a way that it seems only English children's literature can be (but more on that in another post). It has some beautiful parts that were left out of the movie...some of my favorites were the chapter about the twins, Barbara and John (who are left out of the movie entirely) and a part involving propping a ladder against the night sky and hanging stars! :)
Stars in the Night, by Cara Putman
This book was definitely one of the top books of the year! It was perfect and I still find myself thinking about it a lot. To read more, check out
my review here
.
Weddings by Bella series, by Janice Thompson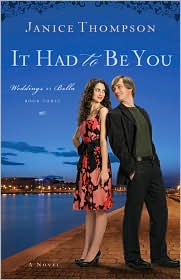 I loved these books! Again, they were very light and quick reads. I loved reading about Bella, the wedding planner, who has a crazy Italian family and who falls in love with a hunky cowboy. I liked reading about the themed weddings she plans...but I have to confess that one of my favorite parts was how oldies songs (particularly Sinatra and Dean Martin ones) were incorporated. As you might have noticed, the three books are named after famous old songs. So are all of the chapters in the book, and the songs are included in other ways as well. Some reviewers are critical of how over-exaggerated the stories are, but I liked it. It's exaggerated in a sitcom sort of way, like in "I Love Lucy" or "Full House."
She Walks in Beauty, by Siri Mitchell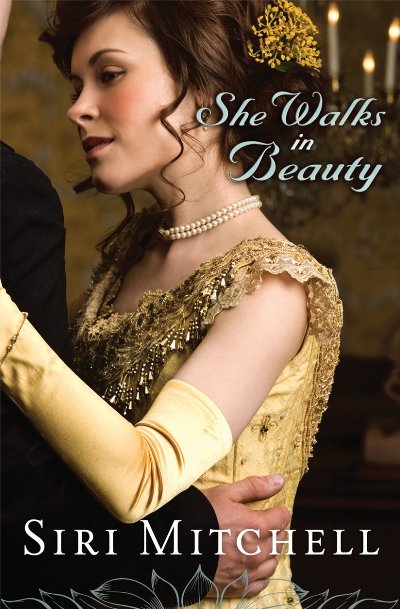 This was a lovely book. Very realistic historical fiction that really draws you in. Plus, the cover is gorgeous! I meant to write a real review about this, but just take my word for it and read it. :)
A Bride in the Bargain, by Deeanne Gist
Sorry, forgot to get a picture of this one! Another great historical fiction novel.
Read my review here
.

Matched, by Ally Condie

I heard about this one from
Natalie Lloyd
. I don't read many futuristic books like this, but when I do, I'm always surprised by how much I enjoy them (like "The Giver"). Maybe I should read them more often, then, huh? Anyway, I
really
loved this book (probably this one and "Stars in the Night" are top two of the year). I loved the characters and the plot and the whole creepy feeling I get while reading about this "perfect" Society. (
Spoiler: by the way, I thought for sure that the red tablets would kill them. Darn
.) And I can't wait to read more! This is going to be a trilogy, right?
Preparing to Be a Help Meet, by Debi Pearl


I had read many good things about this book, so finally I just ordered it from Amazon. After reading the first chapter, I felt like someone had knocked me over the head with something (something very large and heavy). And I mean that in the best way. Every single chapter has been opening my eyes. To how very unprepared I am for marriage (good grief, as someone who wants to be a homemaker, how I hate to write that! :). Because that's what this whole book is about.
This book, along with "Passionate Housewives: Desperate for God" (
seen below. My cousin's wife let me borrow this and it made such an impression that I bought it...despite the fact that it's really written for already married women, while this other one is specifically for single girls
), are the two books that have had the most impact on my feelings and beliefs about relationships, courtship, marriage, etc. And I've read quite a few about such topics. :) Some of these books (like some of the Ludy's books, as much as I love them) make me feel just hopeless about reaching such standards. And if I feel that it's impossible, why would I even try? "Preparing to Be a Help Meet," on the other hand, was very practical and instead of making me feel hopeless, it actually motivated me and inspired me. It comes
highly
recommended from me. I just finished it last night, and I'm going to start rereading it again today, really taking my time and absorbing it all.
Okay, now that all of that bookishness is out of the way (for now)...tomorrow's end of the year post will cover music! :)
Until next time,