I know that it sounds ridiculous that I'm reviewing a Christmas movie called "In the Good Old Summertime." But the majority of the movie, all of it except the very beginning and the very end, take place at Christmastime.
This is seriously one of the most charming musicals I've ever seen. It is, as I've mentioned before, the musical remake of "
The Shop Around the Corner
." This movie is much more light-hearted than the original. It has the same basic plot: Veronica Fisher and Andrew Larkin both work as sales clerks in a music store. They can't stand each other, and they don't realize that they're falling in love with each other as secret penpals.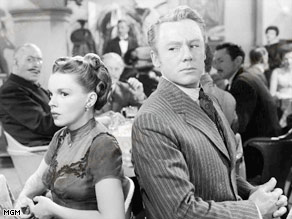 "In the Good Old Summertime" is an adorable movie. It's funny, clever, and sweet. The songs are not out of place and cheesy like in some musicals (I still love them :). Because the movie takes place in a music store, the songs fit perfectly into the plot. Judy Garland and Van Johnson have great chemistry and make a really cute on-screen couple, despite their snarky attitudes toward each other for most of the film (think Lizzie and Darcy). The rest of the cast is perfect, too. This is the first time I've watched "In the Good Old Summertime" since seeing "The Shop Around the Corner," so I kept comparing the two. I noticed which lines Van Johnson said better and which suited Jimmy Stewart. All in all, they're both lovely movies!
Like I said, I consider this film a "Christmas movie," but I watch it at other times during the year, too. :) It is very snowy and Christmasy, though, and Judy even sings a Christmas song in it (see below). I highly recommend it for any fan of musicals or Judy Garland. Beware: the songs will be stuck in your head for hours afterward. For me, it always seems to be "I Don't Care" or "Put Your Arms Around Me, Honey."
Until next time,