Oh, Anne. I think we might be kindred spirits. You're a lot braver and bolder than I am. My hair is not red. I'm not an orphan. You're a tad more dramatic than me. But we both like to imagine things. We spend most of our time seeking beauty in the world. We are pretty stubborn. My middle name is "Ann," and I feel that it looks dreadful without an "e". We both hide behind our books and stories sometimes.
"This is the most tragical thing that has ever happened to me."
I finally broke down and bought the "Anne of Green Gables" movie collection. I got the first two movies from the library last year and fell in love. I was going to buy the DVDs months ago, but when I went back to the store, they had taken it off the shelves. This week, when I saw it sitting there, I just bought it (though it was an awful lot of money). And I'm so glad I did. :)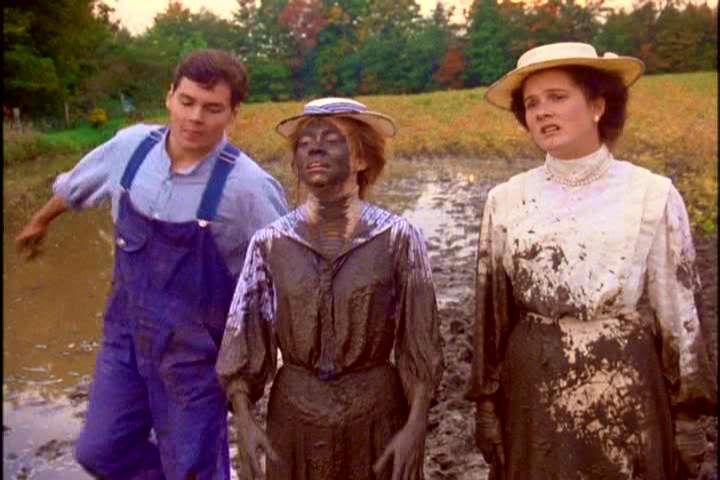 I've watched the first two. I adore them both! They're so sweet and innocent. I love the characters, the setting, the music. I love that they make me laugh and keep me in tears a lot. I know that I'm all about the 1930s-50s, but lately I've been feeling pretty interested in the late 1800s-early 1900s as well (comes from reading that historical fiction and watching AOGG). The clothes are lovely.
And Gilbert. He's handsome, smart, and sweet. As much as I love Anne, sometimes I just want to hit her over the head with a slate to make her see that! :) He sacrifices for her and he's willing to wait until she comes to her senses. He's right up there with Mr. Darcy, and he's even better in the fact that he's humble and has a open, friendly way about him (forgive me, Mr. Darcy!).
I like what Diana said: "People's ideals change sometimes." I'm realizing how true that is.

"I don't want diamond sunbursts or marble halls. I only want you."
I haven't watched the third movie yet. I've never seen it before, actually. I've read people rant about it on Amazon, because it's so different from the books. But I've only ever read the first book, so I won't be able to compare them. What do guys think about the third movie: the continuing story?
Until next time,