Hello, lovely people. Today is my last day of summer break. Sigh. The month went by so quickly, and I didn't get to accomplish everything that I wanted to. I'm not complaining, though- it was a nice break. And my fall semester should be pretty easy. I've had so many ideas for posts lately, but we've been so busy with stuff around the farm this week (grape harvest in the vineyard=first sunburn I've had in years=first time my nose has ever peeled. Ew). So now, I will try to condense roughly 5 posts into a very long, rambling post about my life and things that have inspired me lately. Enjoy! :)


Books.
Yesterday I found some great deals on books, at the local bargain store. Let me tell you about
this place
. A large chunk of our store is all books. A lot of the books are obscure and sort of strange, particularly the picture books, but usually you can find an amazing deal if you really look. The books are sort of all mixed up, vaguely organized into categories, on shelves and on huge piles on tables. I sift through these very carefully. In the middle of the aisles there is usually a huge table piled several feet high with books. On that table, I usually just look without touching, because I have images of being buried under an avalanche of Spanish picture books, unfamiliar chick lit, and fifty-pound coffee table books.
And...they blast oldies music in the store. Real oldies- I don't consider 70's and 80's oldies, like the local radio stations do. The other week it was Michael Buble, Frank Sintra, Rosemary Clooney, and Ella Fitzgerald, all in one store visit. I was reminded how much I love the song "You're the Top" (I ended up buying it on iTunes last night). And I fought the urge to dance around the children's section when they were playing Michael Buble singing "Sway." Swoon.

Here is what I found yesterday:


"Peculiar Treasures (paperback)," by Robin Jones Gunn: $3.99, "The Sweet By and By (nice hardback)," by Sara Evans and Rachel Hauck: $3.99, and "Sew U: Home Stretch (hardback, spiralbound), by Wendy Mullin: $4.99

Okay, so I'm a little excited about the two novels. But I am majorly excited about "Sew U: Home Stretch." This is one of those Built by Wendy books, specifically about sewing knit fabrics. I am slightly terrified of knits and have been eyeing
this book on Amazon
forever, but couldn't deal with the price. So $5 sounds lovely. :) I almost passed out when I saw it sitting there.
I recently finished "100 Cupboards," by N.D. Wilson. I didn't like it very much, though I can't say why. I wanted to like it. I loved the cover and the general idea of it. I guess it was a little draggy and parts, and I kept waiting for a big adventure to happen (it never really did). And the writer's style reminds me of my own (which is not a good thing)...he's too wordy and tries too hard to help you form a mental picture, instead of trusting you to imagine it on your own. I don't think I'll be reading the sequel(s).


I'm currently reading "The Mysterious Benedict Society," by Trenton Lee Stewart, which I bought at the same time as "100 Cupboards." I love this one so far! It reminds me of Roald Dahl or Lemony Snicket. It's surprisingly funny, with fascinating characters. I'm not quite halfway through, so I'll post more about it when I've finished.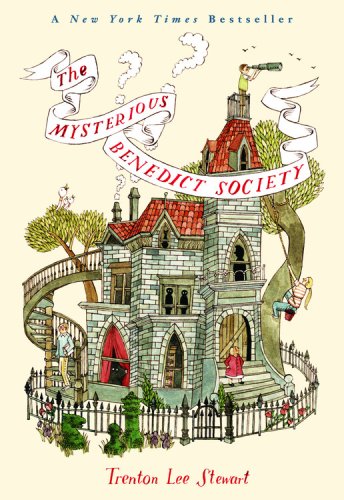 I also just finished reading "Daring Chloe," by Laura Jensen Walker. I had already read the second book in the series ("Turning the Paige," both purchased at Ollie's) a while back and really liked it. This series combines two of my favorite things, and favorite things to read about: books and traveling. The books aren't anything miraculous or life changing, but they're cute stories. They make me want to go to Europe even more...in this first book, the group goes to Paris; in the second one, a trip is made to Ireland. I love the fact that they revolve around a women's book club and include a lot of bookwormish characters and reading suggestions. I want to be in a book club. I am a major bookworm. Classmates always ask me how I have time to read in college, because I always carry a book with me in my bag. How could I not have time to read?
I love the way my bookcase looks, crammed full of books I love. I love sifting through books at a store and toting around a stack of them on my hip. I love the smell of a new paperback (or even textbook, for that matter). I love carrying around one with me so I can pull it out when I have a few minutes to wait. I love talking about books. I love writing about books. :) I love meeting new characters and getting new ideas.
Music.
Some of my favorite songs lately have been:
Dream a Little Dream of Me
, by the Mamas and the Papas,
You're the Top
, by Ella Fitzgerald, and
My Wish
, by Rascal Flatts. And a new discovery...She & Him. Zooey Deschanel is so cute, and she has a nice voice, in a 60's kind of way. I'm usually not very fond of the 60's music style, but she makes me like it. I love these two songs from She & Him's album "Volume One": Why Do You Let Me Stay Here? (and love
this video
)and
This Is Not a Test
.
Movies.
A few days ago, I watched Alfred Hitchcock's "Spellbound." That movie has a special place in my heart, because as far as I can remember, it was the first Hitchcock film I had ever seen. I checked it out from the library on whim a few years ago, mostly because of Gregory Peck and Ingrid Bergman. It's a pretty creepy movie, and I love it.
Yesterday, I watched "Strike Up the Band." Mickey Rooney and Judy Garland are ridiculously adorable together. I love that they were the popular teen couple and hearttrobs in the 30's and 40's. How cute is Judy Garland?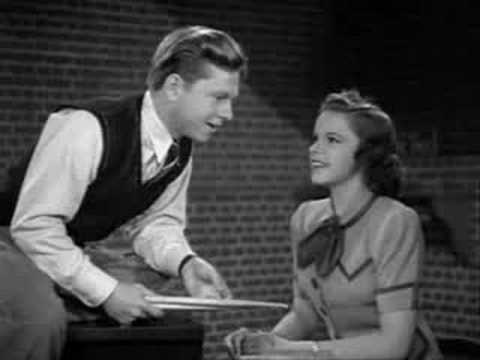 Last week, I finished Mom's curtains for the living room. Hopefully I'll have pictures of them pretty soon. It took me slightly over all three Lord of the Rings movies to make them...I watched the films while I was cutting out, sewing, and pressing. :) It had probably been at least a year since I had watched them all the way through, and I forgot how much I liked them. I had also forgot how funny Gimli is and how pretty Arwen is and how much of a total wimp Frodo is (I'm sorry, but he wouldn't have made it a day without Sam, the real hero). Anyway, it inspired me to read the books again. Or at least attempt to. I've only read the entire series through once, and it took me well over a month. But I think when I finish my new books, I'll start the LOTR trilogy again.
Whew. Are you still here? :) Hope everyone's having a great week back to school and classes, or I hope that you will if you haven't started yet.
Until next time,