New layout. I'm still a little iffy, so it might get altered a bit. What do you guys think? Edit: I changed the background and finally got the header straight. I like this much better!
Last night was a perfect start to the summer. I worked on a few journal pages and ate a large bowl of "
death by chocolate
" ice cream (yes, I'm serious) while watching my favorite movie of all time, "Pride and Prejudice." If you've been around here any length of time at all, you have heard me
gush many times
about this movie (and how it is infinitely better than the BBC version), so I won't do it again. I enjoyed the movie immensely last night and was so giddy about finishing my research paper that everything was a hundred times more funny than usual. Particularly Mr. Collins. I even noticed something that I had never seen before in all my times of watching it. At the Netherfield ball, when Mr. Collins approaches Mr. Darcy to introduce himself although Lizzie tries to stop him, watch carefully. When he clears his throat and says, "Mr. Darcy," Mr. Darcy almost knocks him in the head with his elbow when he turns around. :) Mr. Collins has to duck backwards. I had seriously never noticed that before and found it hilarious.
So I got my delicious dose of Mr. Darcy, which should last me for a while. But now, I'm going to show you, with a few pictures and even fewer words, why Matthew Macfadyen
makes a much, much better Mr. Darcy than Colin Firth.
1. He's ridiculously handsome. He's tall and strong and has lovely eyes. I used to like him much better with longer, Darcyish hair, but now I'm thinking he even looks nice with shorter hair (he actually reminds me a little bit of Michael Buble, when he's got shorter hair and some scruff on his face).
2. He has the most amazing smile,
when he does actually smile
. Because as we know, he has perfected the proud, antisocial attitude.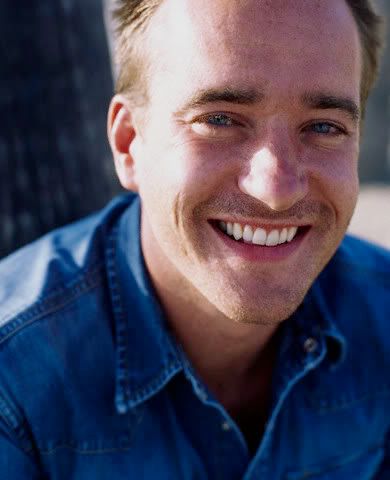 3. He has a sweet, boyish look sometimes.
4. You could listen to him read a phonebook. But it's even better when he reads poetry.
Okay, I'm done now. I promise my next few posts will be more mature and involve less gushing and swooning. :) Have a lovely day!
Until next time,