"Very early on the first day of the week at dawn, the women came to the tomb, bringing spices they had prepared. They found the stone rolled away from the entrance of the tomb, but when they went in, they did not find the body of the Lord Jesus. While they were wondering about this, two men in shining clothes suddenly stood beside them. The women were very afraid and bowed their heads to the ground. The men said to them, 'Why are you looking for a living person in this place for the dead? He is not here; he has risen from the dead.'" -Luke 24:1-6

I think that I tend to think about Christmas more as related to Christ than Easter. Which is sort of ridiculous, because when you think about it, the resurrection is the center of the whole Christian faith. If Jesus hadn't risen from the dead, then all of our beliefs and faith would be worthless.


Welcome to the Spring Fling! Don't forget, I'd love everyone to join in! To learn more, read
this
.
I now have a button for anyone who's joining me for the Spring Fling (it's located on the sidebar).
So here's the plan:
Day 01 — Your favorite song


Day 02 — Your favorite movie
Day 03 — Your favorite television program


Day 04 — Your favorite book


Day 05 — Your favorite quote
Day 06 — Whatever tickles your fancy
Day 07 — A photo that makes you happy
Day 08 — A photo that makes you angry/sad
Day 09 — A photo you took
Day 10 — A photo of you taken over ten years ago
Day 11 — A photo of you taken recently
Day 12 — Whatever tickles your fancy
Day 13 — A fictional book
Day 14 — A non-fictional book
Day 15 — A fanfic
Day 16 — A song that makes you cry (or nearly)
Day 17 — An art piece (painting, drawing, sculpture, etc.)
Day 18 — Whatever tickles your fancy
Day 19 — A talent of yours
Day 20 — A hobby of yours
Day 21 — A recipe
Day 22 — A website
Day 23 — A YouTube video
Day 24 — Whatever tickles your fancy
Day 25 — Your day, in great detail
Day 26 — Your week, in great detail
Day 27 — This month, in great detail
Day 28 — This year, in great detail
Day 29 — Hopes, dreams and plans for the next 365 days
Day 30 — Whatever tickles your fancy
My favorite single/individual book is "
Pride and Prejudice
." I guess that doesn't come as a shock, considering how much I mention the story here. =) I love, love, love this book. Ironically, I only read it for the first time (almost four years ago) because I wanted to read the book before I saw the movie (because I'm a nerd like that). So the movie introduced me to the book, although I read the book first. And it was love at first sight. (I love this version. And even though I already have two copies, I would gladly buy this one, too...I just haven't come across it in a bookstore yet.
This
is my copy.)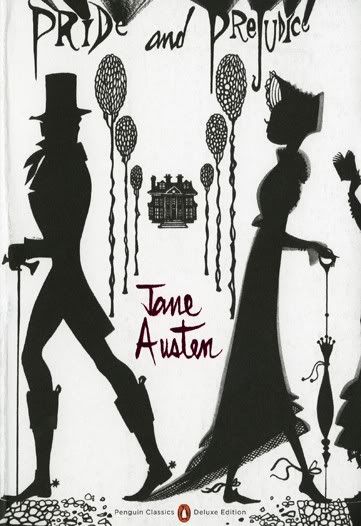 I have a second favorite. "The Chronicles of Narnia" series is my favorite book series. My third grade teacher read us a few of the books, and those stories were hidden in the back of my mind until I rediscovered them about eight or nine years ago. And yes, I have this quirky 1970's boxed set...I got it at a yard sale once for about $2. I love it except most of the beautiful illustrations were cut out or cropped, so I eventually plan on getting a better set.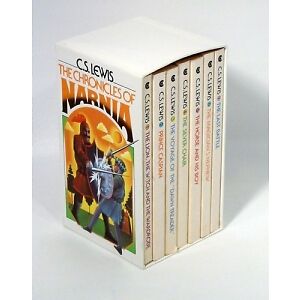 It was surprisingly easy for a bookworm like me to name my favorite book(s).

Until next time,