Today I finished reading one of the books I got for Christmas, "Love Comes Softly," by Janette Oke. I wanted to read it because I've seen all of the movies on Hallmark (and really like the first three or four...the first two especially). It was a pretty good book. The movie seems to be pretty similar to it, except that Missie is a few years younger in the book and the ending is a little less Hollywood in the book (just as dramatic, but in a different sort of way), and a few other little things that were added/left out. The main thing that bothered me was how she wrote their dialogue. Maybe it was realistic, but I found it incredible distracting. I would much rather have read proper English and imagined the country slang/accent.
Then, this afternoon, I watched one of my favorite modern movies. If you haven't noticed, I mostly stick with classic movies...black and white or tacky, wonderful Technicolor. And my favorite "modern" movies tend to be Austen adaptations or Pixar. So what is this movie? "Penelope." It is an incredibly cute, funny, unusual movie that, surprisingly, doesn't seem to have caught on hugely. So it's sort of like a wonderful secret. And I'm letting you in on it. =) "Penelope" is a modern fairy tale, sort of like a twisted "Beauty and the Beast." It's about a young girl (you'll never guess her name) who, thanks to some mistakes made by her ancestors and a curse put on her family, is born with a pig-like nose. The curse can only be broken when "one of her kind" (blue bloods, they're called in the movie...in other words, rich people from respected families) comes to love her the way she is. The movie follows along as she tries to find that person to break the curse. It stars Christina Ricci and James McAvoy.
It's a great, funny, clean movie (a tiny bit of language...a few mild words) with a cute plot. And that in itself makes it a good. But two things make it absolutely perfect: the sets (particularly her room) and Penelope's clothes. The movie is bright and sparkly, but sort of old-fashioned in a way. Her room is gorgeous. I so want to live there. Sadly, pictures from this movie are hard to find online, so here's the best I can do.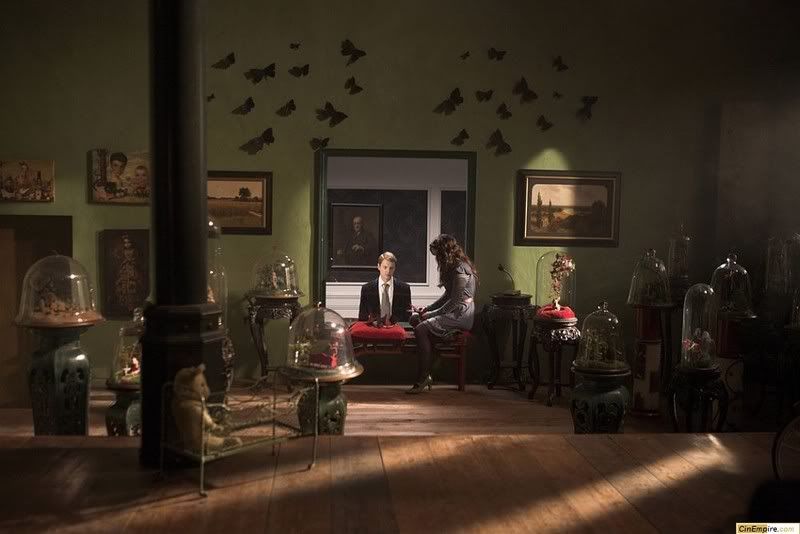 She has a huge room. There are wooden floors and high ceilings. She has terrariums everywhere and a corner with stuffed bookshelves covering the walls. She has a tree (see below) and flowers on her walls and these three window-type things behind her bed that look like the desert). She has a
wooden swing
in the middle of the room!
Then there are her clothes. Every time I watch this movie, I come away wanting to run off to town and go shopping. I want to dress more quirky and whimsical (those two words describe the movie perfectly)...more
Penelope.
Her clothes are so unique and feminine. The colors are beautiful. She always wears full, fluffy skirts, never pants (which I like the concept of, but is something I could probably never do. I love my jeans). She wears tights and Mary Janes with little heels.
Green
Mary Janes. I love green clothes/accessories. The famous scarf and coat she wears a lot (she doesn't have her nose in this picture! What's up with that?):
I love the buttons and lining peeking out from the sleeves. This was probably my favorite outfit, especially the skirt, but it's not a good picture of it.
She does a lot of layering:
Okay. I'm done obsessing over lovely clothes for now. Trust me, just watch the movie. It's so much better than the pictures. Although this one is pretty nice.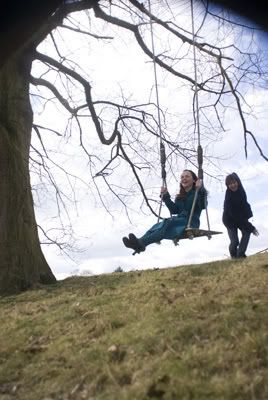 Unless we get more than the "dusting" (actual quote) of snow they're predicting, then tomorrow will be a good day containing a visit from grandparents and a trip to the fabric store.
Until next time,
Kristin (missvintagegirl)