Huge sigh of relief. I'm glad today's over. This morning, I was actually feeling pretty calm about the placement test, except for the fact that I had to choke down my breakfast (I can't seem to eat normally when I'm nervous). I know it was because a ton of people were praying for me. I was fine until about 30 minutes before I had to take the test, LOL. Me and Mom were in a thrift store (looking for a train case, of course...we found two, but neither were what I'm looking for) and I just really didn't feel like "shopping." In fact, I thought I would be sick (especially after that big Chic-fila sandwich I had just eaten-or tried to eat). Anyway, I went and took the test. The writing and reading parts were simple...the math, not so much. I had to completely guess on a few because they involved concepts I'd never seen before. I'm pretty sure that I'll have to take a refresher Alegebra class, but I guess that's okay. I'm just glad I made it through this. I was so happy and relieved on the way home because it was over. And I didn't even have to do the essay part, thank goodness.
Getting out of a comfort zone is hard work. It was so nice to come home and plop down in front of one of my classic TV show DVDs with my supper (that's my normal evening routine). Tonight it was "The Dick Van Dyke Show." I only have the first season, which I've been watching through, and I really like it. It's not corny, like "Gilligan's Island" or "The Addams Family." But it doesn't make me seriously laugh like "I Love Lucy" or "The Andy Griffith Show." It's funny, but not extremely funny. There was an episode I watched the other day, though, that was hilarious. The funniest one I've seen so far. It was called "Punch Thy Neighbor," and one scene was the best. Because of several unfortunate accidents, a few of the main characters end up with bandages on their noses. Rob's neighbor, Jerry, thinks that Rob has hit his wife Laura, especially when he comes in to see Rob all worked up because he's just tripped over a toy in the floor. So Jerry does some interesting karate type moves and ends up sitting on Rob to keep him from hurting anyone else. I wish I could find a picture of the scene, but I can't.

Laura: "Rob, are you alright?"
Rob: "Ugh, there's...there's a pressing pain on my chest."
Jerry: "What's the pain feel like, boy?"
Rob: "It feels like a 180 pound dentist sitting on me."
Rob: "Listen to the tone of my voice."
Jerry: "Yes, I can hear it. I can hear you."
Rob: "I'm alright. The only problem I have right now is respiratory. Now will you please get off my lungs?"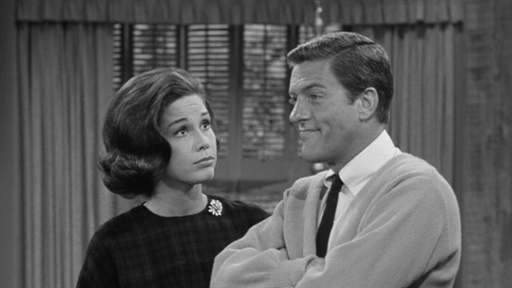 Until next time,
Kristin (missvintagegirl)